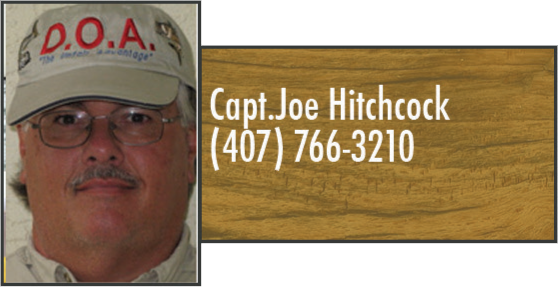 In this guide's opinion, April is one of the best months all year to catch a trophy-sized redfish or spotted sea trout. Water temperatures in this transitional month when baitfish return to the back country, have all species of fish in feed mode. Mullet, pigfish, and pinfish schools will be found throughout the local lagoons. Fishing in areas of bait will produce results. When looking for baitfish activities watch for disturbed water, diving birds, nervous mullet schools or any jumping or flashing of baitfish.
Some great places to fish are creek mouths, along sandy shore lines or open flats in 2 to 3 feet of water. Start fishing early around 45 minutes before sunrise in close to shore and then move out to the 2 to 3 foot range as the sun gets up higher in the sky. When you find bait schools, work your bait along the edges of the school. Try topwater early for that explosive strike. Another over looked place to find feeding fish is in the mud trails left by Manatees. Try throwing a small buck tail jig or a DOA Shrimp or Crab into these mud trails. And let's not forget the inlets and inshore beach bite in April. Snook, redfish, cobia, Spanish mackerel, bluefish, and triple tail are just some of the action you can find along east Central Florida. Recommended Baits: DOA Shrimp, DOA Crab, ½ oz. buck tail jigs, small topwater baits, gold spoons, and jerk baits are all sure to entice predator species.
Let's all help with spring cleaning – take a trash bag with you and pick up any trash you see. Remember a clean environment is a healthy environment.