Boston's Bay Watcher Bruce Berman
By Christina Carr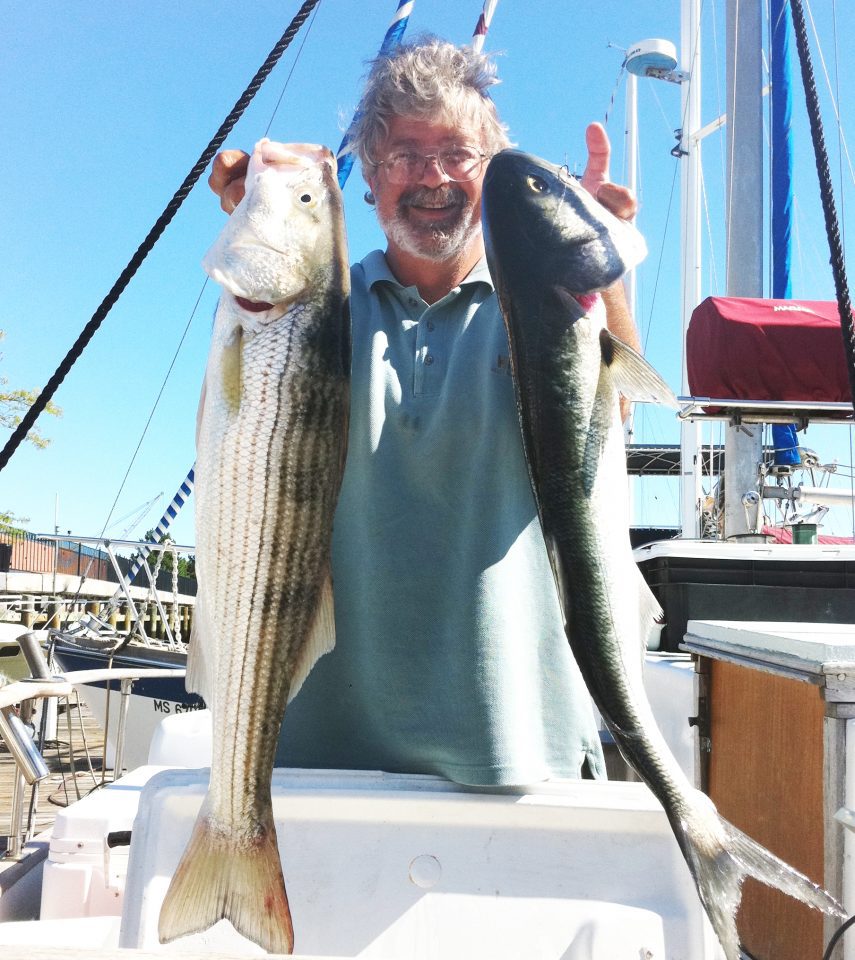 It is 6:00 AM on a spectacular spring morning and Boston's Bay Watcher Bruce Berman is already looking for bait off the stern of his restored Marine Trader trawler "The Verandah" right at the dock at Constitution Marina on Boston Harbor.
In just a few minutes Berman pulls a half dozen tinker mack- erel from the clear, cool water with a sweetened sabiki rig (which he buys by the dozen from Bass Pro) and transfers them to a floating pen by the side of the boat. He carefully picks the friskiest fish, hooks it through the nose and drops it back into the water about 15 feet below the dock.
As we head to the salon for our first cup of coffee, the rod bends over and the reel starts to scream. "Fish on!" Berman shouts with glee. "Grab that rod and get to work." Ten minutes later, with a 32 -inch striped bass in the cooler and another live bait on a hook under the boat Berman settles down to chat.
"25 years ago Boston Harbor was a disaster. Today it is one of the cleanest urban harbors in America. The water's clean, the fishing is fantastic and the fish are great to eat."
Boston Harbor is a remarkable success story – and one that Ber- man knows well. For the past 20 years he has served as spokes- man for the non-profit Save the Harbor / Save the Bay, a driving force behind the Boston Harbor Cleanup. The group's free sum- mer youth environmental edu- cation programs have connect- ed 50,000 kids to Boston Harbor since 2002.
Our talk was cut short as the rod just outside the cabin screamed again, as another big bass took the bait, made a short run and threw the hook. Over the next few hours we caught – and re- leased – a half a dozen more striped bass and one big bluefish – without ever leaving the dock!
As we prepared sashimi (with cilantro, lime and garlic) and sushi (with wasabi, ginger and citrus-soy) for lunch, Berman continued: "Boston Harbor is a great place to live. Where else can you catch a big bass in the morning, a Red Sox game in the afternoon, and a concert or a comedy show after dinner? "
"If you are looking for fish on Boston Harbor, Berman's your guy," said Paul Foster, who has watched the harbor come back to life over the past 25 years. "And he's not a bad cook – if you like fresh fish."