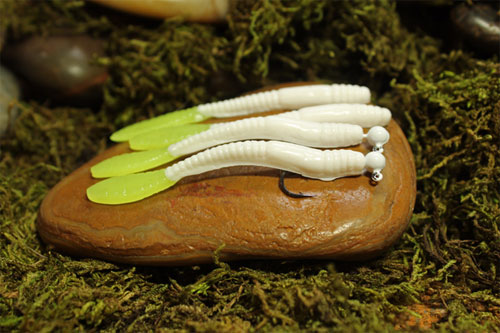 By ZACK RAYNO, Founder of Great Lakes Steelhead Co.
I can remember the first time I watched a soft plastic bait fished on a jig head work.  I was fishing on a winter day with my good friend Stephen Shen.  We had thrown our usual offerings, white Trick Em Jigs, a few Trick Em Beads and an assortment of egg sacks.  A few fish fell to our typical tricks, but it had been quiet for about 30 minutes.  Our "go-to's" weren't performing as expected.
Steve reached into his pack and pulled out a bare jig head and threaded a Bubblegum Trick Em Plastic worm on to the shank.  Although I kept my commentary to myself, my face must have read otherwise.  Steve looked up and gave a simple "What?" as he whipped his float into the current.
Not 10 seconds later his float submerged and Steve gave a half-hearted yank, assuming this was bottom.  Then we saw the boil, as the bottom turned into a furious male steelhead ripping downstream.  I don't think I ever gave Steve that look again when he pulled out a worm on a jig head.
Anglers from all fisheries let themselves become trapped in a mental box, dictating what baits and offerings are effective and which aren't.  I am one of the biggest purveyors of using what I know works, especially when being hired on the water.  That being said, there is always an appropriate time for experimentation.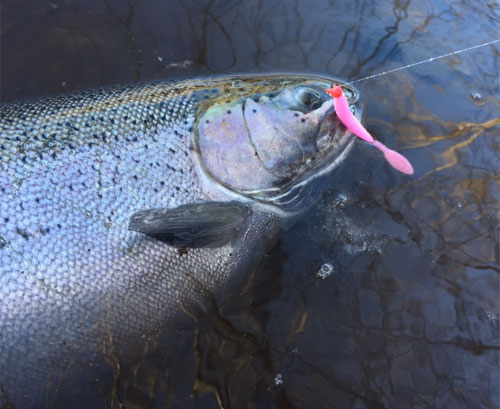 Here on Lake Ontario's popular tributary streams, fish see a small variety of baits daily.  Finding ways to make your presentation stand out can be crucial to a successful day on the water.  After all, how many blue egg sacks can one steelhead stand to look at?  Typically, I like to fish my staple baits for the first 10 minutes in a stretch and maybe hook the hot fish or fishes.  Once things go quiet for a bit, I usually resort to a bit of experimentation.
Recently, Great Lakes Steelhead Co. has released two new products to help anglers break out of the box.  Trick Em Worm Jigs and Trick Em Tube Jigs are now available in a variety of colors.
Trick Em Worm Jigs are our Trick Em Plastics threaded on to a specially poured, oversized, Mustad 2x Steelhead Jig hook.  They are available in 10 colors, in sizes 1/32 oz. (#4 hook) and 1/16 oz. (#2 hook).  I fish these exactly as I would fish a marabou jig of the same size, in the same deep pools.  Many Lake Ontario anglers fish these plastic worms "wacky" style throughout the season, but this technique can be successful in the winter months and has become a staple of mine.
Trick Em Tube Jigs are a Lake Michigan tributary technique that has been utilized very little here on Lake Ontario's waters.  These jigs are poured on the same Mustad 2x Steelhead Jig hook, but in a modified shape.  They are approximately 1/16 oz. on a #4 hook and are available in 12 different colors.  Tube jigs can be fished a number of different ways, from using a soft plastic tube skirt, to adding a bait.  My preferred method is to add a few waxworms and fish, again, very similar to any marabou jig.  Anglers also find success by fishing 2.5" Trick Em Plastics or small egg sacks to the shank of the jig.
That winter day with Steve turned out to be a bit of a revelation in our fishing, leading to many on the water experiments.  Although most were deemed unsuccessful, a few new techniques were added to our angling arsenal.  The "go-to" baits I carry with me streamside will always be just that, but there's always time to take a few drifts with an unknown.  As the saying goes, you'll never know until you try.