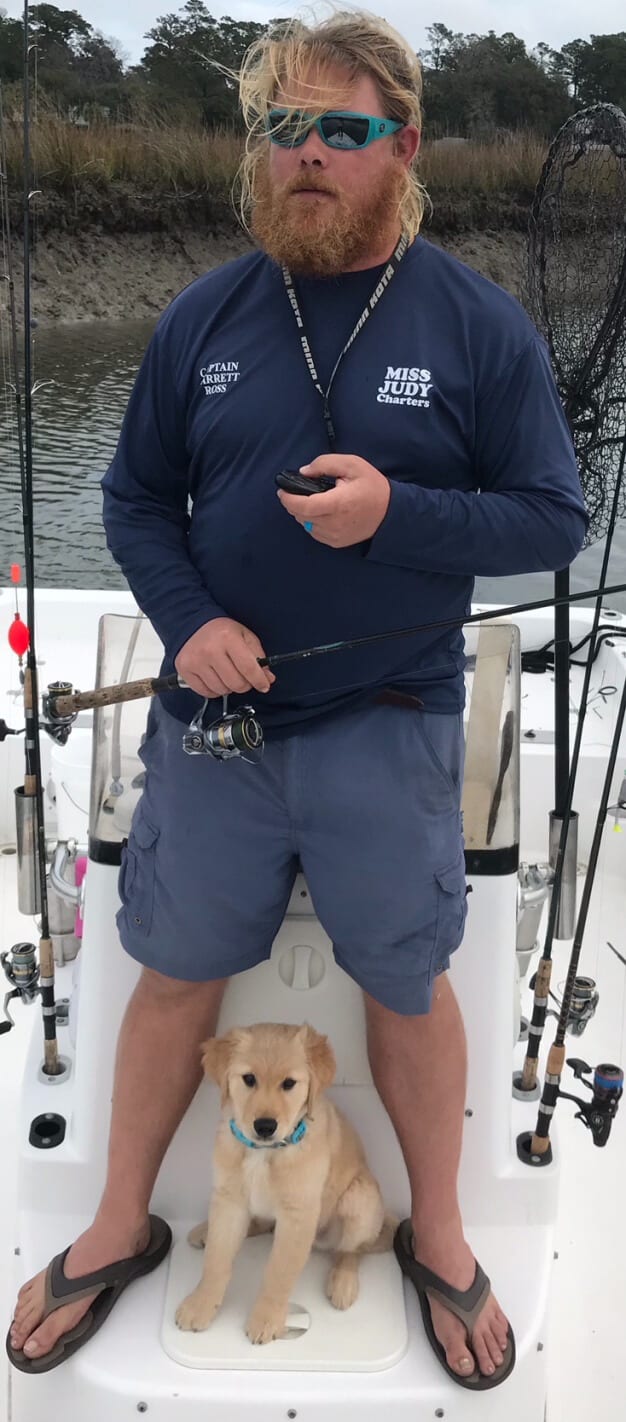 February 12, 2018 – Captain Judy's Fishing Report
Fishing statement: To try to insure that fishing stays in the hearts of those that love it and to help the ones that are going too!
While inshore fishing for cold water reds with Captain Matt Williams of Miss Judy Charters Mike Solley Bowling Green, Ohio and Jim Grant Oxford, Michigan had a wonderful time! Both fishermen told me that they were visiting the area trying to escape each of their home town cold weather conditions. While using mud minnows, dead shrimp, and live mullet Mike and Jim had a pretty darn good inshore catching trip. And Captain Matt Williams showed them the way!
Please meet Tripp Ross! He is the newest member of the Captain Garrett Ross's Family and to the Miss Judy Charters K-9 fishing team! Captain Garrett is doing a little pre-fishing and First Mate Tripp is doing a little guarding. Heck, you just never know when a green eyed sea monster might come a calling!
The Inshore Catching Plight!
The inshore bite proved to be very interesting this past weekend. Captain Matt Williams fished a couple of days with customers and had some nice keeping fish days. While using mud minnows and finger mullet Captain Matt dialed the red fish in! Both days he arranged his trip departure to fall around the lowest of the tide stage, which happened to take place mid morning. What did this mean? He was taking advantage of the sun's ability to warm the mud giving the red fish their best chance at moving and feeding. Well he did and they did! So all was good for sure!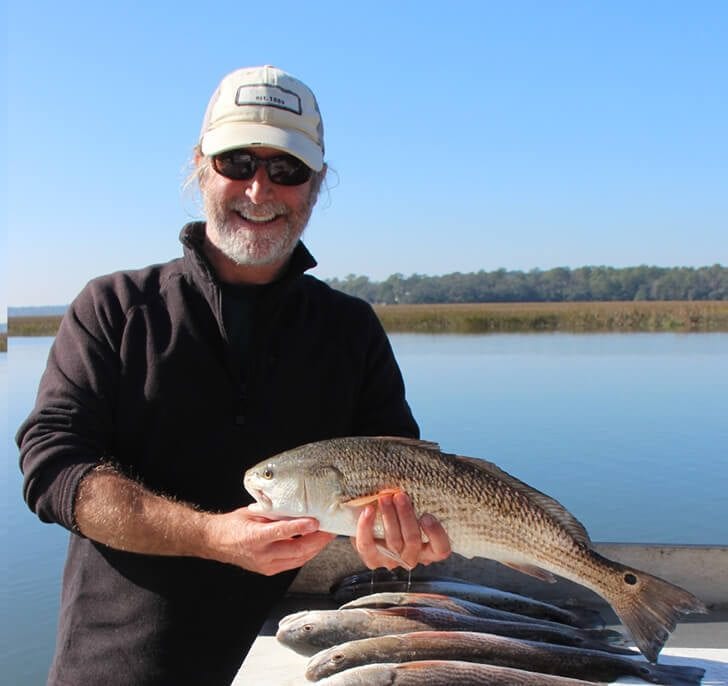 Captain Garrett Ross of Miss Judy Charters did a little pre-fishing this past weekend while using mud minnows as bait and also had a very interesting weekend catch. Water temps topped out at the high fifties and even momentarily tipped the scale to the sixty mark inshore fish are definitely on the feeding move. Here's is Captain Garrett's fishing report for this past weekend: While targeting red fish he caught spotted sea trout and while targeting spotted sea trout he caught red fish! What does this all mean? Well, for sure the fish are on the move! And what's good about this? Well, when the fish move they got to eat!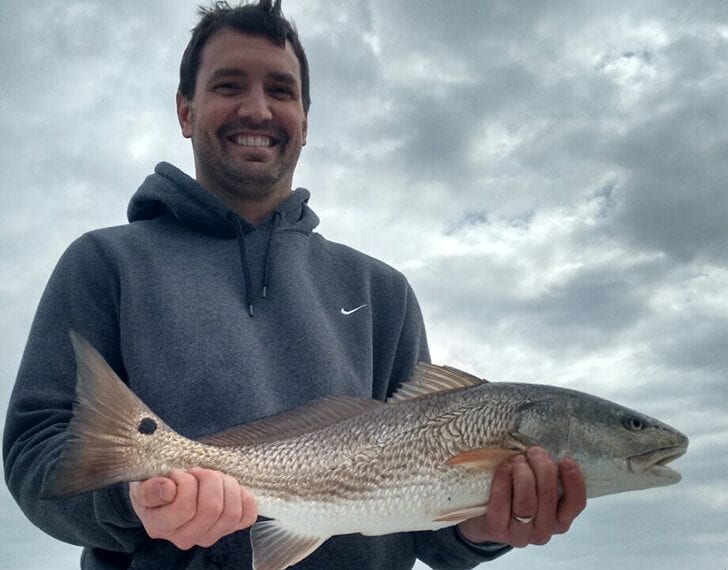 Please meet Nathan Mikeska of Savannah, Georgia! He is holding a nice soon to be released trophy red fish. While inshore fishing with Captain Matt Williams of Miss Judy Charters, Nathan and wife Catherine had very nice catching, keeping, and releasing day! You know what they say, "It's always good to keep a few and release the rest!" And that's just what they did!
See here's what I know! Captain Garrett Ross of Miss Judy Charters keeps his fish at bay! What does this mean? Captain Garrett is always fishing even on the most ridiculous weather days. The way he looks at it is this: When conditions are just right your chances for catching are pretty solid. However, when the wind is blowing, rain is falling; the water is extremely cold, and who knows what the crazy barometer is doing Captain Garrett still goes fishing! Better known as catching!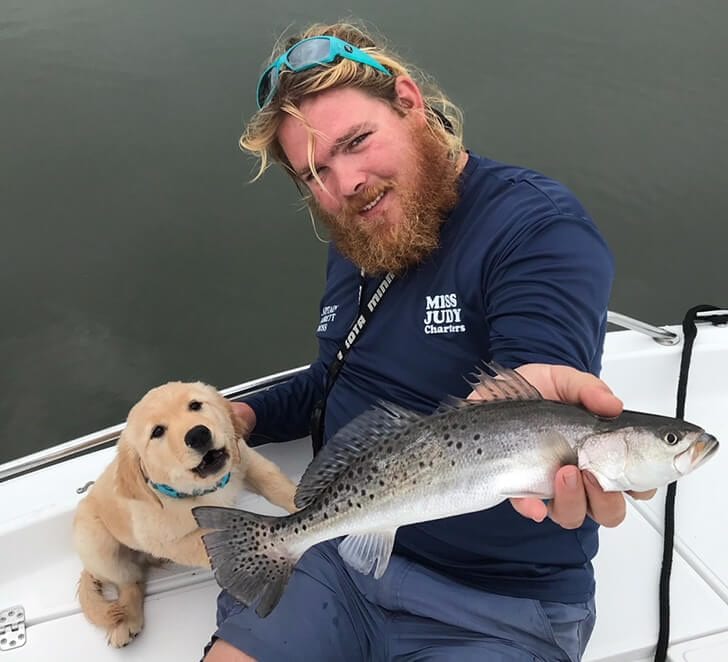 Captain Garrett is holding a nice spotted sea trout that new family addition Tripp approved of! Why? Tripp helped Captain Garrett find it! And then what did he do? He barked with grand approval! Tripp is the newest member of the Miss Judy Charters K-9 Dream Team! Welcome aboard First Mate Tripp!
---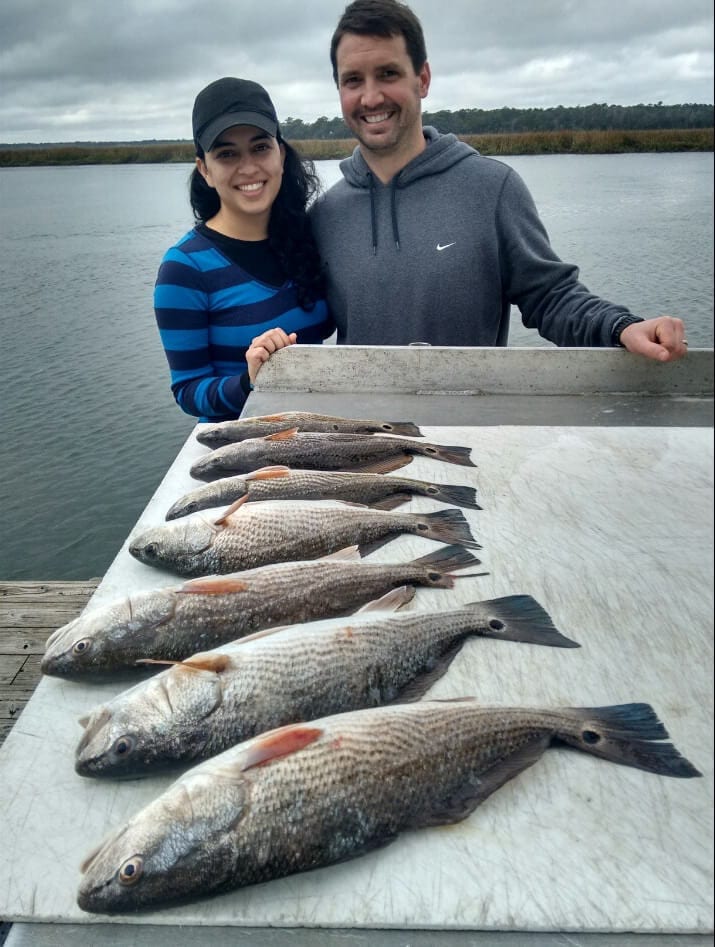 2018 Inshore/Offshore Fishing Clinics
Saturday and Sunday, February 24-25, 2018
– $135.00 per person for inshore
– $150.00 per person for offshore
Time: 8:00am until 12:00pm noon (snacks and drinks provided by Captain Judy)
Place: Miss Judy Charters dock
202 Wilmington Island Road
Savannah, Georgia 31410
Call (912)-897-4921 for more details!
2018 Inshore Subjects and Handouts:
All those fishermen attending inshore classes on the boats in the water classes will receive what is biting best Inshore when 2018 fishing calendar! 2018 Tracking Fish Chart! Special techniques for targeting and catching red fish, spotted sea trout, sheepshead, and Flounder Trophy Reds & Gator Trout Tarpon Fishing Traditional adjustable and popping cork float fishing techniques, Learn how to take advantage and use the "Pecking Order" Basic Drifting & bottom fishing & 360 degrees line, Learn the value of rips, Best Times to catch your own bait and where to look, Structure and its value: Sand Bars, mud flats, oyster bars, rocks, docks, and rips, Suspended baits, pinching of baits (mashing) Live baits: mud minnows, shrimp, menhaden, and mullet, Triple tail catching techniques, Value Plus of trolling motors, Artificial bait techniques, Advantages of shrimp boats to fishermen, and Ask any questions that you might have and we will try to answer them! Captains on board will be: Captain Matt Williams, Captain Tommy Williams, Captain Garrett Ross, Captain Kevin Rose, and Captain Alan Collins.
2018 Inshore Handout Booklet:
My handout booklets are updated every year. It's has plenty of detailed fishing information on best tackle and bait to use, rig illustrations, drawings showing techniques for fishing around buoys, shrimp boats, and birds. Shows best times to target fish when and where by each month.
2018 Offshore Subjects and Handout:
Log Book Procedures, How to catch the best bait and when, How to keep your bait alive, How to cut your bait up, Baiting up techniques, How to rig up when using live and dead bait, Artificial Reef Fishing Techniques, old school rigging ballyhoo techniques, butter-flying bait, Best Bottom Rigs for this area and how to make them yourself, slow, medium, and high speed trolling techniques, how to rig for large bottom fish, advantage of shrimp boats to fishermen, best flat line techniques, Sheepshead fishing/anchoring techniques, offshore flounder techniques, cobia fishing made easy, how to fish live bottom, wrecks, and rips. And you can ask questions and take pictures. Onboard will be Captain Ken Kennickell, Captain Deidra Helmey Jeffcoat, Captain Kathy Brown, and Captain Judy Helmey will be teaching and telling some fine fish catching stories!
Fishing techniques for live bait Spanish sardines and cigar minnows, Spanish/king mackerel, large sharks, cobia, trophy red fish, sheepshead, flounder offshore, black fish, vermilion, triggerfish, as well as other bottom biters, genuine red snapper, grouper, amberjack, and Mahi Mahi!
2018 Offshore Handout Booklet:
My hand out booklet is updated every year. It's has plenty of detailed fishing information on best tackle and bait to use, rig illustrations, drawings showing techniques for fishing around buoys, shrimp boats, and birds. GPS fishing coordinates are included for west/south east live bottom areas located at artificial reef "J" and live bottom areas to fish at the North, Middle, and South Snapper Banks. There might be a genuine red snapper season in 2018; GPS coordinates furnished could help you find the fish that you are looking for! I say, "Why wait to learn, when you can find out now some of the secret top ways of fishing from the pros!"
---
Little Miss Judy's Believe It or Not!
What do marine radios, dirt daubers, and sea rations have in common? This story!
Here's a picture of the old style VHF marine radio that was on the wooden Miss Jerry. I asked my good friend/computer whiz Captain Steve Triple Trouble Howell to find me a picture and you see that he did for sure. This vacuum tube model was first produced in 1949 by the Harvey-Wells Electronics Company. This was the style of marine radio that daddy had on his boat during the fifties and sixties. If you have been keeping up with my Little Miss Judy Stories you already know that I had to use Daddy's old 1950's style radio on several occasions to ask for assistance from the coast guard. And thanks goodness when I called they always answered!
Back in the fifties and sixties you couldn't leave your marine radio on all the time. Heck, if we talked on them then as much as we do now they wouldn't have lasted very long! Why? The old radios had tubes and lots of them. And back in the good old days a radio tube's life wasn't very long. Heck, I have seen them blow up for no good reason. In my younger years it seemed that my father was always working on the insides of his marine radio. Why, for some reason dirt daubers loved to get inside the radio and set up housekeeping. And according to my father these pesky bugs got inside the radio bringing along with them the makings of their soon to be nest.
When we were down working on the boat, daddy would turn the old marine radio on and let her warm up. Now, he wasn't turning it on so that he could hear any sort of radio chatter, because believe there never was. Daddy wanted to make sure that the dirt daubers hadn't gotten into his radio. I remember several occasions where after a warming up a bit that a puff of smoke would come out of the case of the radio. Or a weird smell would circulate the salon. That is just about when dear old dad would start to saying words that I can't put to paper. Anyhow, after he pulled the radio out from its wooden cabinet Daddy would begin taking the cover off. As I remember Daddy's radio cover had several different kinds of screws to deal with. This meant he needed several tools to take her apart. And normally when doing so he always dropped something on the deck, which immediately prompted me to go on a looking expedition.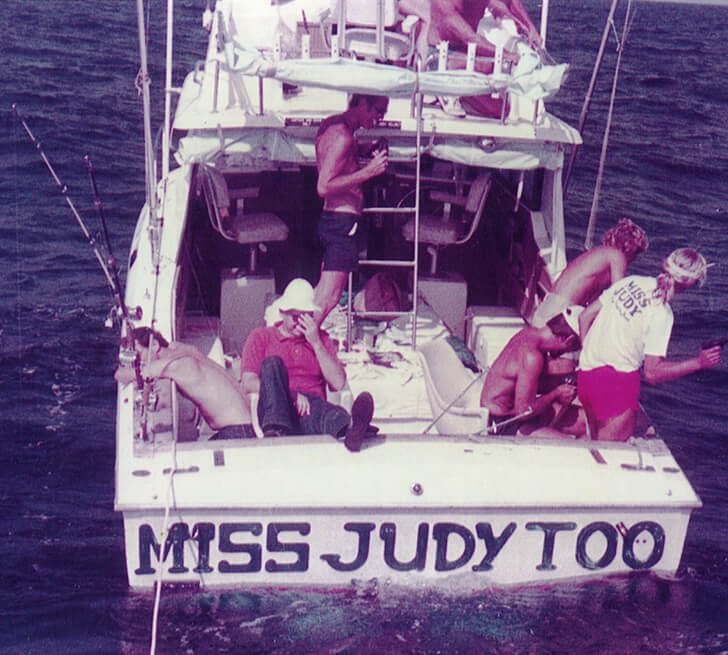 While one fisherman is fighting a big shark a couple more aren't feeling too good. Sea sickness comes in many forms. The fisherman with his head on the gunnel is most likely going or already has cascaded over the side. And the fisherman holding his head most likely has a serious headache. My father's standard question in the morning was, "What did you bring for lunch?" why? According to my father what they didn't eat could possibly be our lunch.
Right next to the radio cabinet was our ice box, better known now as our refrigerator. My father's so called ice box, at least during my memory, never worked. So basically it was another storage locker. And boy was it. Inside you could find flares, shark repellent, and very out of the date sea rations. Daddy always told me that the sea rations were leftovers from WW II. The bottom line when it came to these sea rations was it basically was our lunch at least most of the time. That's especially if the customers didn't get sick, which meant they were eating their own lunch.
Did you know when I was around 6 years old I could always tell when someone was going to get sick? My father always told me that I would say, "Daddy he is getting geen?" For some reason I had trouble with the letter R!! And did you know that in most cases I can still make this call! But I normally do keep it to myself and Captain Kathy Brown my first mate. On the way out of the sound I always motion to her and she replies my holding up a certain number of fingers. And most of the time we can pick the fishermen out that are most likely going to get sea sick!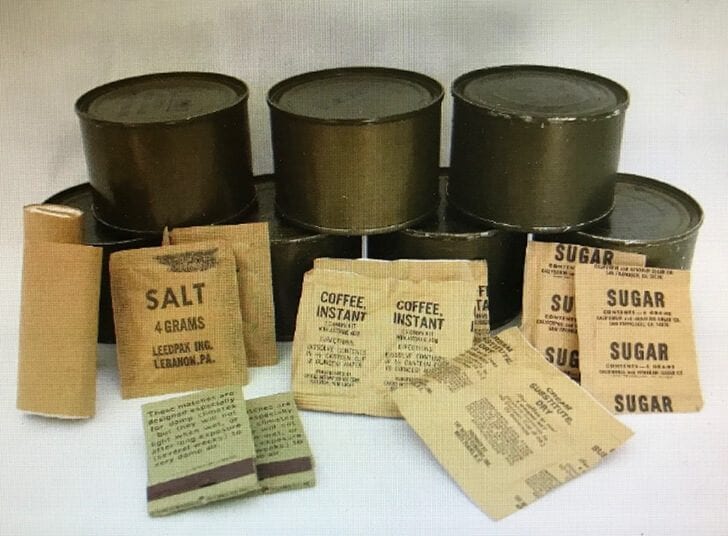 This is kind of what the sea rations looked like. Some cans had dry cookies, meaning no taste that's unless you found the strawberry jelly. To find the jelly was hard to do, because a lot of times the code marking the can was not clear. So therefore in some cases we had to open a lot of cans to get to what we might want to eat. According to my father this was part of the lure of eating sea rations. Sometimes you got what you thought you wanted and other times you didn't. There were these green thick plastic packages that I loved to open, because normally chocolate and small pieces of chewing gum were part of this kit. And that's not all sometimes tissue paper, matches, coffee, salt, dried milk, and sugar. I didn't realize until later that the tissue was really toilet paper. When you are a child this puts a whole new meaning to the word tissue and what you are supposed to do with it. I do remember some things that didn't taste too bad. However, I can remember opening a few things I would not eat. As soon as daddy looked away over board they went.
A request!
If anyone has any photos of my father (Captain Sherman Helmey) or pictures from the old days! Heck he had eight wives! Somebody somewhere has to know something! I certainly would be interested in getting copies of them or if you have a story to tell, please give me a call at (912)-897-4921, email me at [email protected] or mail to:
Captain Judy Helmey, Miss Judy Charters, 124 Palmetto Drive,
Savannah, Georgia 31410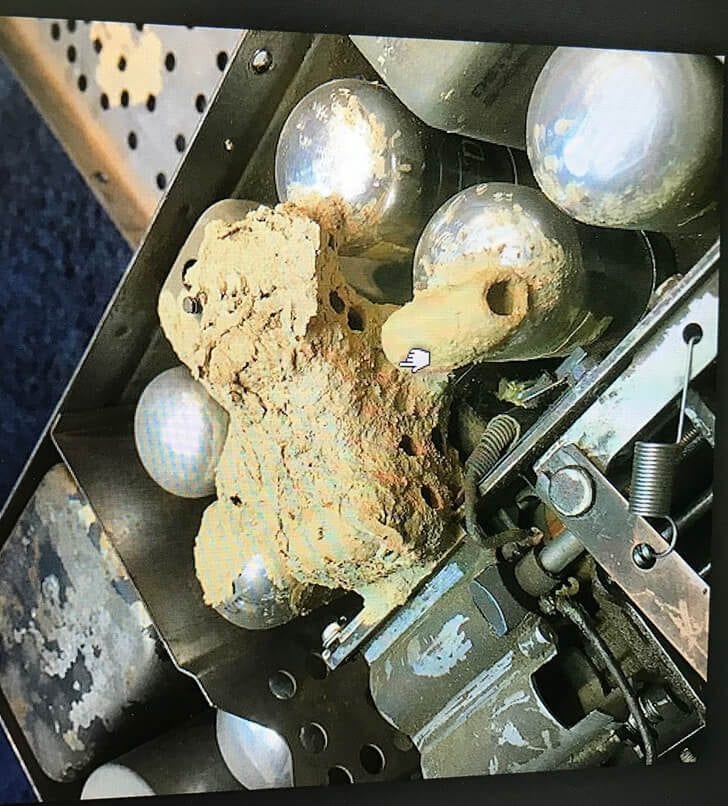 My always told me that a dirt dauber should have been called mud daubers. The reason being is that they make their nest out of mud. And believe me there is plenty of mud for these bugs to find in our area. So here's what I know in regards to my father about this bug when it comes to nest building. Now keep in mind daddy came to this conclusion after many encounters. According to my father, if he happened to turn his radio on a time before the dirt dauber mud was dried this is where the problem came to light. What a pun? The bottom line was this, as the tube or tubes warmed; the mud nest created steamed breaking one or several of the glass tubes. Now, my father never was happy about this happening. However, words did fly especially if the tube broke wasn't one in his arsenal of spare parts! And the more I write the more I know that I had a very interesting childhood!
Thanks for reading! – Captain Judy
Captain Judy Helmey
Kicking Fish Tail Since 1956
124 Palmetto Drive
Savannah, Georgia 31410
(912)-897-4921 or (912)-897-2478
(912)-897-3460 [Fax]
[email protected]
You can find Judy's previous report here.