November 20, 2017 – Captain Judy's Offshore and Inshore Fishing Report and Little Miss Judy's Believe It or Not Story!
Fishing statement: To try to insure that fishing stays in the hearts of those that love it and to help the ones that are going too!
HAPPY THANKSGIVING TO ALL!

And Happy Birthday to Mrs. Mary Rozier of Cochran, Georgia! Never ask a fishing lady her age – I just happened to be listening! Mrs. Glady told me, "My son Tyrie is taking me fishing for my 70th birthday!" And she said that with a great big smile! Now we know! But, did she catch fish? OH YES!
Inshore fishing Report!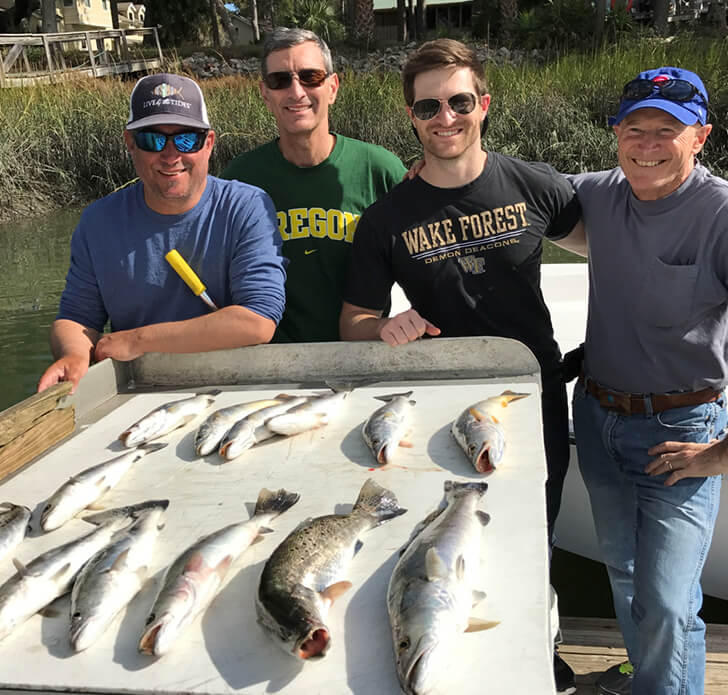 We have some great fishing pictures this week and here are the details: The inshore bite has been good one day and bad the next! And on some days a lot of the fish that you catch are what we call "shorts!" What is this? Fish that are not long enough to keep! I know I am sound just like a broken record, but better catching/keeping can happen with just a few minor changes. Always try to be at you favorite spot before the tide starts to move. That way you can get set up and it will give the area that you just traveled through time to settle down. And that also goes for the fish that are waiting to make their move. You noticed I said, "Moving water!" I didn't say, "High or low tide, I just said moving water!" It is a known fact that a fish feeds when there is opportunity and when the water is moving so is everything else. Why? Because the fish whether they are the prey or the predators are trying get from one point to another. And moving water is their transportation. If you want to talk about tides, well this is the rule of thumb and I learned this from shrimping…when the water is out of the grass so are the fish and shrimp! And when the water is trying to get back in the grass so are the fish and shrimp!
When the tide is falling I suggest picking an area that fish will use to travel out like a slough. Believe me that slough didn't get there because it wasn't used. As the water leaves the grass it flows in a path of least resistance. And guess what flows right along with it? Those creatures that are swimming in it! Where the water flows out of the slough into the straight away water normally an eddy of some sort is formed. This is another great place to cast you cork into. Now I know I have fished a lot and I know what to look for…so if you have not here's a simple tip. Lets say you are anchored up in your the perfect spot for an outgoing tide. Once the water starts moving and to keep up with the direction in which it is going to flow I suggest throwing out an adjustable float with bait of course, and letting the current show you the way. You are going to find out that in some cases the stronger the current gets the more different patterns that you are going to get. Sometimes the current does not always flow in the direction that you think. It can flow backward once it hits the straight current and the bank. Believe me if you have this situation you are definitely in the right spot! So stay, wait, fish, and watch that cork and the way it travels in the current!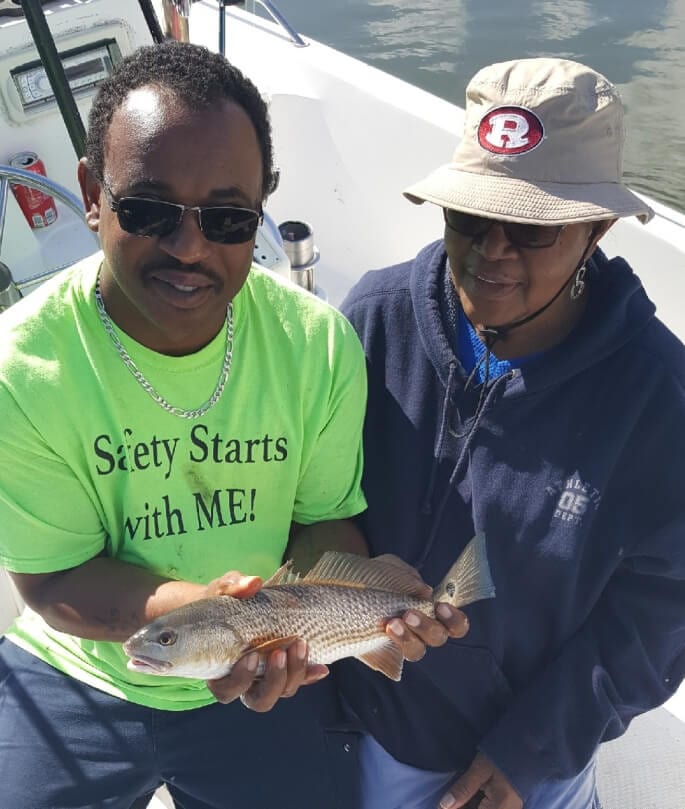 While fishing with Captain Garrett Ross, Tyrie Rozier and his mother Mrs. Mary Rozier had a wonderful inshore fishing trip! Tyrie is holding his mother's just caught redfish!A great gift of a trip for a 70th birthday! This is not her first fishing rodeo though. Tyrie has fished with Garrett at least six times! A couple of those times his mother had joined him. For this special birthday trip Mrs. Mary caught, kept, and is taking home some very nice fish, which she will be sure to cook them this upcoming Friday!
Tony Singleton Savannah, Josh Flowers Richmond Hill, Captain Garrett Ross Miss Judy Charters, Jeff Makant Savannah and Jason Donner Savannah What do all of these fishermen have in common besides a fish catching smile? They are all holding fish that were just caught while using live shrimp as bait. What else do that all have in common? They all work at Gulf Stream! What else? I like them all!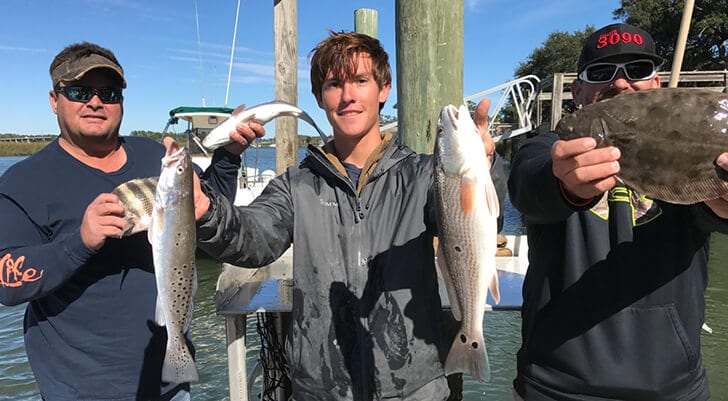 Mark Hughes of Walker, Louisiana holding a sheepshead, Stephen Thompson of Miss Judy Charters holding a nice spotted sea trout and redfish, and Robert Wray of Prairie, Louisiana is holding a nice tail less flounder. What happened? The picture taker, me (Captain Judy) misjudged the shot, even checked the photo, and still missed the tail. So therefore, let me tell you how big this flounder was – It was so long that it wouldn't fit in this picture! What's left to say now? Congratulations Robert! Your flounder was so big that to win you only had to show a little of over half of it!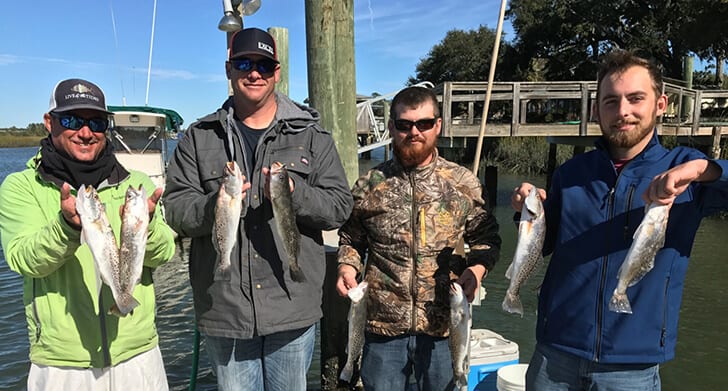 Captain Kevin Rose of Miss Judy Charters, Lee Porter Brookhaven, Mississippi, Bobby Lott Walker, Louisiana, and Cody Cooper Robert, LA What do all these fishermen have in common? They are all holding two spotted sea trout each! What does this mean? It was a spotted sea trout catching kind of a day!
Savannah Snapper Banks Report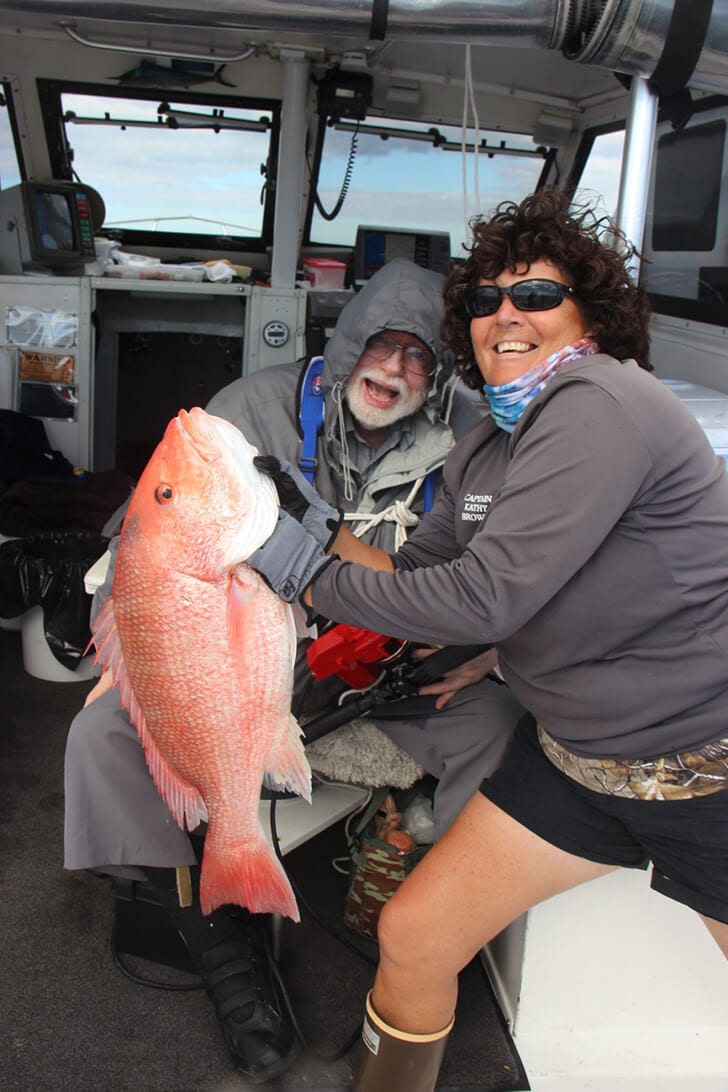 Genuine Red Snapper Mayhem! In November I took David Miller and his son Christopher who were visiting from Blue Ash, Ohio three times to the Savannah Snapper Banks. The offshore pictures that you are about to see are not pictures of the same fish. We took the pictures right before we released most all fish back to the wild. There was genuine red snapper season the month, which was opened for 6 full days. Unfortunately however, of the six full days, we could only get offshore for two of these days. David and his sons missed the snapper season because of the weather! They were good sports about it, fishing, catching, and releasing most of their fish back to the wild!
Of the three times I took this father son duo fishing to the Savannah Snapper banks most of what they caught was genuine red snapper. The total landing for snapper for three days of fishing was over 30 genuine red snapper. They also caught fought and released about 6 very large amberjack, one 60-pound cobia, and assortment of other bottom fish. They are great fishermen, because they love the fight just as much as they like to keep the fish. Even if they can't keep the fish though, they are still are in the game!
I have been taking David Miller and his son Christopher fishing for many years! And I guess you could say, and I will, that they are "True Sportsmen!"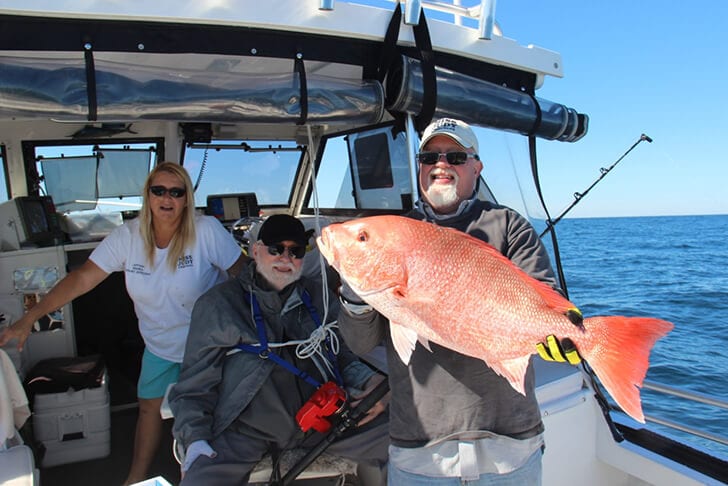 That was one beautiful snapper. Did we release it back to the wild? Yes we did! What did it eat? Well, that in itself is a loaded question especially when it comes to talking about this particular day of fishing! I stopped at all of the normal places where I usually load up with assorted baits, such as ruby red lip, sand perch, vermilion snapper, black fish, scup, and pinfish. However, this fish ate a black sea bass! And that's all I am saying about that!
What do we have here? More genuine red snapper and some great fish catching smiles! Captain Judy is holding up what's left of the bait after fish attacked and tried to eat it. As you can see this fish ate all but the head, shoulders, and the lips of these ruby red lips. It is true that on some fish days no matter what one fisherman sometimes gets all the lucky bites. On this day it was David's for sure! What did those snappers eat anyway? Well, it's not normal bait for this day and time. See the next picture…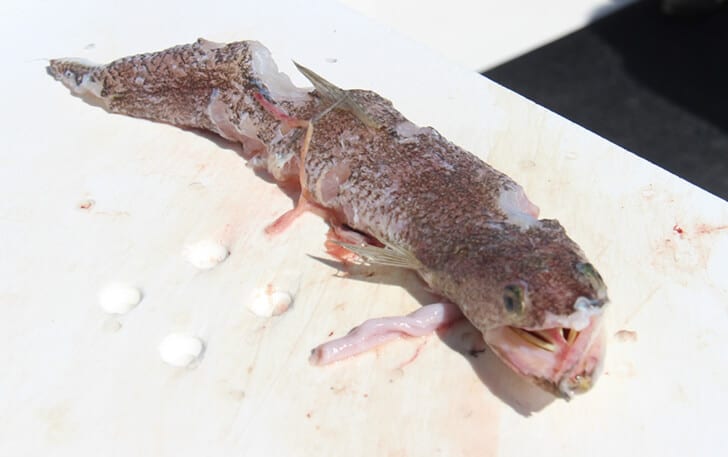 Well, this is the not so normal live bottom bait for this day and time. What is this? Well, I can't tell you exactly what my father called it. However, thanks goodness he had two names and the second not being so risqué. My father called this fish a cigar fish. Now, way back in the old days, the old cigar fish was hands down the best live bait for large silver king mackerel. With that last sentence I know you must have several questions. So I will try to answer what I think you would have asked. This is a cigar fish not a cigar minnow. This fish is also called a reef runner and sometimes is referred to as a lizard fish. All I can tell you is that this is one tough fish. If a spoon happens by this Racal it is going to jump on. And this takes guts to attack something that is almost the same size! From the looks of this bait, a big fish, most likely a grouper had it first. Then somehow it got spit out and then the triggers and other mouthy bottom fish had a field day eating the flesh that was exposed. What is the difference between a silver king mackerel and king mackerel? It is all about the color of the fish. When a mackerel migrates from the blue waters of the Gulf Stream to the darker green near shore waters at first its camouflage coloring is as silvery as it can get. And if you happen to catch this fish before it adapts to its current color conditions it is called a silver king. After that is just a regular old king mackerel!
Christopher Miller Blue Ash, Ohio and Captain Judy are showing off a bit. Christopher always gets his fish one way or the other!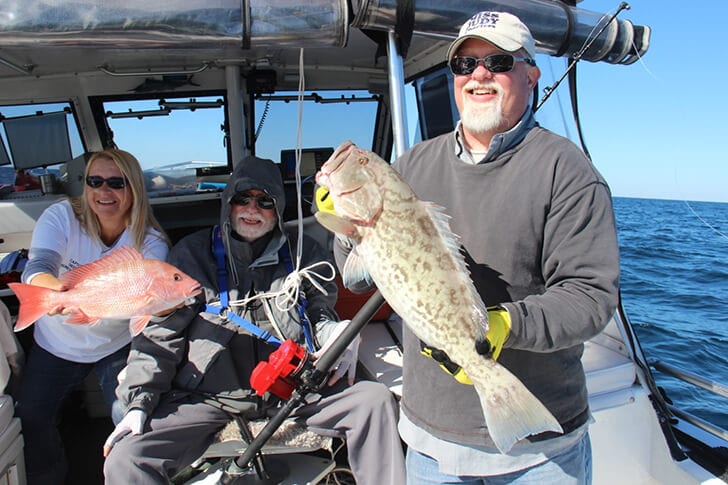 Well we had a double hook up! Captain Deidra Helmey Jeffcoat is holding David Miller's just caught soon to be released red snapper and his son Christopher is holding a nice gag grouper. The grouper will be put in the cooler and yes, it will provide a fine couple of fish dinners for the Miller's!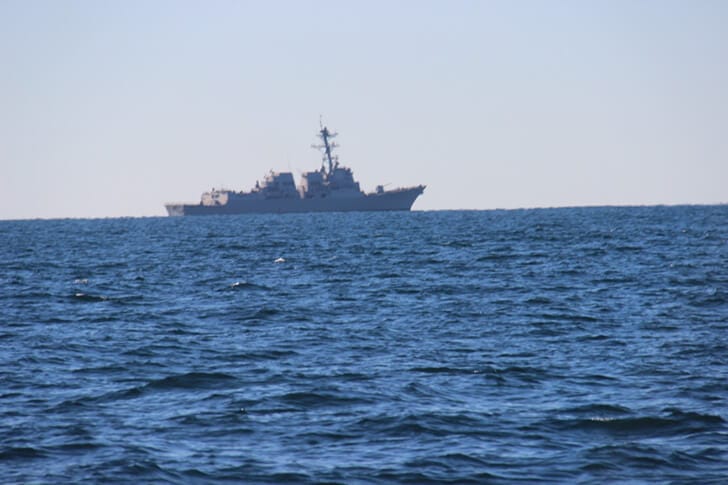 Well, on the way to the 1993 Hole we found this. What is this? Well it looks like a US Navy Warship! And as you can see it has a big gun mounted on the bow! Well, had I kept going my course/speed it would have looked like I making way towards the ship, which by the way, especially during this day, is a big NO NO! So I changed course making my intended tract way to the stern of the war ship. As soon as I passed the ship's stern I re-set my course and made way to the 1993 Hole! This detour only costs up a few minutes extra in travel time! Ok I know you want to ask, "What the heck is the 1993 Hole?" Well, let's see, it is located in about 125 feet of water and it holds lots of fish! Where is it located? In the ocean!
Gulf Stream Report!
There is an old saying passed around especially during this time of the year and if you have been reading my fishing reports you already know "if you don't go you won't know!" And there is more..over the many years of my many fishing seasons I have gone and it has proven very interesting! So please send me your reports!!
---
Little Miss Judy's Believe It or Not! – A True Thanksgiving Story.. Sardines Snack and the Turkey Slide!
My father always invited lots of family and friends to our Pre-Thanksgiving and drinking fest. It normally started around noon and most of the time lasted way until the early hours of the morning. I might as well get to the truth of it all. There was lots to eat and as I mentioned earlier also a lot of drinking going on! Due to the fact that there were so many different types of people attending I have to admit sometimes things really got interesting. By large there was a good time had by all even if the blue light special was sometimes involved.
Our dinner wasn't like most others where your family comes to visit, sits at the table, converses, and then eats. It was more like a large picnic where you sat where you could and drank either what you brought or what was available. My father always had some sort of spirits around. According to my father the best of all liquor's was called "OP!" This simply stood for "other people's liquor."
We spent our actual Thanksgiving Day at my Aunt Hattie and Uncle Foster's house, but as you know was last week's story. Our pre-Thanksgiving party was always a hit with those that attended and also it meant a great deal for those that didn't. The reason for this is a simple one, "those that don't really had lots to talk about!" Our parties did get out of hand in most cases, which only added fuel to the conversations of the "busybody brigade!" My father use to always say, "Women in hats alway have something to hide!" According to daddy it was their big mouths! As a child, I wasn't sure about the mouth thing. So therefore I stared at all those that were wearing hats, because I was always trying to get a glimpse of what they were supposedly trying to hide. I am sure glad I grew out of that one! I like to wear a hat sometimes myself!
We made this hors d'oeuvre, although Daddy never called them that. I can guarantee they were eaten by the handfuls. Daddy would take a tube of saltines crackers and deal them out on a big tray. After that achievement he would open a few cans of whole sardines, drain them, and put a large piece on each cracker. As well as I can remember ½ sardine on each cracker worked out well. On top of the sardines daddy put a thinly cut ring of raw Vidalia onion or a big piece of scallion onion. Here's comes the last part and the best for me. While he was building his hors d' oeuvre I was "rolling the lemons!" I was allowed to roll them on any hard surface that I could find. So therefore some were rolled on the tabletop while others were rolled on the concrete floor, because that's where most of them ended up. My job was to soften the tough meat of the old lemons. I would then hand them over and daddy would cut them in half. He then would squeeze the juice over the top of the crackers, sardines, and onion rings. According to my father this was a dish that had to be eaten right a way. If not the crackers would become too soft to even pick up. My job was to carry the tray and offer them up. As I can remember since it was long ago I think I only dropped a few trays. This was not a total lost, because the dogs liked them too!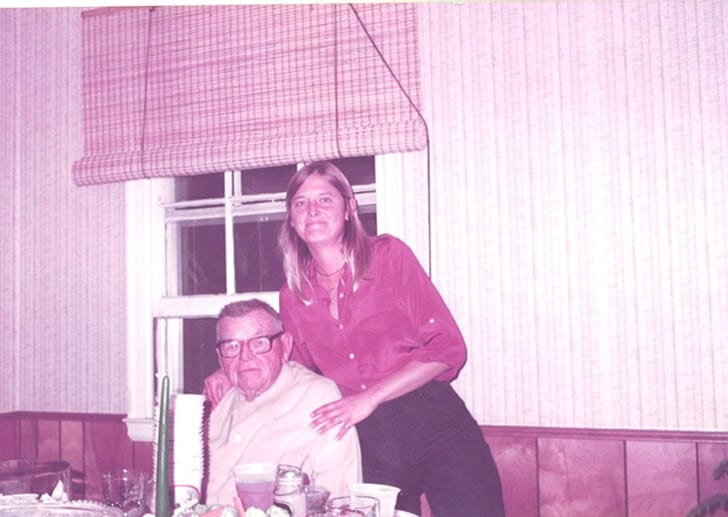 Our guests showed up in cars, trucks, and boats. We never knew exactly how many guests would attend, but knowing my father as I did I always expected a lot. In the cooking department, I would have some help from daddy in my younger years, but as I got older I grabbed whomever I could. We cooked the normal Thanksgiving stuff, which consisted of baked turkey, dressing, and lima beans. When I was young, eight years or less, neither Daddy nor I could figure out how to make Giblet gravy or rice. Back in the old days you couldn't just purchase gravy in a jar or rice in a bag. So therefore we stayed away from those two items. We had our turkey recipe down. We just oiled the bird up, put some choice seasonings on it, dumped it in the oven, and put it on 350 degrees for many hours. However, there was this time where the turkey slipped out of our hands and on to the floor it went. A greased headless 22-pound turkey when free dropped from 3 feet especially at an angle can do some traveling on the old kitchen floor. I should have measured the distance, but didn't think about it at the time. It could have been some sort of a world record!
The stuffing/dressing was another thing that I didn't understand the whole just of. My first dressings didn't have much taste to them. I don't know why I just didn't ask someone, but I really never thought about it. The biggest problem was the fact that I didn't know that it had to be cooked in the oven. So therefore most of the time it was made from the turkey's juice and cracked up toast. It never looked much less tasted like Aunt Hattie's dressing whether I cooked it or not. I guess you really could say especially in this case "the secret was definitely not in my sauce!" Thanks goodness when other sauces were added everyone thought everything seemed to taste great! And it must have, because we basically never had any leftovers! So therefore I must have been doing something right!
Happy Thanksgiving! And thanks for reading! – Captain Judy Helmey
Captain Judy Helmey
Miss Judy Charters
Kicking Fish Tail Since 1956!
124 Palmetto Drive
Savannah, Georgia 31410
(912)-897-4921 or (912)-897-2478
(912)-897-3460 fax
[email protected]

You can see Captain Judy's previous report here.