November 27, 2017 – Captain Judy's Inshore Fishing Report and Little Miss Judy's Believe It or Not Story!
Fishing statement: To try to insure that fishing stays in the hearts of those that love it and to help the ones that are going too!
OK fisherman… Here's where we are in the fish catching opportunity world!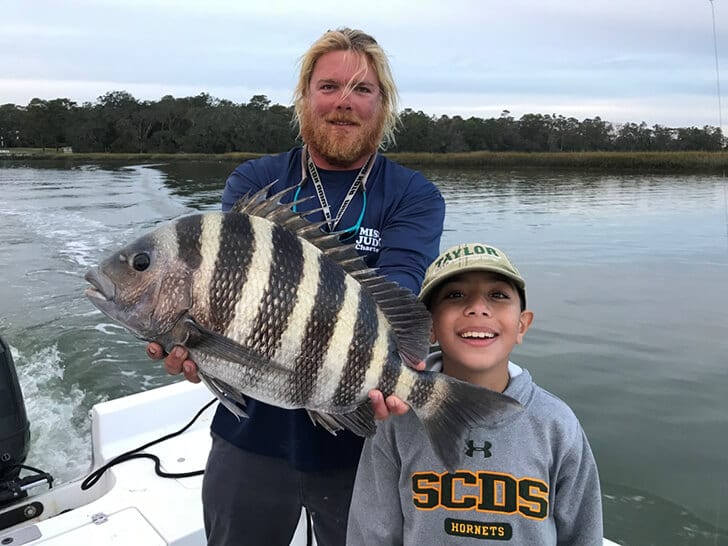 Nik Manocha (age 10) of Savannah, Georgia is showing us his happy fish catching smile! Captain Garrett Ross is assisting and shown him the catching way! As always when there is a big fish involved there is always a story to go with it. And this catch is absolutely no exception. It was getting late and it was time to head back to the dock. After seeing the disappointed look on his son's face Dr Manocha suggested maybe trying one more drop so that Nik could catch one more fish. And of course, Captain Garrett was up for this challenge! Once situated at last drop for the Manocha's family fish day, Captain Garrett handed Nik the rod. For the first few second the cork holding the bait was untouched. However, after a few seconds more, it happened a fish grabbed Nik's bait, and off it went pulling drag. Nik went into the mode of I am going to catch this fish and it worked. After a few minutes of reeling and re-reeling what the fish took back Nik's large sheepshead was netted and lifted into the boat.
Inshore Shorts!
The inshore is as it has been for the last two months and as it is most of the time. What does this mean? Sometimes you catch them and sometimes you don't! However, if you happen to be on the receiving end of the catching wheel then you already know that the bite this past weekend was pretty darn good. The secret to inshore catching is to be prepared with the right bait, once arriving to you designated fishing spot to approach it quietly, and always have a backup plan. What is the right bait for this time of the year? My old standby line when it comes to bait is if possible to always have live shrimp. However, if not, I suggest mud minnows, finger mullet, or peanut menhaden. If you can't find or catch any of this bait, then go with the best shrimp patterns that you have that are impregnated with some sort of luring scent. You know the old saying, "The secret is in the sauce and in the fisherman that works the bait that it comes out of it!"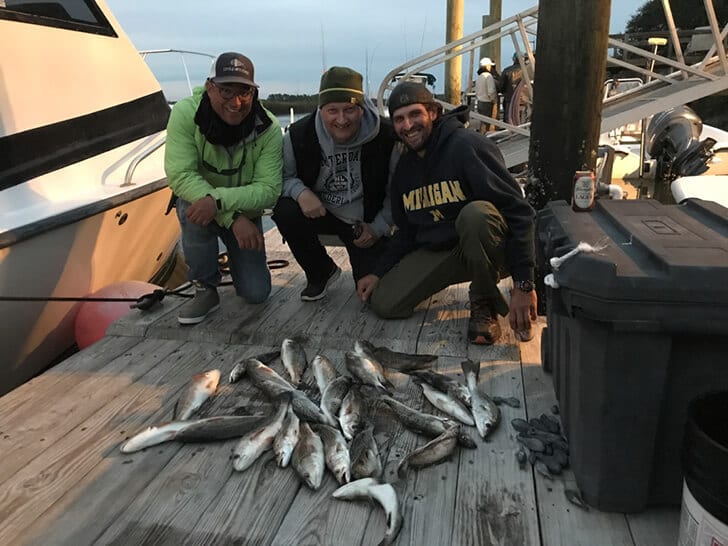 Inshore Sheepshead Bite!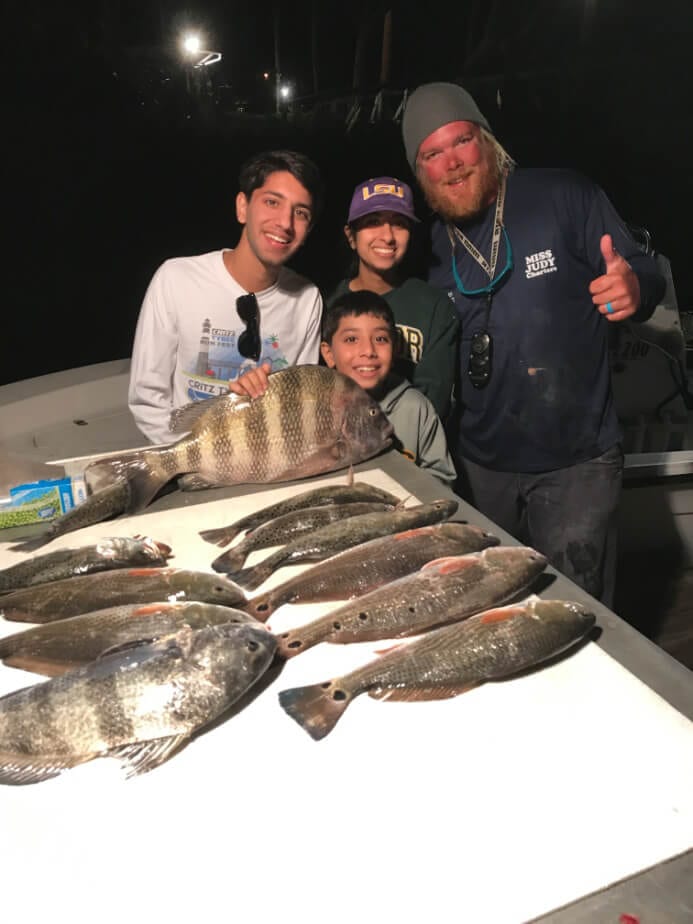 Well, well, let's see how I can explain this bite. I guess I can start by saying, "It has been pretty darn good!" As far as size of fish caught, it has been anything from small to very large. Areas such as docks, rock, wrecks, bridge uprights, and etc are holding the interest of these. Some fishermen prefer to fish a high tide while others like Captain Tommy Williams of Miss Judy Charters prefers the lower stages.
As far as best bait this fish loves purple fiddlers, small stone crabs, black back fiddlers, mussels, barnacles, and just about anything wrapped in a shell. However, the old sheepshead also loves a live shrimp. And if the timing is right when one of these baits make a pass sheepshead strikes can happen. If you don't believe me ask 10 year old Nik Manocha Savannah Georgia. He just caught a very big 11 pound plus sheepshead with a popping cork on a live shrimp while fishing with Captain Garrett Ross of Miss Judy Charters.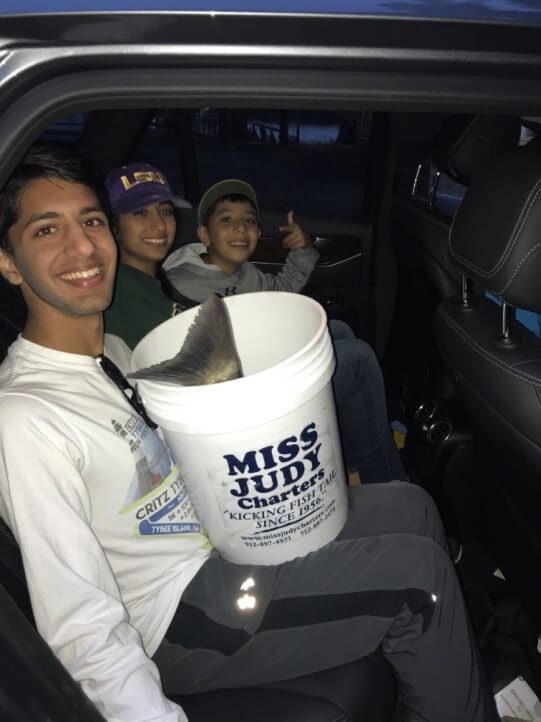 I can't reiterate enough: for those of you that want to give inshore sheepshead fishing a try, please give us a call (912)-897-4921. A four hour trip for up to two/four a passengers is very reasonable!
Vik Manocha, Kiran Manocha, and big fish catcher Nik (age 10) made their way to the fish scales. In the Miss Judy Charter's bucket is Nik's large sheepshead that he caught while inshore fishing with Captain Garrett Ross.
Upon arriving the fish was put on the scale! As you can see Nik's sheepshead was big. The fish officially weighed 10.85 pounds. And that my friend is a very big sheepshead! And so, a big congratulations goes out to Nik Manocha of Savannah, Georgia for successfully catching, fighting, and landed this big fish!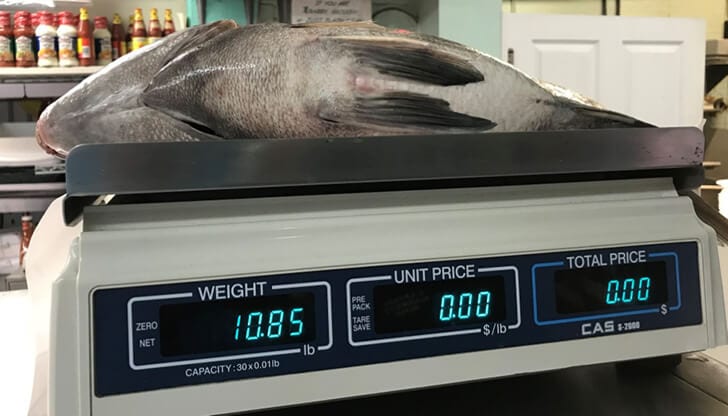 Artificial Reefs! Offshore Sheepshead Bite!
For those that like to target this old sheepshead while in their offshore migration now is the time to give this kind of fishing a try. Normally, at least during warmer months this fish is spread out all over the inshore waters. But when offshore waters temps drop below 60 degrees sheepshead make way to the near shore artificial reefs and to any sort of structure that they can find at 60 feet or less depth. So for those that want a short offshore boat ride to the fish, your time has arrived!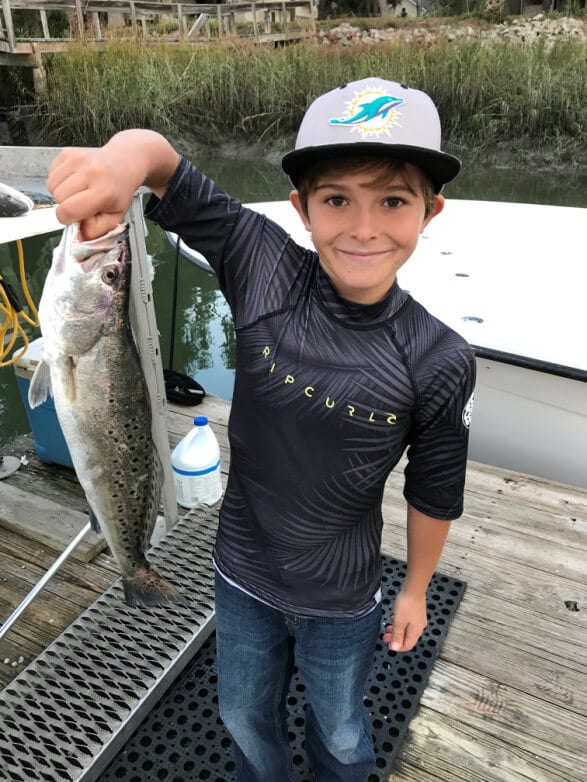 The best bait when targeting this fish is to use any type of sea creature that comes wrapped in a shell. And bait list goes something like this….purple back fiddlers, flat back fiddlers, small rock crabs, mussels, oysters, barnacles, shrimp, and etc…now for those that have been reading my fishing report for years you already most likely have heard of this crazy bait….it is not from the sea, but it will work…and that would be crickets! Now here's a suggestion: the night before giving your crickets a try, I suggest putting in a couple of slices of orange in their cage. The crickets love oranges, eat them, and then they smell just like them. It seems that all fish are somewhat lured by this citrus smell! (Fresh and saltwater fish) Go figure! Now you don't have to tell anyone that you know or even have tried this. Captain Kathy Brown of Miss Judy Charters shared this old time family recipe with me and of course I ran with it…and the fish ran after it! Be quiet, this is all I have to say!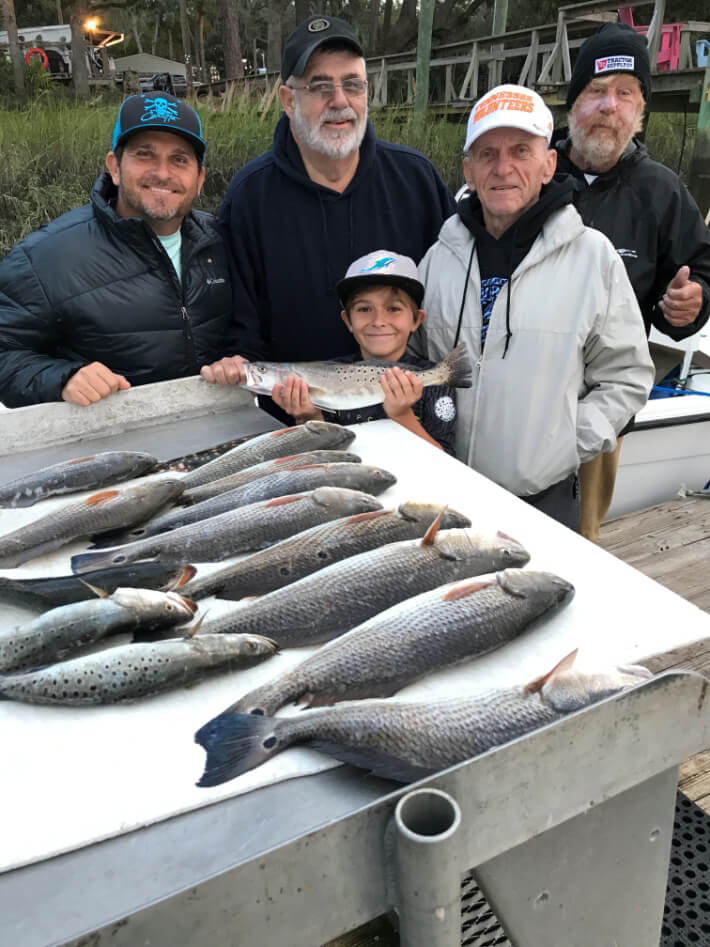 Miss Judy Charters is offering sheepshead trip for up to six and ten passengers…You need to take at least a 6 hour trip… but we can do less time. Give us a call for the details.
As you can see in these pictures, while inshore fishing with Captain Tommy, a big time catching plan came together! A grand family affair!
Plain Old Sound Fishing! Whiting Plight!
This is one of my favorites and believe me since the winds have not stopped blowing in 2017 I have had lots of time to crack this fish biting code. Now I am not saying I can get them to bite all of the time, but what I am saying is I know the best times as well as any alternative activity! Fishing is the sound can be as simple or as complicated as you would like. I like the simple version better. And it goes like this…for my bottom rigs I am using Carolina style rigs on light tackle. I was fishing with another Captain this past week and he was fishing with light tackle two hook bottom rigs. And they worked too! And believe me the customers said, "He using two hooks and you are only using one!" The best news about either of these rigs is they work when targeting the allusive whiting also known as the southern king fish. Whiting are clearly bottom feeders. However, it has been proven many times over they for some reason they find the one foot above the bottom an interesting place to hang. So therefore both rigs did work. As far as bait we were using small pieces of squid, small pieces of Georgia raised shrimp, and small pieces of fresh whiting fillet. Sometimes all this types of bait work, sometimes you have to put two types together. And here's the thing, when you are fishing with 10 lines at one time it is easy to figure out which bait is working best. However, I can assure you of one thing, not one bait seems to works all of the time. What does this mean? Keep a changing up your bait type and placement on your hook. It will only increase your chances for catching more fish. Along with the whiting we also caught quite a few stingrays. Now, don't turn your nose up at this, because in my fishing world you will not believe how many people have ever seen a stingray up close and personal! Believe me we don't know how lucky that we are to live and play on the coast!
I have found that when you fishing out of a 31 foot boat in the sound that you are a little limited to getting out of the current. So therefore the absolute best time to fish for whiting and other bottom biters is 2 hours before till 2 hours after the tide change. However, if you aren't too limited in the depth of water that you can fish you most likely catch them anytime.
In my world and in these last few weeks I have been catching the whiting in about 18 to 25 feet of water. And if the whiting don't bite we've got crabs instead! And this is another sea creature that holds lots of interest from those folks that have never seen one really alive! And since, thanks to 7 year old Mollie Lee Morgan Conroe, TX invented the Captain Judy Crab Spa, well things have gotten pretty interesting in the catching crabs mode. That's entirely another story, which will be revealed later in this very fishing report!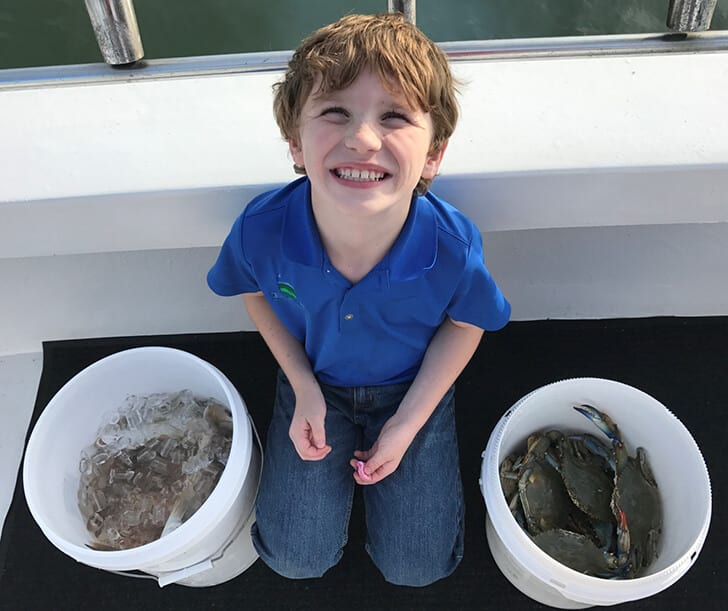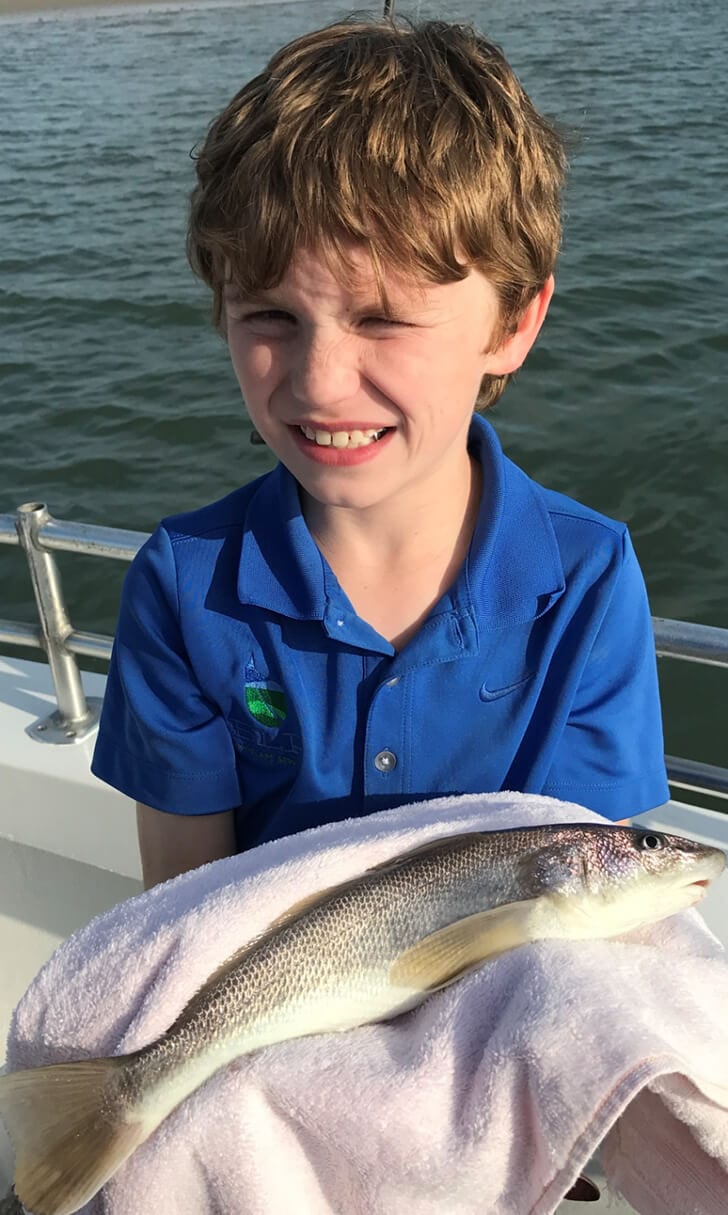 The Wesley Shaw family booked an offshore fishing trip and the windy conditions changed everything! So it was decided to just do a little sound fishing with light tackle for whiting and any other biters. As the fishing trip progressed we found that not only were we hooking some nice whiting but we were also catching some blue crabs. And little 8 year old Adrian Shaw of Springfield, Georgia made the comment, "Let keep them too!" So as of then the fishing party immediately turned in a double header… fishing and crabbing. We started just dipping the crabs that liked that like the shrimp threaded on hooks. Then I made some old timey crab lines and baited them with the smaller whiting that we were not going to eat. I have to admit that we would have had a lot more crabs if number one we would have had a crab dip net instead of a bait dip net. However I have to admit trying to get the larger crabs in the smaller net was a challenge. And this just made it more fun for all involved! And believe me when I say and also can confirm that children and even adult children love to go crabbing with a string, weight, and bait! Getting the crab or maybe two that is gnawing away at your bait to the surface without interrupting its meal is not as easy as it seems. And what does all of this boil down to???? A Crab Catching Quest!
So what do you do if you have booked an offshore trip and the winds are a howling? Do you cancel? Or do you just still give up and not go? Or do you just say, "It is what it is and let's just make the best of it?" Well, this is exactly what these two offshore fishing parties decided to do! And If you don't think fishing in the sound isn't interesting then ask Adrian Shaw and Mollie Lee Morgan what they think about it!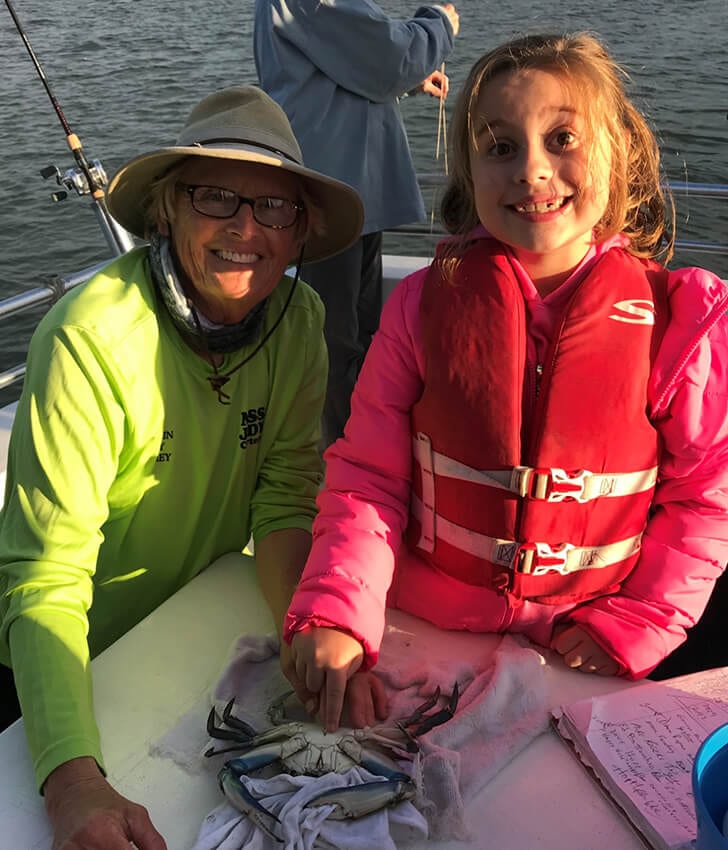 Please meet Mollie Lee Morgan (age 7) of Conroe, Texas. Mollie and her family were visiting her grandparents in Savannah for Thanksgiving! The first time I took her family out they each caught, fought, and released a trophy red fish. And on the way home we stopped and watch as two right whales made way in the distance. The picture is down below. As you can see it was going to be hard for me to live up the same kind of trip since I couldn't go offshore. However, the family just wanted to go fishing and we did. So I pulled out the light tackle and crab lines! Mollie was excited about crabbing and it seemed after that was established the numerous crab's bites just kept coming. She caught about 18 crabs, which according to her boiled down to 7 males and 8 females. And believe me she knew the difference. And it went like this…the crabs with red nail polish on their claws were females. And the males of course were sporting their royal blue coloring.
When the first crab was netted, (we had the right crab net on this trip) I showed everyone how we put the crab temporarily to sleep. And all of this boils down to hypnotizing the crab so that you can really get a good look and you can touch them without being bitten. Mollie came up with this idea very early in the game… She called it Captain Judy Crab Spa! What is this? First you must lay out a towel for complete comfort and then we would turn the crab over on its back. Once in this position Mollie rubbed its belly putting the crab into a trance. After the crab was totally relaxed and sure that we were not going to put it in the boiling pot it laid there peacefully! Once this show was over, Mollie released the crab back to the wild and proceeded to catch another! On this fish day Captain Judy's Crab Spa accommodated a total of 18 blue crabs, which boiled down to seven males and eight females. What does all of this mean? All crabs were released back to the wild being completely rested and ready for another day!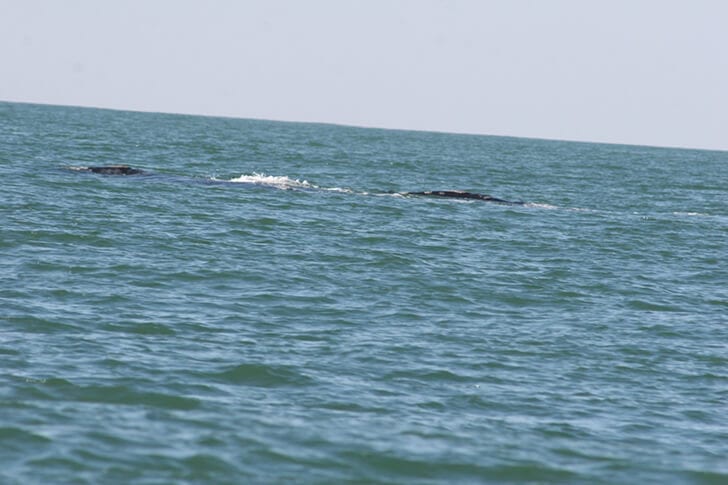 Although it is hard to see, because I had to take this picture with a long lens, there are two right whales making way in the distance. And this is what Mollie's family saw the first time that we all went fishing back in 2015. So as you can see this trip was going to have to be special. And a big thanks to Mollie, because she made sure of that! She came up with Miss Judy Crab Spa!
Charters fishing team!
Yahoo, we got another genuine red snapper keeping weekend! As you know the original snapper November 2017 opening turned out to be almost a complete windy conditions weather disaster. The powers that be have officially opened another three days for our offshore fishermen. The dates are Friday December 8, Saturday December 9, 2017, and Sunday December 10, 2017 So therefore, the only thing left to say now is "Your Boat or Mine?"
---
Little Miss Judy's Believe It or Not!
I can hear my father saying this to customers. The fact of the matter is I said the exact same thing to one of my customers last week! This is my father Captain Sherman I Helmey sitting on the T-craft Miss Judy Too. It has been a long time, but let me see if I can tell you exactly what's hanging on the ceiling over my helm! Okay, the first large box is a St-Tex loran, which had a go to the exact spot feature. However, remembering which button or two buttons to push at the same time was hard to remember. The smaller box with the two large knobs was a hailer, which had an outside speaker. And boy, did I have fun with this. I could talk to everyone in the creek and it also made siren, train, and etc noises. You know I think I need to get that install on my now Miss Judy Too. The next box was a state of the art (at the time) St-Tex loran! Look how small it is compared to the older larger one. Boy, electronics have certainly changed for this day and time. I now have one box, which I call the brain and it runs everything. It's very simple and very accurate! No anything like the old loran's, which were sometimes 300 feet off! I guess back in the old days since we didn't know any better we didn't know to care!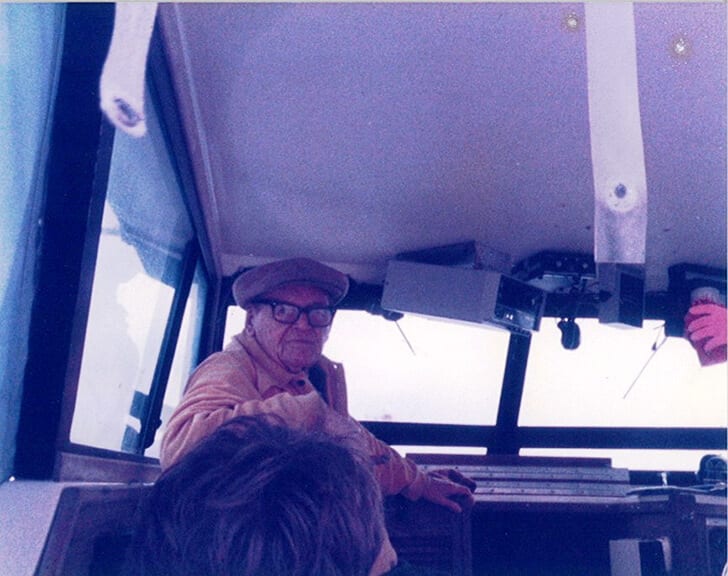 Passing Notes
Back in the old days, there was this saying, "You are quite a card!" This usually meant in my father's case, "very interesting and entertaining at the same time." At any rate, I think that this one sentence would cover daddy in a nutshell. My father had a way with his customers. He could almost say anything to them without the fear of making them mad.
According to my father when a fishermen, back in the old days, chartered a boat they expected that the captain knew what, when, and where they were going to catch a certain fish. In fact the captain was supposed to be able to bring fish that weren't even known to be in the area to the boat and make them bite a hook. So when a customer would complain about not catching a certain fish, my father had a great line for this situation. He would hand the fishermen a small piece of paper and a pencil of which they would accept and hold. He then would say, "write a note, tie it on your line, and let me know how it works." Some fishermen would basically laugh it off while others didn't seem to get it. After seeing this happen first hand, at the young age of five, I easily figured out why some of the serious fishermen didn't just write that note. They flat just didn't know how to spell!
Thanks for reading and Happy Holidays! – Captain Judy
Captain Judy Helmey
Miss Judy Charters
Kicking Fish Tail Since 1956!
124 Palmetto Drive
Savannah, Georgia 31410
(912)-897-4921 or (912)-897-2478
(912)-897-3460 fax
[email protected]
You can see Judy's previous report here.