Captain Judy's Offshore Fishing Report and Thanksgiving Dinner at Aunt Hattie's house!
Fishing statement: To try to insure that fishing stays in the hearts of those that love it and to help the ones that are going too!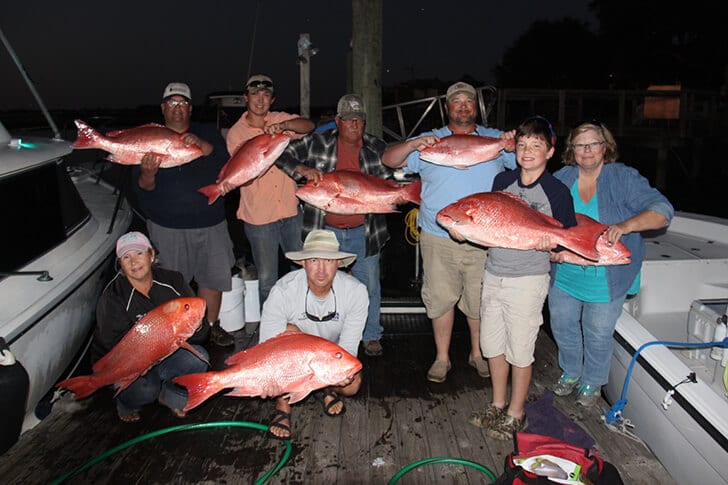 While fishing at the Savannah Snapper Banks Captain Ken Kennickell on Obsession of Miss Judy Charters while using assorted baits from small pieces of squid to live bait this fishing team caught exactly what they wanted. It not every weekend that we get to keep genuine red snapper, but to be honest none of us understand why!
Aaron Rogers, Dublin, Georgia, Dillon Rogers, Dublin, Georgia Dennis Thomsen Dublin, Georgia Wes Thomsen Rents, Georgia Tanner Thomsen Rents, Georgia Deb Thomsen Dublin, Georgia and Captain Deidra Helmey Jeffcoat and Captain Ken Kennickell of Miss Judy Charters.
Here's a little information…these 8 genuine red snapper weight at the dock 148 pounds…if they would have been weight when they were still alive they most likely would have weighted together about 178 pounds…that is a lots of snapper dinners!!
The 2017 Genuine Snapper Season is Coming to a Close!
I don't know rightly who to thank for this grand 2017 genuine red snapper season. It was opened for November 3, 4, and 6 of 2017. We were supposed to get the next weekend, which was November 10, 11, and November 12, 2017. However, the high winds causing rough sea conditions prevailed! Our offshore boats were tied to the dock. The snappers are once again safe from the dozens of fishermen that might have gone to try and catch them! Back in the old days there were hundreds of fishermen that wanted to catch them! Here's what I do know: The genuine snapper population has grown so much that all sizes of these fish can be caught from about 40 feet to 200 feet of water. On our last snapper banks trip we caught some many red snapper that it was almost embarrassing to keep saying I am sorry but the season is closed, the stocks are depleted, and they are endanger of being extinct forever! And I have to say all of this with a somewhat straight face. Now this is not because I am targeting red snapper. It is because there are so many of these fish up in the water column over the manmade reefs and the natural live bottom area. Georgia swimmers should not be so concerned about being attacked by sharks, because it's not the toothy monsters that are going to try and eat us…It's going to be the genuine red snapper! Laugh if you want, but when they devoured all the juveniles down under what do you think they will turn to next? Anything that will fit in their mouth or anything that they can tare apart with their K9 teeth! It's not one fish to be afraid of it's the thousands of snapper that are looking for something to eat. The good news is they have not devoured everything on the live bottom ledges, but its coming and its coming sooner than you think! Getting off my soap box now!
Artificial Reefs
The bottom fishing has picked up and I do believe that it is only going to get better. If you want to catch some nice black sea bass you are going to be to think outside of the box. You won't find them everywhere on the artificial reefs, but you will find them in the more isolated spots. The best bait is going to be squid, dead shrimp, cut fish, and minnows. When I say minnows I am talking about Cigar minnows or Spanish sardines. There are still some live ones to be caught while using the old sabiki rig. And of course if you tackle store is selling them frozen; please pick a 5 pound box up. You will not be sorry!
The flat fish have arrived and believe this is one hook up you don't want to miss. This fish was caught using a drop through rig. What is a drop through rig? Well, it is the simplest rig that there is. To make this rig all you need an egg sinker, slide onto main line, and tie on the hook of choice. I like using a set up with 20 to 40 pound test monofilament line. There is no leader or swivel. The egg sinker must be able to slide freely on the main line to allow this rig to work right. This is not a rig that can be used with live bait. It's the kind of rig that needs what is called "chunk bait, small pieces of fillet, or a whole squid head." I must admit that the whole squid head is my favorite. Why? It looks just like a juvenile octopus on the fall/descent! All fish are very tempted and not guarded when it comes to this type of bait! How do you work the floating through the fish rig? Set the reel on a drag on "medium." In other words "you want to be able to pull the line out when the reel's bale/brake is on. Cast away letting the sinker and bait go into a "free fall." Keep the reel's bail open keeping your thumb lightly on the spool keeping the line for back lashing. Always keep thumb on reel and the other hand on the release level. As soon as you get a hit, "flip the level."
The secret to this rig is that you want the bait to seemly drop naturally meaning not like it has got a sinker attached to it. The weight used should be determined by the amount of drift. (The more drift the larger egg sinker needed) You will be surprised on exactly what a small ¼ to 4 ounce egg sinker will do when it comes to keeping you bait close to the bottom. The secret is not to use too much weight because you want your bait "to flow not drop fall."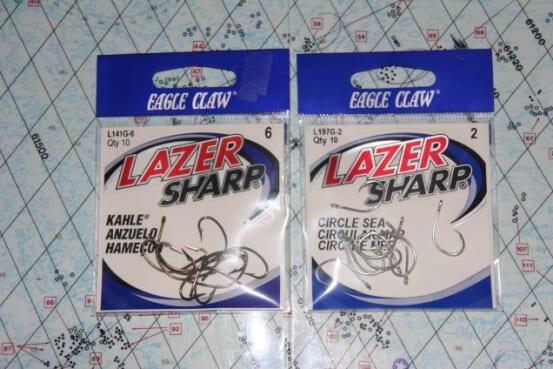 Best Hooks to Use for Either Rig
Eagle Claw 1/0, 2/0, 3/0, or 4/0 "J" style hooks work great or 2/0 or 3/0 Khale hook the best thing to remember that you hook should be as sharp as you can get it. Please remember in this case circle hooks might just be your friend. As far as circle hooks go I have been using the offset Eagle Claw Lazer Sharp Hooks, which have been working. It's my opinion that this hook can work both way meaning you can treat it like a circle hook and not set the hook or you can set! It's kind of up the fisherman holding the rod. Some like to bow to the fish when they get a hit,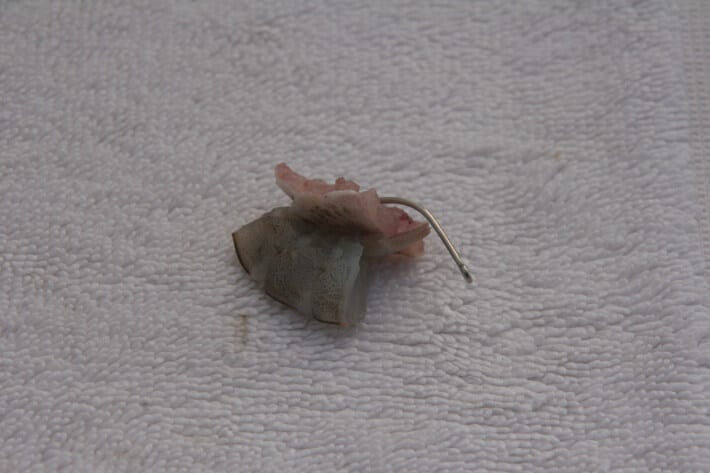 which means gently lowering the rod and some fishermen like the setting of the hook. No matter how you decide to go with or without the set these thin tinned hooks do work! By the way Eagle Claw isn't paying me! I am paying them every time I use another box of hooks!
These style hooks are very sharp, thin tinned, and work very well
This bait is basically what we call a whiting cocktail. I have placed a small piece of shrimp and fish fillet on the hook. This is what we call double scent bait.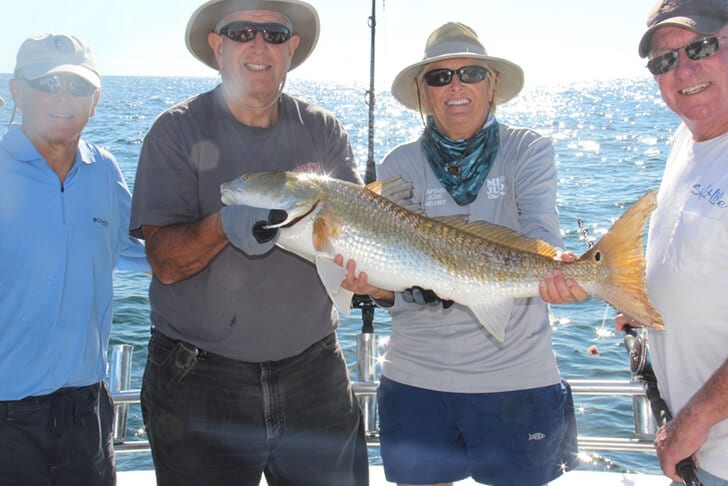 David Hurt Jr. and Captain Judy are balancing this trophy red fish that was caught while plain old bottom fishing! This proves once again when you drop your hook in the ocean you really never know what might bite your hook! In this case it did and it was big too! Yes, this trophy red fish aka stag bass was carefully released back to the wild!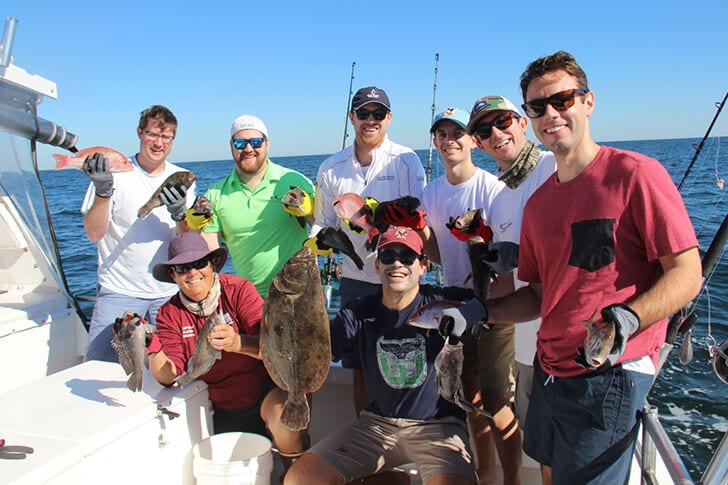 Sitting in front we have Captain Kathy Brown of Miss Judy Charters and Nicholas Dillon Fulco of Brooklyn, New York holding the biggest fish for the day. A big doormat flounder! What did it eat? A small piece of squid and shrimp fished on the bottom on Captain Judy's drop through!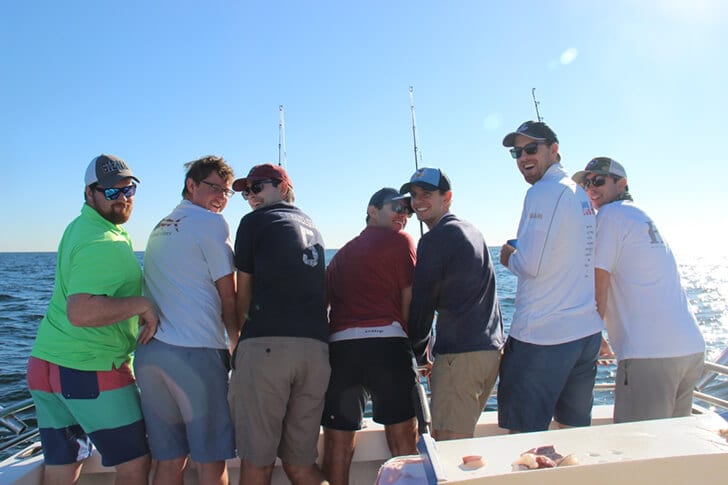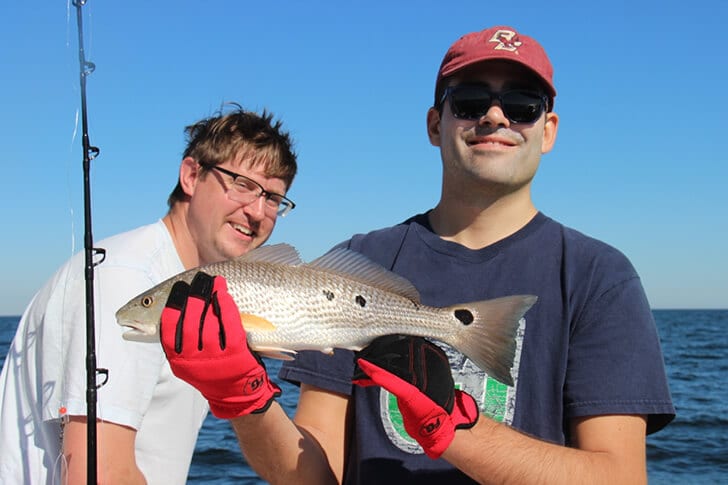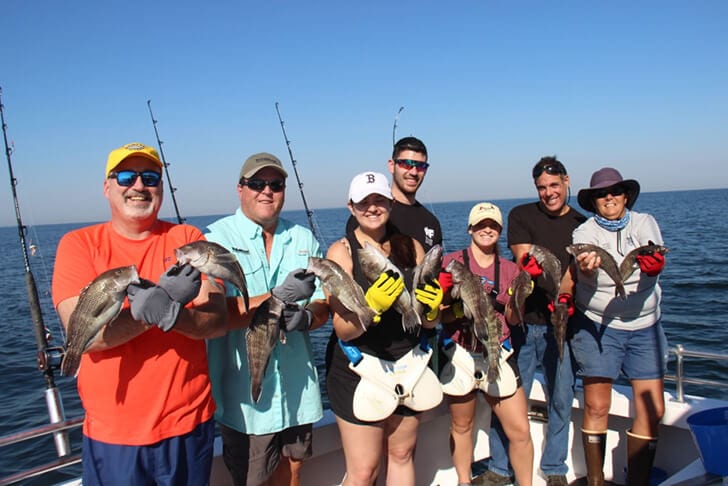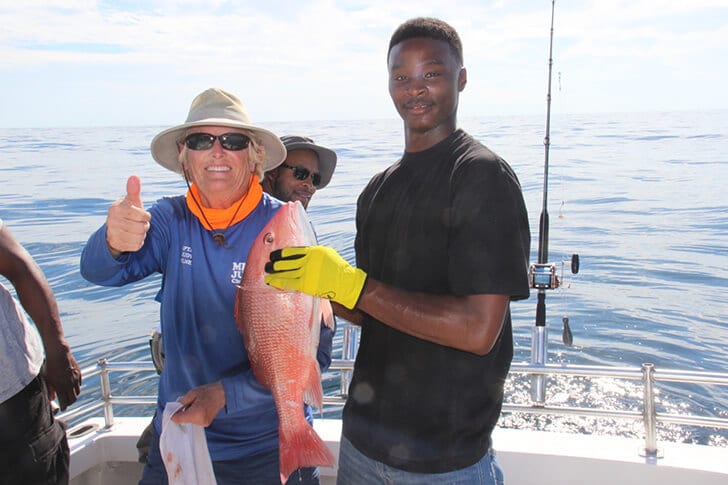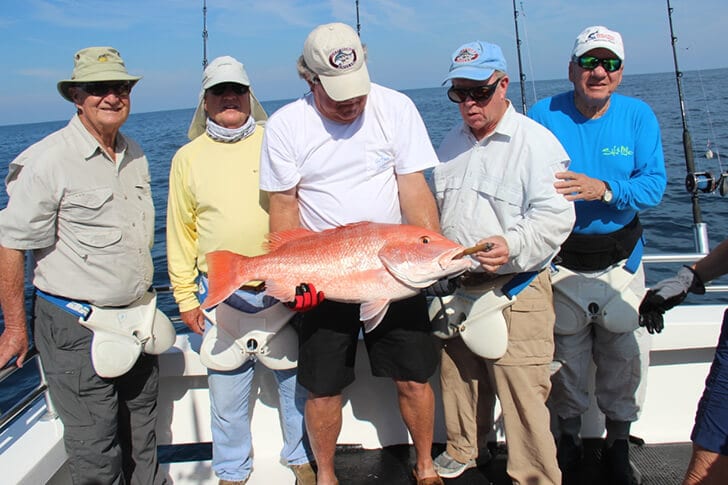 Mike Rogers, Geogia Marshall, and Dave Ropes holding a snapper while Dave Hopp allows the fish to take a short puff on his fine cigar with Ed Battacchio next to him. All of these fishermen are from Bluffton, South Carolina and have been great customers of Miss Judy Charters for many years! Heck, all I got to say now is, "And we are still all around!" And I mean both the fishermen and the fish!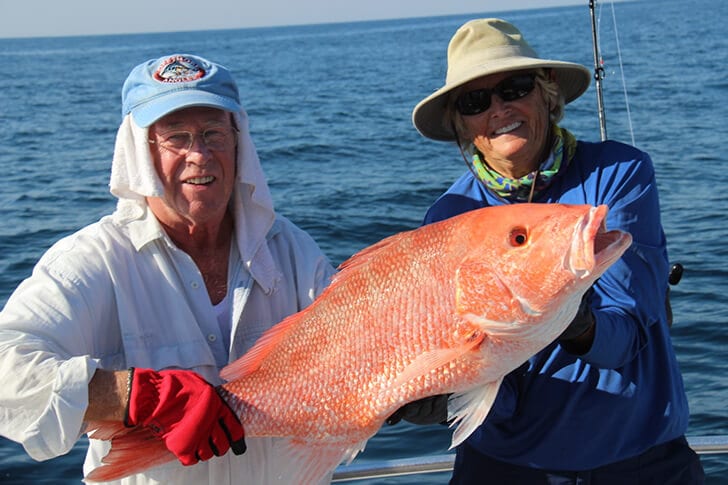 While at the snapper banks of this fish as well as many others it became apparent that when you dropped you hook with no matter what kind of bait you were going to catch a genuine red snapper. This is a large specimen and it was caught on a small 5/0 circle hook. Now I am not going show you all of the pictures I took because it would just look like I was taking pictures of the same fish! I think you get the picture!! And I am tired as well as other catching so many genuine red snapper. It doesn't matter whether you are fishing in 40 to 150 feet of water – YOU GOT GENUINE RED SNAPPER OF ASSORTED SIZES! I already know that no one is listening and that this will not make a difference in any changes that our fisheries might decide to make. However, I am sure most all fishermen would have to agree that if those making the decisions should in fact let the facts be the facts, because if they did, we would all come out a lot better!
---
"Little Miss Judy's Believe It or Not!"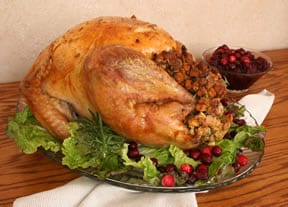 A Thanksgiving story – this is number one and next week will be number two! – My Aunt Hattie's Brown Bag Theory
My Aunt Hattie, which was my father's older sister always cooked the best Thanksgiving dinner! Her cooking abilities were unbelievable. She would cook along with the help of Bertha doing almost everything from scratch. Aunt Hattie's Thanksgiving dinners took days to prepare. In fact during my younger years, if I'm not mistaken, all ingredients including the bird was raised or grown on her big farm. However, the fruit that she used to make that unbelievable ambrosia was probably purchased from a stand right out there on Highway 17. I know that the pecans that went into this particular dish were picked from the farm, because quite often I helped with the gathering.
Bertha of whom worked with my Aunt for a long as I can remember was always there to help with the "Thanksgiving Cooking Bonanza." I was always interested in how they made everything look and taste so good. Her personally grown vegetables were always the "prefect vegetable color." They baked a coconut cake that was 6 tears high. It never leaned or anything. The bad news is I wasn't always around for the mixing of the cake, because this is one bowl I would have loved to lick. However, my aunt had this kitchen utensil that I later called a "child cheater." This reason was a simple one. Whenever I happened to be around when baking she used this utensil and it would remove almost all of the tasty ingredients from the walls of the mixing bowl. There was always a little left, which was just enough to get a short taste.
The turkey was always browned to perfection. Her secret was certainly a one of a kind at least in my book. She cooked the turkey in a brown grocery bag. The bird was put in the bag much like you would have put one in a state of the art "plastic browning in bag." The drums always stuck out a little, but not enough to let them be exposed to direct heat. There was another weird cooking method that I had seen when I was even younger. The turkey was wrapped in a sort of gauze that pretty much look like some sort of a bandage. When the bird was cooked and un-wrapped it also came out golden brown with skin and everything. However, when it was first put in the oven it looked like a real bona-fide "turkey mummy."
The food wasn't the only highlight of the Thanksgiving Day. My Aunt Hattie always set the prettiest dinner table I had ever seen. She would always use her best china and silverware for this special occasion. The Table was huge. It would seat at least 12 guests. There were high back chairs with big arms rests. When you sat in them you knew for a fact that you had to be someone special just to be invited. The good news about my Aunt Hattie was that my father and I were always invited. It was a family tradition to spend Thanksgiving Day at her house. This particular dinner was always served at 2:00PM sharp. You could tell when dinnertime was approaching, because everyone would start showing up. My father and I always arrived early so that we could all watch the televised New York Thanksgiving Parade. It was as I said part of a family tradition.
When it came time to eat everyone was gathered for a prayer. As a small child, I am sorry to admit, I always opened my eyes just to watch what every else was doing. Most of adults were standing very still with their eyes closed. However, all of us kids basically did the same thing watched and semi-listened as what seemed to be the longest prayer ever said in the world. At least it seemed long to us 7 year olds. At the end of the prayer all adults reached for their chair and proceeded to sit down. The children were all escorted to the kitchen where a special table waited for us, which fit our size perfectly. However, we would always talk about the day when we all would be sitting at the grand dinner table.
However, now that I think about it when I finally graduated from the kitchen to the main dining room it hasn't been all that I thought it would be. I had to fix my own plate and wait for others to start eating. Our tea glasses were sitting in crystal holders, which were supposed to keep any sort of wet stains off the starched white tablecloth. Trying to eat and drink at the same time could be tricky especially if you missed putting your glass back in the holder. The food sure didn't taste any different. Don't get me wrong it was still delicious, but somehow it wasn't the same.
This goes to show you that it takes a lifetime to realize that in some instances "change and all that implies" certainly isn't all that it's cracked up to be! However, "family traditions" are what Thanksgiving Day is all about! Although in my case, moving from one room to another didn't seem like a big step, but it certainly was!
Thanks for reading! Happy Thanksgiving!  – Captain Judy
Captain Judy Helmey
Miss Judy Charters
Kicking Fish Tail Since 1956!
124 Palmetto Drive
Savannah, Georgia 31410
(912)-897-4921 or (912)-897-2478
(912)-897-3460 fax
[email protected]
You can see Captain Judy's previous report here.