Captain Judy's Inshore Fishing Report and Little Miss Judy's Believe It or Not Story!
Fishing statement: To try to insure that fishing stays in the hearts of those that love it and to help the ones that are going too!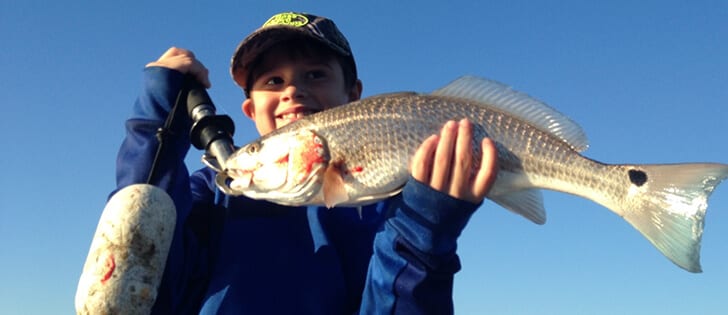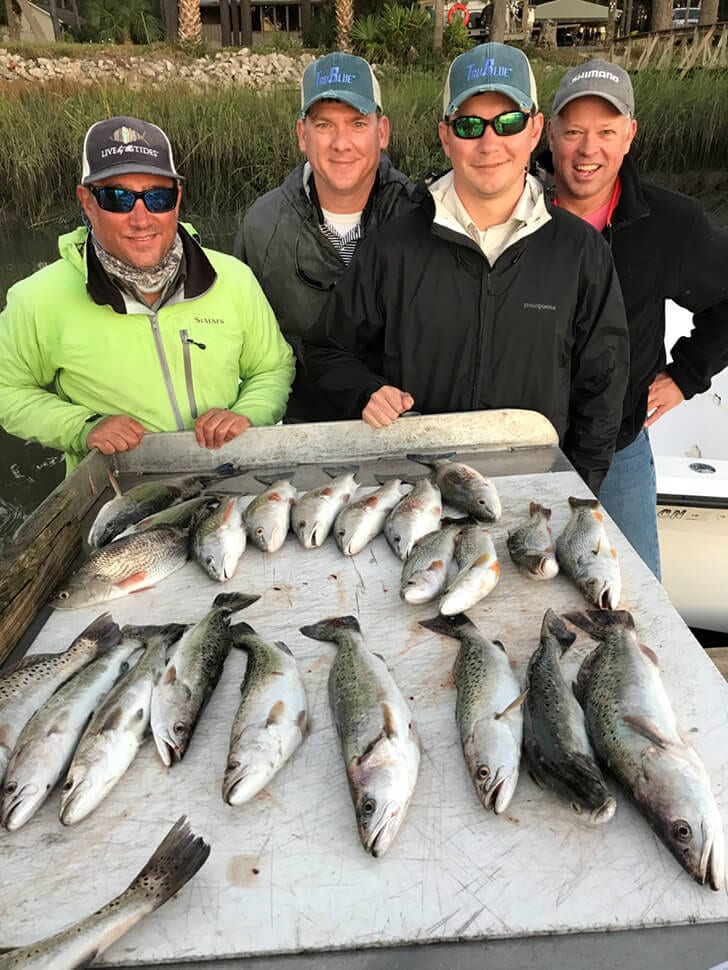 Captain Kevin Rose of Miss Judy Charters took these Birmingham, Alabama fishermen for a spectacular inshore fishing trip. From left to right in front we have Captain Kevin Rose and Scott Morrow back and in the back Chris Jones and Mike Iles! What did they catch? Red fish and spotted sea bass! How long did it take catch them? Well, let's see, due to a later afternoon departure, late arrival due to technical difficulties beyond anyone's our control, and with darkness lurking it took about hour of fast reeling to get this catching job done! It didn't seem to bother these Alabama fishermen, because they were up for the challenged.
Inshore Fishing Report
Creeks, Rivers, and Sounds!
Did the wind blow this weekend? Yes it did! BUT…some of our inshore captain's fish and some didn't! Some caught in windy conditions and some didn't! What does this boil down too? Lots of down under fickle fish! All inshore fishermen know that even in windy conditions it is possible to find fish. However, to get your best shot at a catch you need to find some clear water and if possible a spot out of the wind. And even if you do put these two situations together the fish still might not show! But then that is why it is called FISHING AND NOT CATCHING!!
What were they using as bait? Live shrimp, fresh shrimp parts, and air dried part/pieces of shrimp! I guess you could say, "During this time it is all shrimp especially when you want to add catching to your equation! "
It's Whiting Time!
Here's what I do know in regards to catching fish at this time of the year!
First, you have to go so that you will know! Ready. Set. Go! The Whiting Biting has started!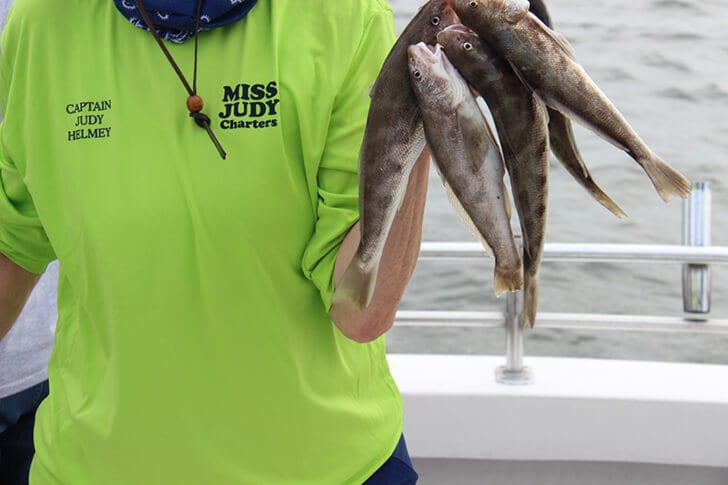 Fall/Winter Whiting 2017 Season has started!
The fall/winter whiting 2017 season has started with inshore fishermen being able to catch lots of good eating fish. The whiting might not be a real large fish and they certainly don't have game fish status, but what they do offer is just plain catching fun. So therefore with that being said, "It's time to go whiting fishing!" As far as where to look, I suggest fishing in the sound areas around mud or sand flats in about 15 to 18 feet of water. In the river, I suggest looking for any live bottom in or near a deep hole or fish close to an oyster reef.
The best bait is going to be small pieces of peeled shrimp laced on to little hooks. Always check regulations before heading out! There is no size or bag limit. And here's the thing, all sizes taste good and are fun to catch on light tackle.
How do I cook whiting?
If you are from the old school and you just happen to like fried fish, here's the prefect suggestion. I suggest cleaning you whiting just like you did a fresh water fish in the old days, which is to scaled, gut, and cut the head off. Then I always place a few diagonal slices across the body. This way once dropped in the hot grease your whole fish will cook more evenly.
As far coating the ready to fry fish, my father always dropped the whole fish in a paper bag. When cooking at our house we never exactly knew what was going into the paper bag first. My father liked to use flour and/or corn meal. To this powder mixture he would dump in salt and pepper. If he had some extra old bay seasoning left over from our last crab boil he would throw some of that into the mix. While all this mixing and shaking of the paper bag was going on daddy was heating up the grease in our seasoned cast iron skillet. Once the whole fish was completely coated meaning the kitchen was a total mess he would start the frying process. My father could eat some whiting for sure. Now I did eat my share, but only after I poured Georgia Cane Syrup over the fried fish first!
Captain Garrett Ross of Miss Judy Charters took Allen Nowell and his son Nicholas on a grand catching experience. They were celebrating Nicholas's seventh birthday! Captain Garrett and Nicholas are both sporting fish catching smiles. Check out Nicholas's just caught red fish…it doesn't have a spot. It is spot-less! I am always telling you why red fish have spots and now I am going to share with you my stance on them not! Keep in mind this is a theory that my father passed down to me many years ago. To recap: Each spot or spots on a red fish's tail document the amount of times that it has escaped an attack from a dolphin. Absents of spots on a red fish's tail means it has avoided any serious tussles with a dolphin! What's there left to say? Nicholas out smarted this already confirmed smart fish making him a true fisherman! Congratulations and Happy Fishing Birthday Nicholas Nowell!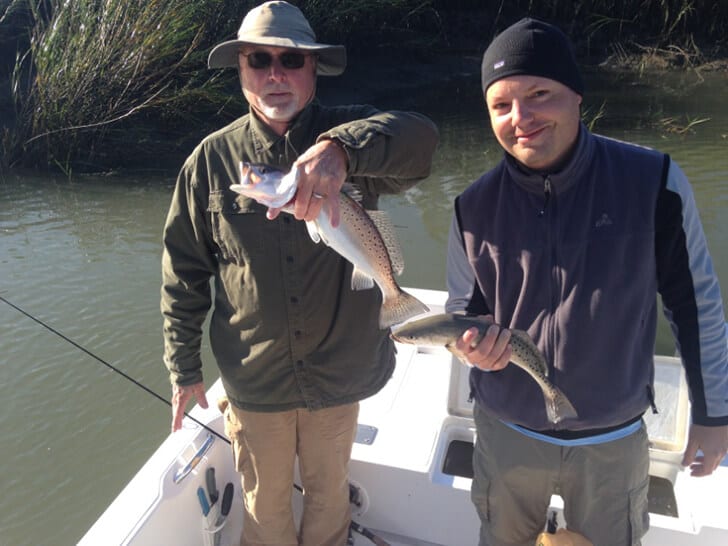 With Captain Garrett Ross, John and Tim Minton caught dinner and had one heck of a catching conversation. Here's what happened father son chartered Captain Garrett's boat to do a little inshore fishing, which turned into catch. What did they catch? Red fish, spotted sea trout, and whiting.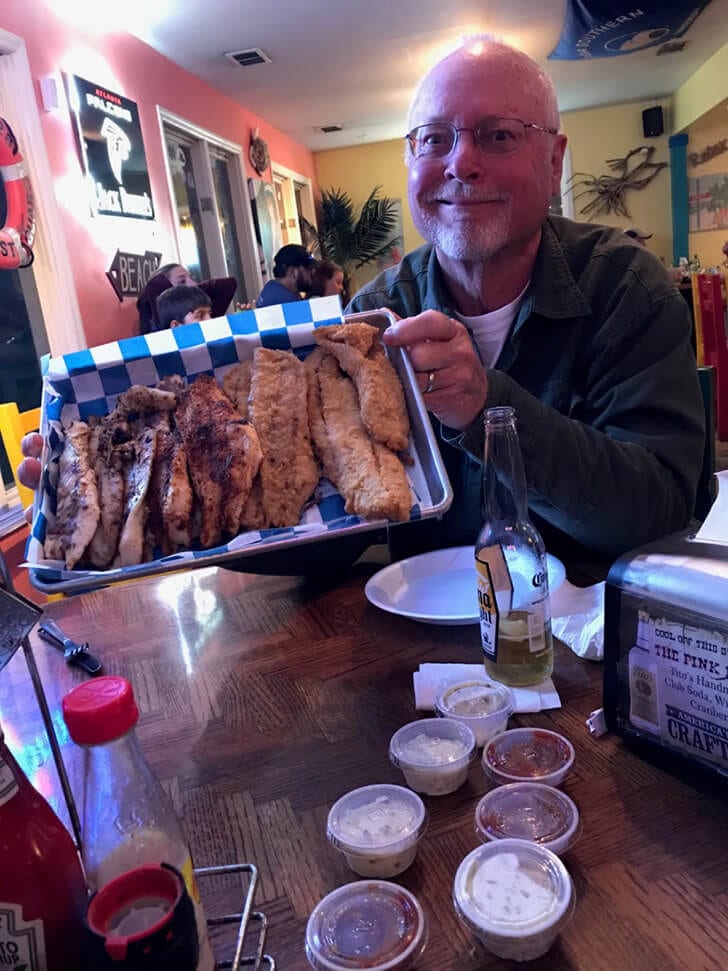 Who cleaned them? Captain Garrett Where did they take the fresh filet to get them cooked?
Flying Fish Restaurant
7906 East US Highway 80 Savannah GA 31410 US
(912) 897-2009
www.flyingfishsavannah.com
Open Daily at 11:30AM
They offer a great deal for our fishing customers…and if they don't bring fish…this restaurant has all great seafood! Heck, this is where the locals eat!
You Hook 'Em, We Cook 'Em! Bring in your catch filet and we will cook it to order! Served with hushpuppies and your choice of two of our sides!
So the bottom line is this…you go fishing, you catch fish, we clean them, you take the just caught fish to the Flying Fish to complete an already prefect fish day! My father always said, "Fish swimming in the morning and then put in a frying pan in the evening is an experience that no fisherman should miss out on! This makes for a grand end to a fish day!"
---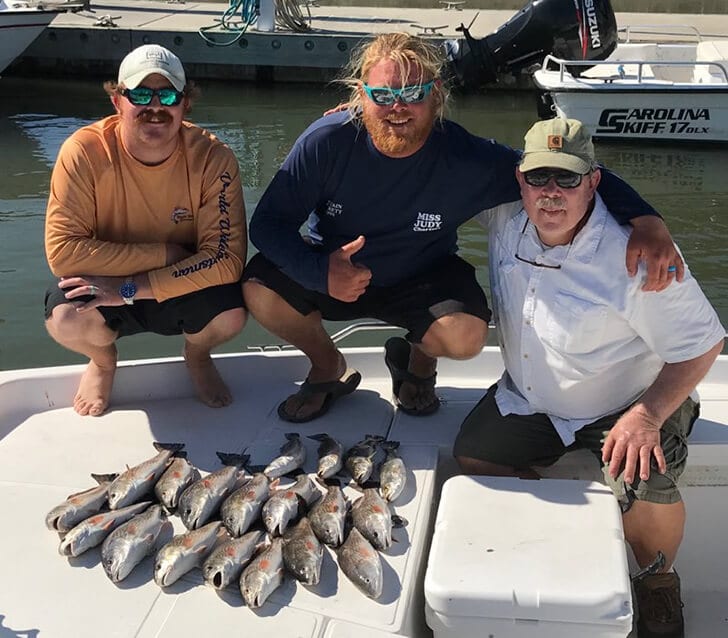 Captain Garrett Ross of Miss Judy Charters his brother Jake and his father Captain Phil Ross also of Miss Judy Charters did a little inshore fishing! As it turns out they got to spend a grand day together while doing some father son catching! Now what do we all know about this father son team? They know how to find as well as catch fish! What did they catch? Red fish and spotted sea trout! Where did they fish? Only these three amazing fishermen know for sure!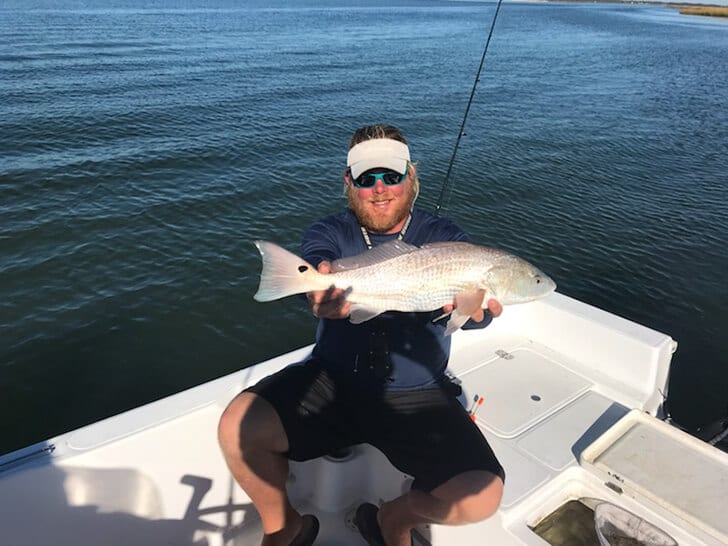 ---
How to Throw a Cast Net for Shrimp – Demonstrated and written by contributing editor Alli DeYoung!
One of my favorite things to do on the water is to go shrimping. With shrimping season here, I figured I could do a report about throwing a cast net.
Coil the line in your left hand then grab the yolk (plastic ring at top of mesh) in your right hand.
With your left hand (holding the coil of rope), grab the net (with led on ground) at waist level. If there is an excessive amount of mesh between your left and right hand, create a loop in it and place the yolk in your left hand with the rest of the net.
While holding the net in your left hand grab the rope at the bottom of the net with your right hand and place it in your mouth (make sure not to bite the lead.)
When the net is in our mouth there will be two ropes hanging from your mouth; grab the top one and place it over your left shoulder.
After you put the rope over your shoulder, grab the top rope in your right hand.
Swing the net backwards putting all of your body weight on your back foot.
Twist your body towards your target and put your body weight on your right foot. Swing your right hand towards the water and release it. Immediately following, release your mouth. Then, release your left hand. It is just like throwing a bucket of water with a twist.
Finally allow the net to sink until you feel a bump (the bottom). Then snatch the rope up to bring the lead together, then bring it to the surface. Simply shake the net to get your catch out of the net.
A tasty catch after a great day shrimping!
Thanks for reading! – Alli DeYoung
---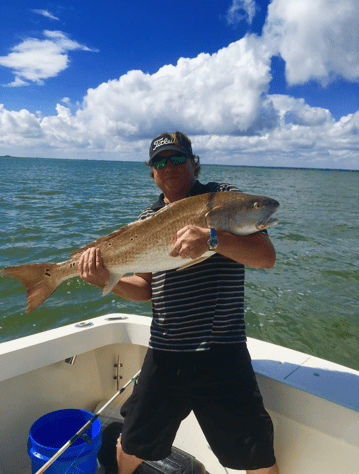 Plain old bottom fishing in the sound!
Michael Morrissey is holding up a big trophy red fish that he caught just last week, while plain old bottom fishing in the sound. What was he using for bait? Small pieces of shrimp! Did this fish put up a fight! According to Michael, "You Got That Right!" During this time of the year the big bull's reds find the Wassaw Sound area a place of so much feeding interest. These fish work the bars picking and choosing what looks best for their present appetite. Here's the thing, where you caught them yesterday might not be where you find them today. I guess this can be said for all fish. However, here's what we do know? These fish travel in packs or better said, "Schools!" They are bottom feeders and whatever they can suck into their mouth whether it needs crushing or not these fish are going to eat. Please read the Little Miss Judy Story at the end of this fishing report, because if you do you will get to see the younger version of the way back when Michael Morrissey!
For those of you that are not familiar with the bars in this area I suggest getting out a current chart or let you GPS chart plotter show you the way. The best tides are the lowest. I suggest about two before to two hours after the low tide stage is a great time to start. However, if you aren't lucky enough to get that prefect tide I suggest still giving it the old college try! Since you/we already know that the big bulls are here no matter the tide a big bite opportunity certainly could take place
Being a bird watcher is one key way to find these fish, because when they are feeding so are those above. And believe me birds can see as well as smell a feeding frenzy from afar. So when these big fish start feeding the birds above mark the spot. And you would be surprised how many people know this but don't take advantage of this unbelievable fish finding option.
---
Little Miss Judy's Believe It or Not Story!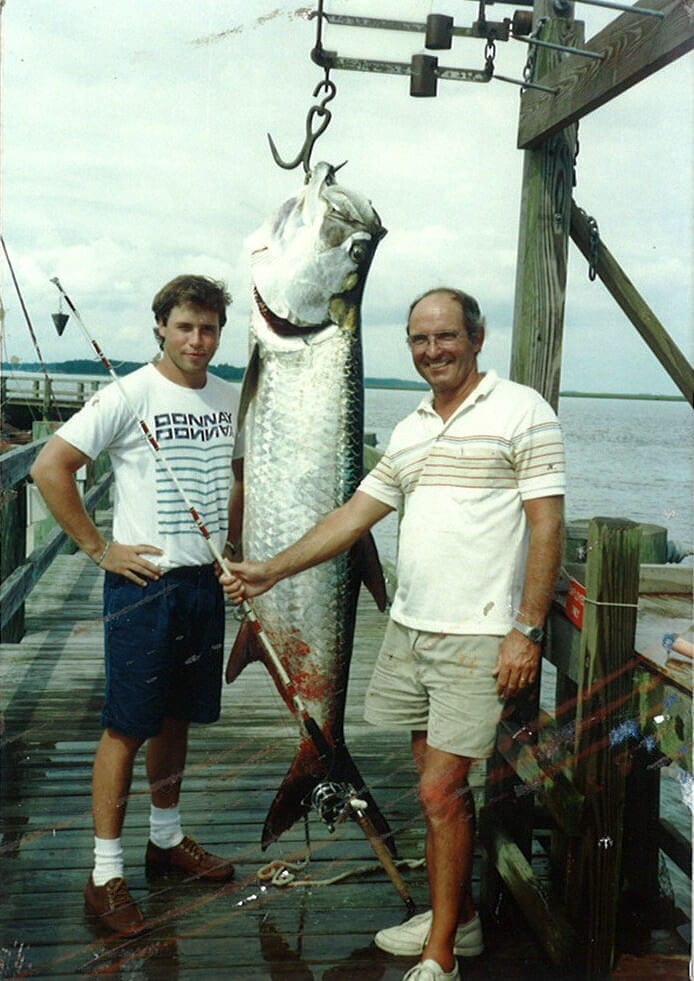 It's a story that old but needs to be told and it's about Michael Morrissey and his father Captain Uncle Bob!
Please meet Michael Morrissey and his father Captain Uncle Bob! Now, you must know Captain Uncle Bob was not my real uncle. However, many years ago while he worked us at Miss Judy Charters I gave him this name and it stuck!
In October 1990 Michael caught this 121 pound tarpon while fishing with his father in a secret spot located in Joe's Cut. It weighted in 6 pounds short of the current Georgia State Record at the time. The current men's tarpon Georgia State record now is 161 pounds. And according to records it was caught 1995 and is held by C Edwards! I guess you could say, "Them tarpon are getting bigger!"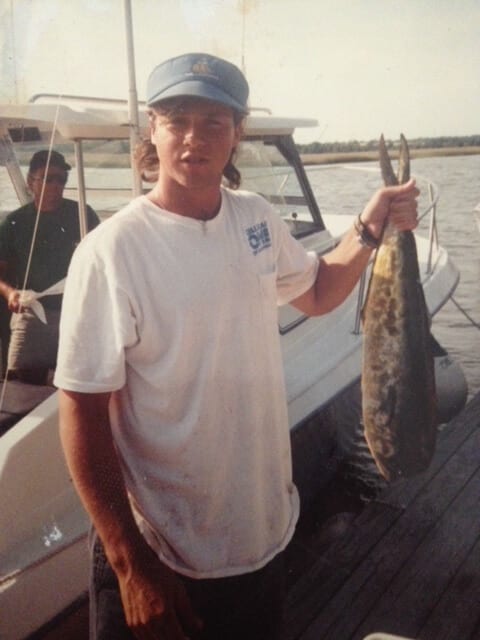 Mahi Mahi in the eighties!
Michael Morrissey is holding up a schoolie dolphin also known as a Mahi Mahi, which he caught while fishing with Captain Ida Knight and Maury "Motif" McHugh of Miss Judy Charters during the Eighties Fishing Era! Did you know that when a school of Mahi Mahi comes to your boat that first you should throw out a few pieces of bait, present your bait, and once hooked up leave the last fish hooked in the water until you are hooked up again! Believe me; I don't make this stuff up, it just happens especially when a fish shows you the way!
World Famous Captain Uncle Bob Morrissey is showing us his fine catch. He is holding a tuna and the other angler is holding an amberjack better known as a reef donkey! If I had to guess I am sure that Captain Uncle Bob most likely caught these fish out of his 45322/61174 fishing hole. And if he didn't you can best believe that he fished there for at least a moment on this particular fish day! It was his starting point for bait and for big fish! The fact of the matter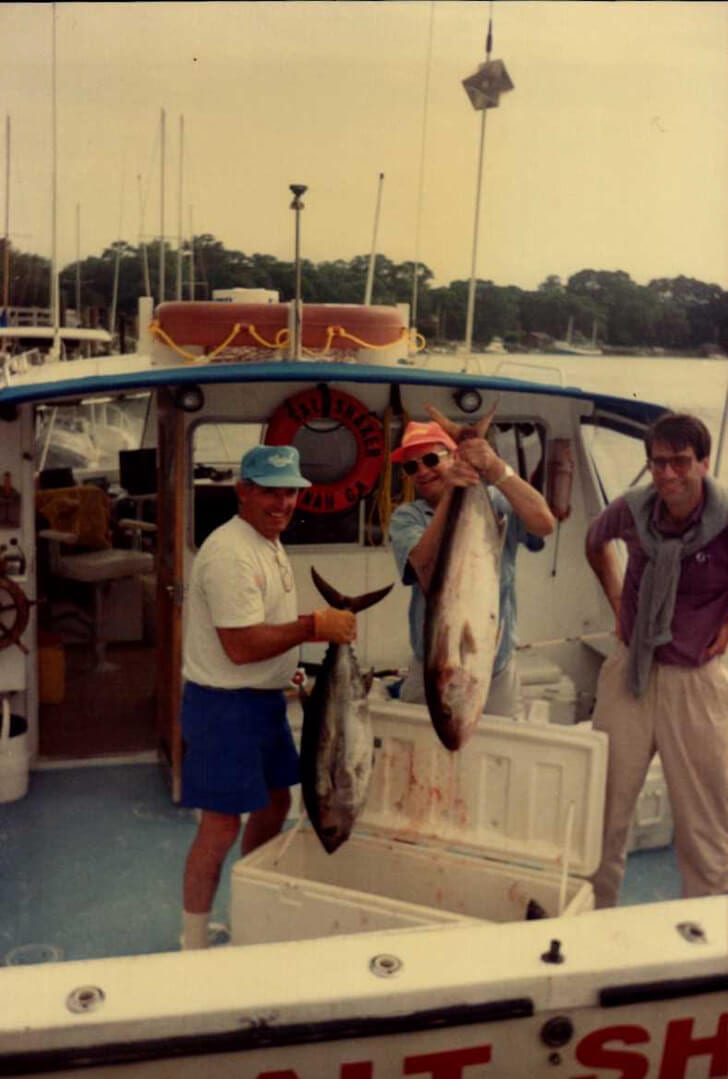 is his boat the Salt Shaker could drive to this spot all on its own! I loved this boat it had lots of room and it had grand character just like its captain! Believe me when I say, "Not all boats or captains have this!"
Thanks for reading! – Captain Judy
Captain Judy Helmey
Miss Judy Charters
Kicking Fish Tail Since 1956!
124 Palmetto Drive
Savannah, Georgia 31410
(912)-897-4921 or (912)-897-2478
(912)-897-3460 fax
[email protected]
You can see Captain Judy's previous report here.