Care Free Boat Club of Jacksonville
A Smart Choice for the Ultimate Boating Experience in Northeast Florida!
By Terry Newsome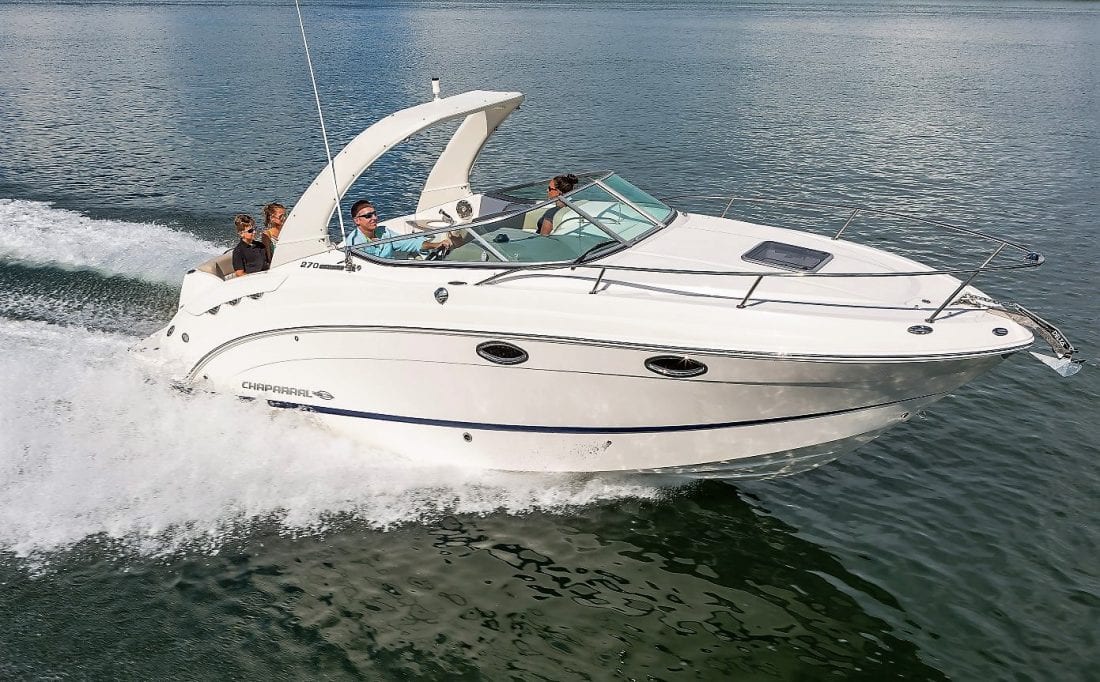 Nothing can stop the power of an idea whose time has come; and for Ken Wilson, Owner/Operator of the Care Free Boat Club of Jacksonville, that time is now!  As a successful business executive with IBM Global Services in Atlanta for over 17 years, Ken Wilson and his beautiful family have always loved the boating lifestyle. "Some of the fondest memories of my entire life were centered around recreational boating with my wife and four children" Ken says, "and we loved spending our spare time planning and getting ready for our next boating excursion and outdoor adventure!"
Always searching for the ultimate boating experience for his family, Ken's journey of discovery led him directly to the thriving boat club industry.  "As I began to research multiple boat clubs throughout the US, I became extremely impressed with the unique membership benefits of Care Free Boat Club" he explained "and as I continued my due diligence, I realized that Care Free Boat Club was truly in a league of its own.  In fact, I was SO impressed with the company's business model, I eventually became the Owner/Operator of the Care Free Boat Club of Jacksonville!" Whether fishing is your passion, or you just enjoy pleasure cruising with your family and friends, Ken Wilson and his dedicated staff are genuinely excited about the opportunity to help you create your own "boating memories of a lifetime" as a valued member of his exclusive boat club!
KEN WILSON'S CARE FREE BOAT CLUB OF JACKSONVILLE
Located in historic Mayport Village at the Morningstar Marina, (only two miles from the Atlantic Ocean or the Intracoastal Waterway,) Care Free Boat Club of Jacksonville will maximize your time enjoying the beautiful surrounding coastal waters and beaches of Northeast Florida. With a membership in this exclusive club, you don't have to worry about maintenance, trailering, storage, insurance or even washing a boat! "Our members have unlimited access to not just one boat, but an entire fleet of boats in Jacksonville, plus access to boats at over 60 clubs nationwide" Ken proudly explains… "members have a whole fleet of boats available to them for about a third of the cost of buying their own boat! Plus, Care Free Boat Club of Jacksonville will provide you with classroom and on-the-water safety training by USCG certified captains, so you can pilot your vessel with confidence when out on the open water. Our mission  is simple. We want to revolutionize the way First Coast residents can access and enjoy our beautiful coastal waters."  Carefree Boat Club strives to provide members with an affordable boating experience that is fun, easy, and safe. "We take care of all the time-consuming hassles that come with boat ownership, so you can focus on enjoying your time on the water" says Ken, "plus, our members enjoy frequent socials, organized events and free boating seminars throughout the year, so it's easy to make new friends."
EXCELLENT AVAILABILTY AND FRIENDLY DOCK STAFF
"Our members have unlimited access to our fleet as many times as they want each month and never pay any additional fees to use the boats. The only expense not included in membership is the fuel that is used" says Ken, "plus, our friendly dock staff rolls out the red carpet for our members. In fact, members are met at their vehicle to help carry gear and load it onto the boat. We even provide free ice and towel service for a true concierge level experience! From there, we help them load up and cast off. Upon return, leave the cleaning to us! Members also enjoy easy, free parking at our marina here in Mayport Village."
I have been in the outdoor industry for decades and have personally worked directly with several national boat clubs throughout the US (filming TV fishing shows and instructional fishing videos.)  As a result, I am familiar with many of the national boat club "member benefits."  So, I can tell you from experience that the Care Free Boat Club of Jacksonville fleet is impressive! "We have brand new or like new top-of-the-line boats" Ken proudly explains, "and there's simply no better way for residents of Jacksonville and the surrounding areas to enjoy our beautiful coastal waters."
PREMIUM BRAND BOATS INCLUDING "OVERNIGHTERS"
In business since 2002, the Care Free Boat Club has been making boats available to members for over 15 years. What I love about Ken's unique selection of boats for the Jacksonville market is that he offers offshore boats!  To my knowledge, no other boat club in this region offers member access to offshore boats.  Whether you enjoy cruising, wakeboarding, fishing, or tubing, Ken has the perfect boat for every occasion. In fact, Ken has carefully selected his impressive Care Free Boat Club fleet, which currently includes a Chaparral 270 Signature (27 ft. Cabin Cruiser,) a Sea Hunt Gamefish 27 CB (27 ft. Center Console,) a Manitou SES 25 BAR (25 ft. Pontoon Boat) and a Rabalo Cayman 206 (20 ft. Center Console.)
On a personal note, I can tell you without hesitation that I am genuinely impressed with Ken Wilson and his personal commitment to delivering a member experience that is sure to exceed your expectations!  He is eager to invest his time and resources to make Care Free Boat Club of Jacksonville the very best it can possibly be.  Ken's extensive background and proven track record as a successful business executive reflect his unyielding dedication to delivering quality and value to all club members.  "I am personally committed to giving our members the greatest membership value I possibly can and look forward to investing in our members! As our membership base grows, the number of boats and the size of our fleet will grow as well."
With thousands of happy Carefree Boat Club members nationwide, Owner/Operator Ken Wilson and his friendly staff encourage you to make a reservation online anytime at www.carefreeboats.com or call 904-595-6841 to experience the Care Free Boat Club difference for yourself!
With over 25 years of corporate experience as a writer, director and producer, Terry Newsome has personally filmed and produced over 100 outdoor television shows and instructional fishing videos internationally.  He is an avid coastal angler and is a former co-owner of Pine Island Fish Camp on the Intracoastal Waterway near St. Augustine, Florida.