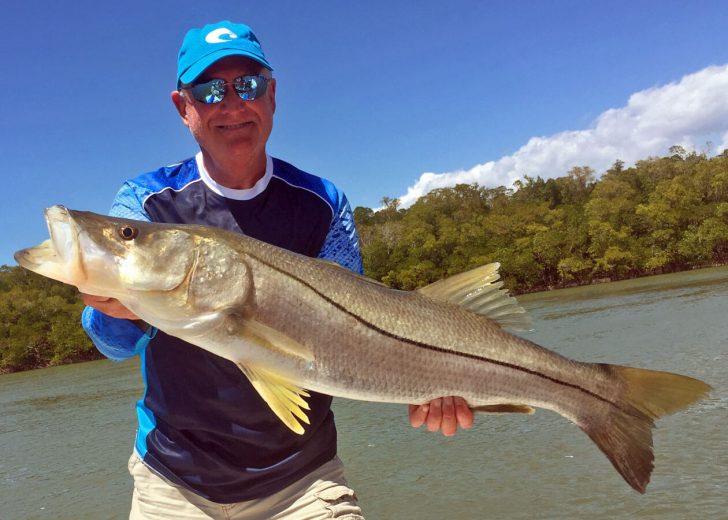 By Captain Pete Rapps:
The summer heat is here and the bite is on! Day time air temperatures in June are hovering around 90 degrees each day, which has now brought the average water temperature up to 86 degrees. This June the full moon is on the 9th and the new moon is on the 24th. Look for the fastest moving tides and peak Solunar bite days between the 7th-11th and 22nd-26th. For more information on Solunar bite times and dates please refer to my website at www.CaptainRapps.com.
We are now fishing 90% on the outside flats and have pretty much left the backwaters for the summer. The snook will be feeding on the outgoing tides along the beaches and troughs. You can "match the hatch" and throw them some nice live thread herrings or pilchards, or you can fish both soft and hard artificials that resemble these live baits.
Trout are around in good numbers. Fish the flats on the incoming tide with your favorite bucktail jig, Gulp shrimp, or just about any other soft plastic jig…tipped with a small piece of shrimp. Once you find a couple of nice fish, place out a marker and either anchor up on the spot or continue making drifts past the same spot.
Redfish are roaming the outside oyster bars looking for little crustaceans on the bottom. Try throwing them a live shrimp on a 4/0 circle hook under a popping cork. Keep ringing that dinner bell by popping that cork about every 5-10 seconds.
Mangrove snapper are also around in good numbers around the mangrove roots. All you need for them is some live shrimp threaded on a small 2/0 hook. The trick to hooking the snapper is to let them take the shrimp for a few seconds before reeling in. Usually, you do not even need to set the hook, as they will do this on their own as they try to run away with your shrimp.
Captain Rapps' Charters & Guides offers expert guided, light tackle, near shore, and backwater fishing trips just south of Naples and Marco Island in the 10,000 Islands of the Everglades National Park, and spring time Tarpon-only charters in the Florida Keys. Capt. Rapps' top notch fleet accommodates men, women, & children of all ages, from novice to expert. Between their vast knowledge & experience of the area and easy going demeanors, you are guaranteed to have a great day. Book your charter 24/7 using the online booking calendar, and see Capt. Rapps' first class web site for Booking info, Videos, Recipes, Seasonings, and more at www.CaptainRapps.com.