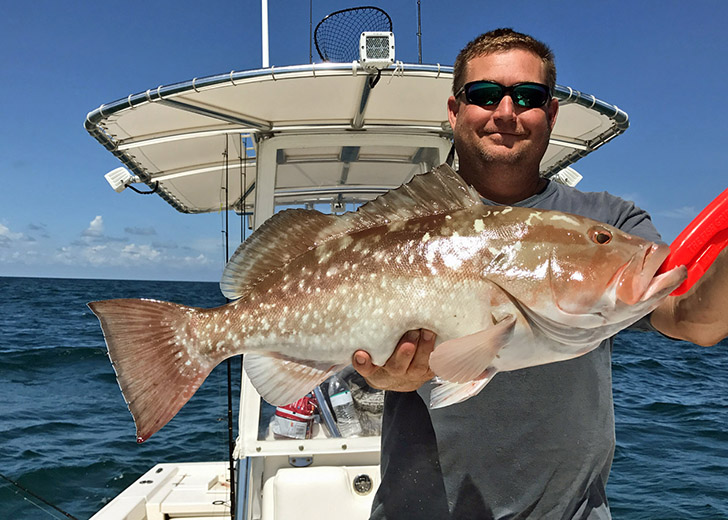 September typically brings our warmest and rainiest month of the year, with average daytime air temperatures of 92°F, and average monthly rain fall of 9.2 inches. Tidal movements are not huge like they would be in February, so scheduling around extreme negative tides will not be much of an issue in September. This year, the full moon falls on the 6th, and the new moon on the 20th. Looking at the moon phases and the Solunar calendar for peak bite days and times, my favorite days would be the 4th – 8th and the 19th – 23rd because of the best moving tides those days. Be sure to check out the tides in the areas you are fishing.
Redfish can be caught on a variety of baits, both artificial and natural. Our number one choice on our charters would be live shrimp under a popping cork. Our spinning rigs for reds typically consist of 30lb leader from the cork to your hook, and 15lb braided line on your reel. If you are fishing for Redfish in 4' of water, you will want to try to get your bait within a foot of the bottom. This can be easily accomplished by setting your hook to cork length to 3'. Cast your rig so that it can drift with the current over a hard bottom, being sure to pop the cork so that it makes a nice splash and sound about every 10 seconds. You want to be sure to pop the cork so that it makes a sound like a fish hitting a bait on the surface. We call this "Ringing the dinner bell" and will hopefully draw in any feeding fish in the area.
Snook can be caught on the outside barrier islands and they sure do like live baits. Bring your cast net to pack some nice Pilchards into your live well. I like to use a spin cast set-up with 20lb braid on the reel, a 4' piece of 40lb fluorocarbon leader, and a 4/0 -6/0 circle hook tied to the end of it. You can live chum with a handful of these guys, then follow up with a nice one on your hook. Be sure to give them a nice revive when releasing the big ones, as they tire out a lot more in the warm September water.
Captain Rapps' Charters & Guides offers year round expert guided, light tackle, near shore, and backwater fishing trips in the 10,000 Islands of the Everglades National Park, and spring time Tarpon-only charters in the Florida Keys. Capt. Rapps' top notch team of guides accommodates men, women, & children of all ages, experienced or not. Between our vast knowledge & experience of the area and easy going demeanors, you are guaranteed to have a great day. Book your charter 24/7 using the online booking calendar, and see Capt. Rapps' first class web site for Booking info, Videos, and more at www.CaptainRapps.com.
Captain Pete Rapps
CaptainRapps@Outlook.com
239-571-1756