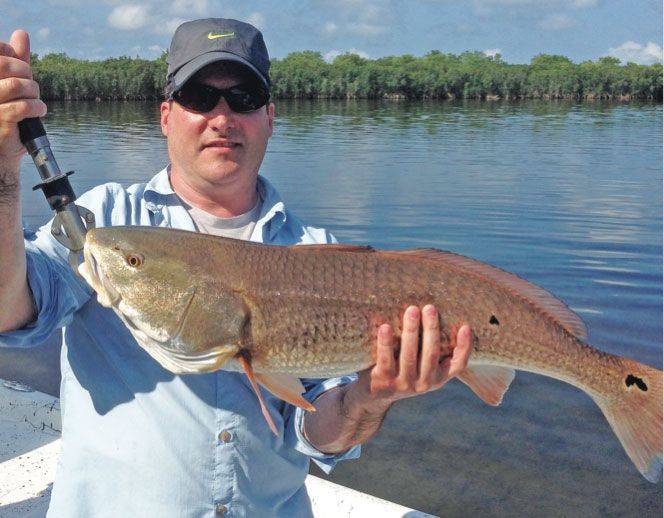 [dropcap]I[/dropcap] met Gary and his family at the dock at 8 AM on this particular Saturday Morning. We took off down Crystal River knowing that the CCBA fishing tournament was also the same day: quite frankly, we knew exactly what this would entail.
When I came off the throttle at the first pinfish trap of the day I already noticed the fleet of vessels behind me; 2 boats to be exact…already. Fighting off the negative thoughts, we took off through the mangrove littered creeks. After running about a mile, a wake popped up on the north shoreline of the creek that we were in. Gary saw it also; he has fished with me enough to know that there was something to the wake.
I shut the boat down, let the fish settle, and put the Minn Kota in the water to slowly ease up the narrow ditch that the fish entered. Slowly and quietly we pushed forward until I could see about 40 big reds in the back of a pond that the ditch opened into. I launched two live pinfish into the middle of the school. It was only about three minutes, it felt like 30, before the drag started screaming off of the reel that Jeff was holding. The oversized red put up a hard fight, then it decided to head out the creek where the boat was anchored. As the red came towards the boat it turned and went under three mangrove roots. I told Jeff to open the bail on the reel to give the large fish a free spool. I quickly slipped my shoes off and the wallet out of my pocket and into the water I went with rod in hand. I was able to slide the rod under the roots as the red shot under the boat and out the creek. As soon as the line was free from the mangroves I handed the rod back to Jeff, so he could finish the fight with the 32-inch red.
The day turned out to be a good day fishing with some big trout for dinner. Just goes to show ya: Keep a positive mind on the water and good will come to you.
The red fish bite has picked up with the water temperatures warming. We have seen more over-slot fish than I have seen in the past several years. I look for many more catching stories on big reds to come through the whole month of June. Look for the bite to be hot on the near shore flats and the back country of the Nature Coast for big "Spot tails."