Nathan saw the big tripletail first, he screamed, "Watch Out!" We were cruising about 30 knots, had two young kids on the boat, and I thought we were about a log or something worse. A second later I realized what was going on, but the big tripletail was almost under the boat. I was fairly certain we hit the fish. We either chopped it up or spooked it for life, never to be seen again. The only thing we could do was spin the boat around and shut off the engine. After a very long 3 minutes or so, I went to crank the engine. That is when the big fish surfaced 20 yards away. The big tripletail was right on the surface, just cruising away from us.
We sprung into action, I dropped the trolling motor, and Nathan got the biggest live shrimp we had out of the live well. We placed the big live shrimp in the direct path of the fish and handed the rod to his 9-year-old daughter Sydney. The fish inhaled the unlucky shrimp, and the battle royal began.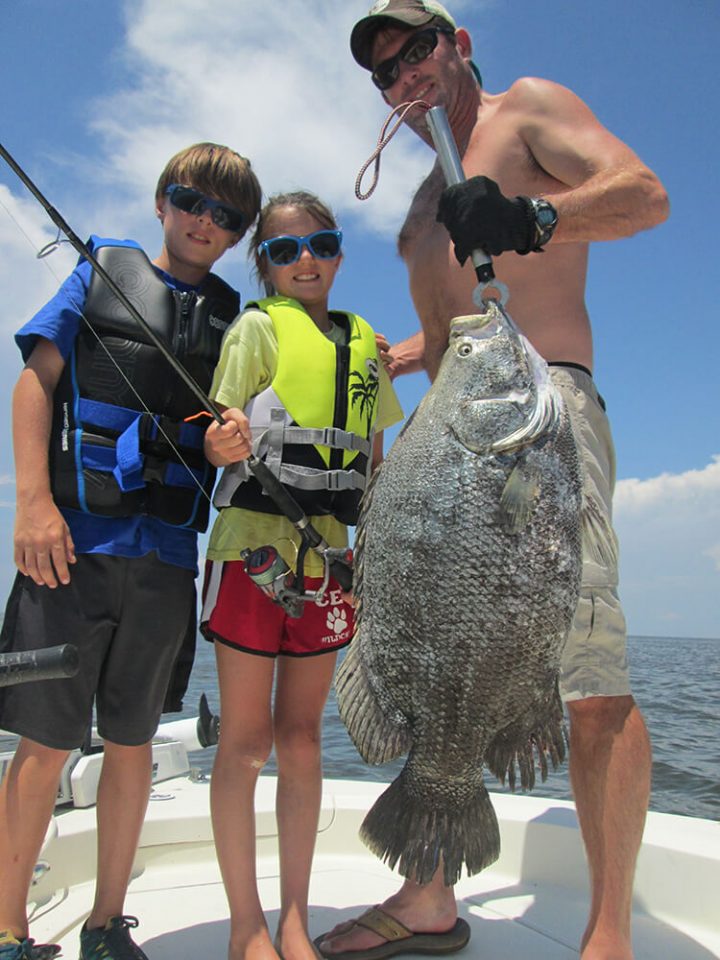 Young Sydney has spent many days on the water, and she beat that big tripletail like it owed her money. We were using a brand new Okuma RTX 55 spinning reel. The reel was bigger than my 30 class set ups and was perfect for this big tripletail. The fish finally got into the landing net and hit the deck of the boat with a powerful thud. Nathan and I had seen enough triple tail over the years to know that our quest for a World Record fish had been reached.
For the past 4 years we had been trying to get his oldest son Tyler, the International Game Fish Associations (IGFA) Small Fry (10-year-old and under) World Record triple tail. A few times we had shots at big fish, but lady luck never seemed to be on our side. Tyler is now over 10, and we will have to get a tripletail well into the 20-pound club, to get his Junior Angler World Record. Sydney, being single digit age, still makes the cut for Girls Small Fry. Her fish needed to be over 15 pounds to claim the title.
I honestly thought the fish was pushing 20 POUNDs, but both Nathan and I knew it was over 15. We cut our fishing trip a little short that day, to get the fish properly weighed. We only stopped once on the way home so Tyler, Sydney's big brother, could catch a nice 5-pound tripletail for supper. The two youngsters kept looking in the fish box, every few minutes. At one point Sydney even said to her brother, "Tyler, you know what would make this day even better? If Deacon was here to see this." Deacon is there 5-year-old baby brother. Deacon was at practice for one of the umpteen sports he plays.
We were able to use a scale at the commercial dock in Bayou Caddy. The fish weighed just over 17 POUNDS. I was immediately on the phone with Dr. Jim Franks with the University of Southern Mississippi's Gulf Coast Research Lab (GCRL). I was seeing how soon we could get him to certify the catch. IGFA requires a biologist's approval and signature, to make it official. We took a pile of pictures, took measurements, and had a call into the taxidermist. It all looked fine and dandy until Nathan called IGFA to let them know Sydney's paperwork would be on the way.
I was returning from a charter the next day when I got the bad news. Treble hooks are not recognized by IGFA!!! I honestly had no idea. We were several miles into Louisiana when we caught the fish. Louisiana allows treble hooks for live bait; I just assumed you played by the rules of the state you were fishing in? WRONG!!!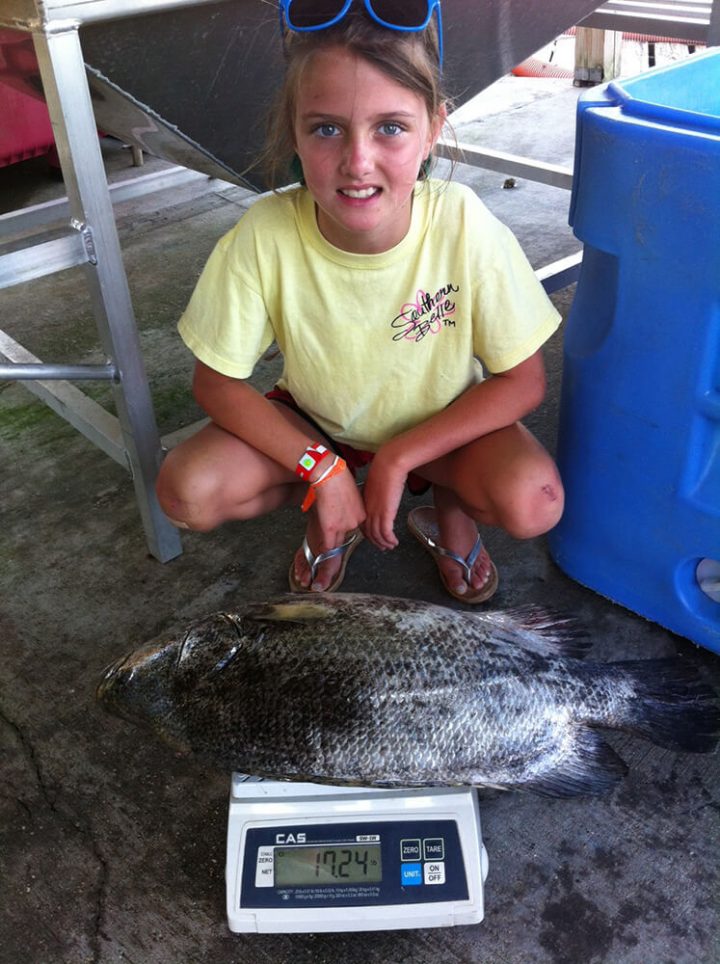 When Nathan told me the devastating news, I just kept stuttering and blurting out things. The words were barely out of my mouth, "But… what if… I mean if we…". I am embarrassed writing this, almost as much as I even attempted to suggest it to Nathan. I only wanted young Sydney to have the World Record; it literally was the catch of a lifetime. Nathan knew where the conversation was heading, and he shut me down immediately saying, "NO, NO WAY! We did not get it fair and square, it would be cheating. I am getting that fish mounted, and I would have to look at that thing every day, knowing it is a lie. Your butt is just going to have to work harder to do it again, and we will do it by the book this time." I doubt I will ever forget that conversation more so as a father, than as a fisherman.
After all of that, there is a happy ending to the story. The good people at IGFA were nice enough to send her an official document, in recognition of such an amazing catch. Nathan had the tripletail mounted and it hangs alongside the framed document and photos we took. Bordering all of this are framed recapture certificates from the GCRL. Nathan and all three of his children have tripletail they tagged and released, recaptured over the years. Sydney may not be the official "Worlds Greatest" tripletail fisher girl, but she officially may have the "World's Greatest Dad".
As always, have fun and be safe… and oh yeah, read the fine print…
For a few more Father's Day fishing stories, see https://coastalanglermag.com/father-knows-best/
Captain Sonny Schindler
Shore Thing Fishing Charters
Bay St Louis, MS
228-342-2295
www.shorethingcharters.com