Capt. Tim Ramsey
So, there I was recently, out fishing in my comfort zone. Tide was wrong. Sun was strong. Winds were whipping. Air temperatures fell to the fifties. Water was dirty, my line was getting old, my casting distance was dropping, and the trolling motor seemed to have a mind of its own. I broke the front eyelet of my favorite rod, so I was getting used to throwing a jig with a rod one-class up. Pepe LePew the fishing skunk was firmly seated on my shoulders, and to top it off, my wife was catching everything in sight! Fish were practically jumping in the boat next to her. Frustrating. Or not.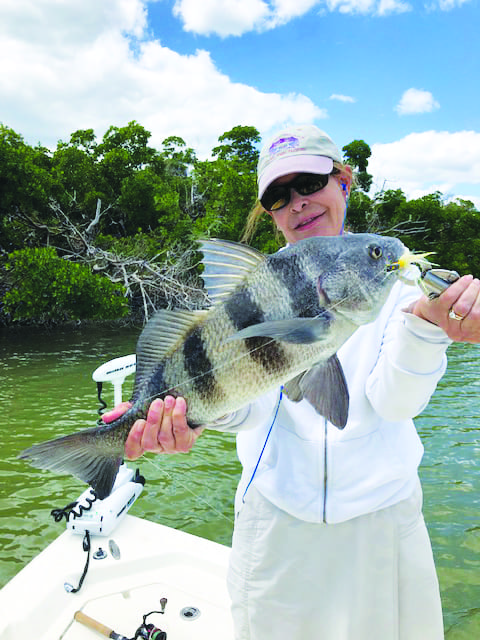 You see, my favorite thing is hunting for the bite using a bucktail jig with a gulp tail attached to the hook. She, however, sticks to the same yellow Montes jig tipped with shrimp. No matter what we're fishing for, that's what she uses. It catches everything. Sometimes that's even frustrating. Or not.
The interesting dynamic here is I appreciate the day on the water. The majesty of the mangrove backcountry. The search for fish in new places. Watching my wife enjoy herself. She, on the other hand, wants to catch fish. She's not worried about all the boat handling in the wind with the trolling motor, the places we go, or all the other processes it takes to put her on fish. She's there to catch fish. To that end, I can stand on the stern platform with Pepe and cast my arms off as she reels in whatever bites as she happily listens to her music on her ear buds. That means even when it's bad, it's good. Who has the biggest black drum, redfish, snook, snapper, jack, and sheepshead on the boat? She does. Who has the biggest inadvertent tarpon and shark? I do. Caught them on her rod with the yellow bucktail. Like I said, even when it's bad, it's good. That too can be frustrating. Or not…
On a side note, what is frustrating is that the jet ski tours have been slowly winding their way east. When you're way back behind some mangrove area and eight jet skis come by, it sucks. I know if I were a tour operator, I would get a bit bored of the same old waters every day, but please, have some consideration for those of us that want some silence, some calm water, some peace and quiet, and stick to the main waterways. Plus, unexpected wakes pushed me broadside into the mangroves a few weeks ago and it wasn't good.