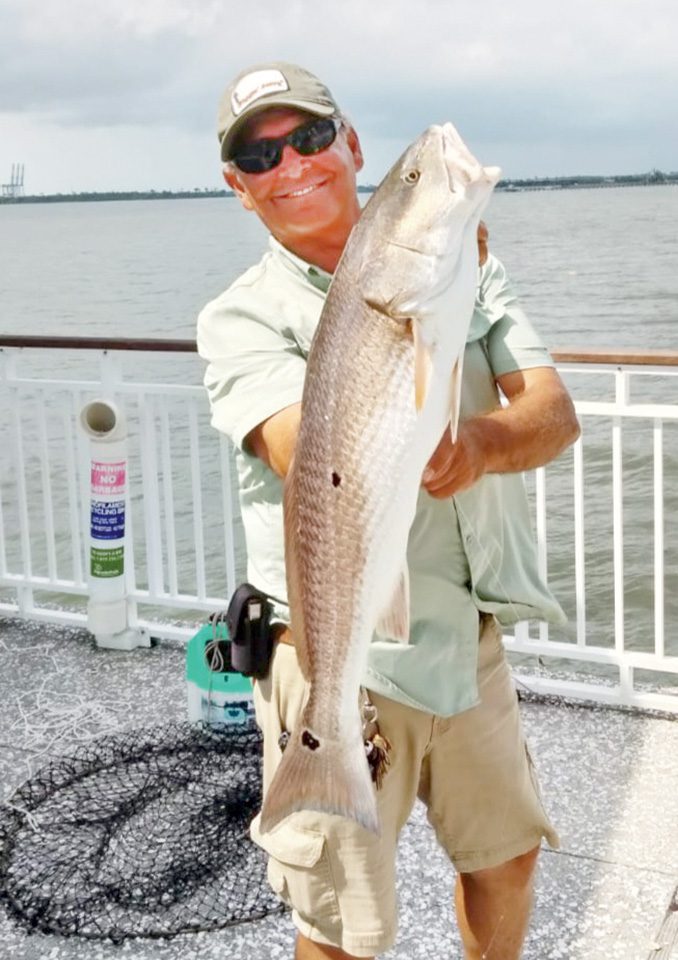 By Jiggin' Jerry, Contributing Writer
Fall is one of the Lowcountry's favorite times of year when it comes to inshore fishing. Outside temperatures start to cool down and so does the water, making it more comfortable to fish, not only for the angler, but for the fish as well. The fish this time of year are active, fast moving and hungry.
October is one of the months that carry a nickname, "October Reds." This is because big bull Red Drum start to run heavy along our beaches and in our harbor, making it an exciting fish to target because of its size and its fighting power and the great pictures that it makes for an angler holding one of these beautiful fish. A great way to fish for these reds is to use a Carolina Rig made up from either a 1 ounce egg weight to a 3 ounce egg weight, 25 to 30 pound fluorocarbon leader line, at least 1 foot to 18 inches long, and a 5/0 to 6/0 circle hook.
Pin fish, croaker, mullet, menhaden, blue crab, and whole shrimp make great bait for these fish. Just remember, live bait works fantastic, but if the water seems to be muddy and has poor visibility, these fish are not going to be able to see that live bait until they are on top of it. Since red drum have a nose like a hound dog when it comes to fresh- cut bait, I would try cutting up some of that bait fresh and putting it on your hook. It will increase your chances of a strike.
Spotted seatrout are also a great fish to target in the fall. They are fun to catch off of a popping cork, using live bait like shrimp or mud minnows under the cork or an artificial Shrimp has done wonders for a lot of anglers. Of course, nothing is more exciting than throwing an assortment of artificials on a jig head like paddle tail grubs, curly tail grubs, flukes or you can throw an assortment of artificial shrimp, D.O.A., Betts Baits, Vudu and Live Target have a great selection.
Flounder will still be a great fish to target in the fall. These fish are great to target with artificials and live bait. Live bait can be used off of a light Carolina rig, around a 3⁄4 ounce egg weight preferred and at least a 20 pound fluorocarbon leader. Mud minnows, live shrimp and live finger mullet, if you can get them, but remember, flounder do not feed like spotted seatrout or red drum. They are an ambush predator. They are going to find a cozy spot on the sea floor and flutter themselves into the sand where they believe they will not be detected by unsuspecting prey. So when targeting the Flounder, you must keep your bait or lures close to the bottom, bouncing and dragging them along to catch the flounder's attention. When crossing one, the flounder will jump up from its hiding spot and grab your bait, and if done right, hopefully, you'll find out the rest of the story for yourself.
These three fish together are referred to as the "inshore slam," and if you catch all three in the same outing, you can pat yourself on the back and say, "I caught my slam today!"
Just a reminder, it is a fisherman's responsibility to know your rules and regulations. If you have questions about species of fish, size limits and bag limits in South Carolina, please look up the information at the South Carolina Department of Natural Resources website. The reason I am mentioning this is because I have run into a lot of individuals fishing that have been keeping fish that they could not identify and the fish were game fish that had size limits and were undersized. Just remember, if you cannot recognize a species of fish, this does not mean you can keep it. It means you should let it go if you are not familiar with its name, size and bag limits.
Another reminder when it comes to removing a hook from a fish, please remember, if the hook is in the fish's stomach and cannot be removed safely, please cut the leader line as close to the hook and entrance to the stomach as possible and release the fish for a higher survival rate. The hook will rust out in a short period of time, and the fish will continue to feed and grow. I appreciate everyone's efforts and helping do their part with a little conservation.
Until next time, like I always say, good luck out there and have fun fishing.
To view some fishing adventures, go to my YouTube Channel Fishing With Jiggin Jerry or follow me on Facebook @ fwjigginjerry.