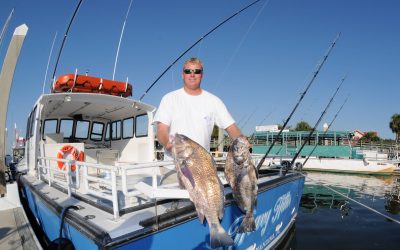 Title:      "Coastal Angler Fernandina Beach"
Author:  Terry D. Lacoss
A major black drum bite should take place during the few days prior and right on the full moon, which arrives on Saturday, April 11th.  Look for some of the best drum fishing action to come after sunset when a flood tide arrives at 9:57 pm.  Prime black drum fishing waters include a deep depression located just off from "Main Beach" located at the east end of Atlantic Ave.  Here drum fishermen will be fishing just offshore of the pounding surf while fishing dead on the bottom with a half blue crab, conch and large shrimp combination.
A major run of red drum will also take place along the beaches of Fernandina beach when massive schools of redfish will migrate from their winter offshore havens to the beaches and inlets.  Schools of red drum totaling well over 100-fish will roam the beaches hunting large concentrations of menhaden that have also migrated inshore for the spring, summer and fall fishing seasons.
Blue water fishermen will continue to troll high speed lures for fast swimming wahoo during the month of April as well.   However large concentrations of excellent eating and fighting dolphin will steal the show, especially when blue water lures are trolled close to large concentrations of floating Sargasso weeds.
Nershore live bottoms including FA, FB, KBY, FC and HH fish havens will be teeming with black sea bass weighing to 3-pounds.  Bottom fishermen will also hook up to hard fighting red snapper and gag grouper which will need to be vented and released.  Northeast Florida's gag grouper season will open on May 1st.
Depending on the water temperature and bait fish concentrations, HH and the Amberjack Hole should hold a few kingfish during the later portion of April.  Also look for good numbers of barracuda, Spanish mackerel and cobia too!
Good numbers of cobia will migrate into the deep waters of the St. Mary's inlet and hold close to channel buoys, jetty rocks and large concentrations of menhaden.  Casting a large white bucktail jig tipped with a chartreuse colored plastic twister tail is key!
Beach fishing at the very southern tip of Amelia Island and at the deep waters surrounding Fort Clinch at the northern portion of Amelia Island will produce excellent eating whiting and hard fighting bluefish.  Fishing just out side of the surf where shallow bars are located with barbed sand fleas will produce excellent eating pompano.  Best surf fishing also comes during the last and the first of the falling tides when water clarity and bait fish are key.
Large schools of redfish will also be schooling in the bays during the month of April where a flooding shallow flat will showcase how many saltwater fishermen are now targeting redfish.  Look for the last hour of the flood and the first half hour of the falling tide to produce exciting wading action at many of Amelia Island's backwater bays.  Be sure and were a good pair of thick rubber sole shoes to avoid those sharp oyster shells.  Also long pants are recommended to avoid the sting of needle like marsh grasses.
Best baits include Berkley Gulp shrimp, or crabs barbed with a 1/8th ounce jig head and cast just ahead of a tailing redfish.  Allow the jig and plastic bait to sit dead on the bottom until the foraging redfish detects the smell  and picks up the bait.  Reel in the slack fishing line, set the hook and hang on!
Sea trout fishing should improve during the month of April as water temperatures warm and bait fish schools are plentiful as well.  Look for the high incoming and falling tides to produce the best action while casting a Storm"Chug Bug" when there are large schools of bait fish on the surface.  Drifting a live shrimp under a small float just off from the bottom in water depths from 5-10 feet will produce excellent sea trout action as well.
Look for Lofton and Boggy Creeks to showcase excellent largemouth bass fishing action during the full moon as well.  Fish with wild shiners under a small float at small creek mouths and at the foot of shallow sloughs where lilly pads and cypress trees are abundant.  Weightless dark colored plastic worms also produce their share of tidal creek bass as well.
For more fishing and charter fishing information, please visit www.ameliaangler.com, of call 904-261-2870.