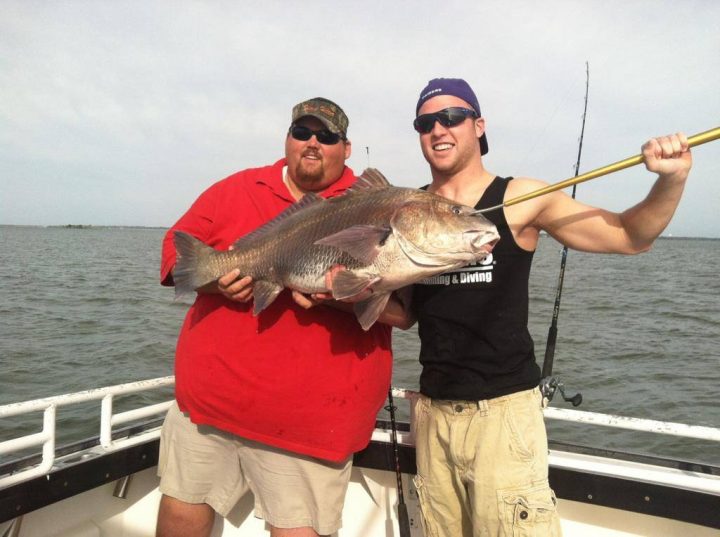 Author: Terry D. Lacoss
      Captain David Hagins' skippers the "Ring Money" sport fishing boat out of Fernandina Beach, recently teamed up with Zach Skipper, Adam Peppler, Bryce Schmidt and Aaron Hutchinson, all seasoned blue water fishermen.  Blue water trolling some 65-nautical miles offshore the seasoned fishing party soon hooked and landed a massive 65-pound wahoo that struck a high speed lure trolled at 18-knots.
"It was a team effort," Zach Skipper said.  "That big wahoo made several high speed runs then ran all around the boat before we were able to gaff the big "Hoo"!
The new craze of high speed trolling is growing at race track speeds for fast swimming wahoo that can swim up to 60-mph!    Amazingly fishermen are now trolling high speed plastic lures up to 18-knots, which in some cases is the top speed for some saltwater fishing boats.  However today more and more offshore fishermen are fishing from speedy center console fishing boats equipped with as many as four, 400-horse power outboards that can reach speeds of over 70-mph!
With this in mind wahoo fishing offshore of Fernandina Beach where water depths dramatically fall from 65- 1,00 feet in less than a mile is excellent during the month of March.  Dolphin fishing should also pick up during the month of March where Sargasso weedlines are well defined.  Blackfin tuna are a special catch and excellent eating as well!
At some of the mid range offshore fish havens including the Elton Bottom where cobia and kingfish are found feeding on deep water bait fish including sardines and blue runners.  Jigging up a live well full of live baits is key while slow trolling live baits right over the top of large concentrations of bait fish and a hard bottom too.
Sea bass, sheepshead and flounder are plentiful at near shore live bottoms during the month of March including KBY, FA, FC and HH fish havens.
Jetty and inlet fishermen will be targeting huge black drum that could literally bust the 100-pound mark.  Fishing dead on the bottom during the last of the in coming tide with conch, crab, large shrimp, or combinations of these baits is key.  Inlet fishermen can also expect to catch red drum, a wide variety of sharks and excellent eating cobia as well.
Also keep in mind that the month of March offers excellent sea trout action in the deep tidal rivers that are so plentiful at the footsteps of Fernandina beach including the Amelia River and Bells River.  Top water plugs worked during a flooding tide close to ambush points including flooding oyster bars and marsh points are key.  Include the ever popular Zara Spook, Devil's Horse and "Chug Bug in the chrome color patterns.
Redfish will be schooling as well during an afternoon low tide when water temperatures are warm.  Look for massive marsh flats that drain into the deep edges of nearby rivers to harbor hard fighting redfish.  New Penny colored Berkley "Gulp" fished slowly along the bottom is key while rigged with a 5/0 circle hook.  One of the better redfish flats includes the southside of the "Shave Bridge" where massive oyster flats greet deep tidal creeks.
Finally striped bass are plentiful in the mid reaches of both the Nassau and St. Mary's rivers during the month of March.  Trolling or casting a white paddle tail crub rigged to a ¼ ounce jig head is key where small feeder creeks empty into the main river.  Once again some of the best striper action comes during the first of the falling tide.
For more fishing and charter information, please visit www.ameliaangler.com, or call 904-261-2870.