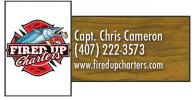 Cobia – continue to look around in the 50-60 foot depths for manta rays and leatherback turtless holding fish. Free swimmers will be abundant. Look for some type of color change, weed line or temp break in that depth. Buck tails and live bait – if they won't fire on the buck tail follow it up with
a live bait. Cobias are not picky so whatever you have will work. For tackle, 40lb. braid mainline and 60lb. leader with 8/0 circle for baits. This time of year they sometimes come in very close, also check in the 20 foot depths, or go out to the reef and catch a shark and see what comes up with it.
Kings will start showing up in better numbers in April. Live bait will be choice for the big ones that
come through. We are on the tail end of the smaller fish migration. Soon the 30 pounders will start showing more consistently. Fish your local reefs and any structures that hold bait. Shipwrecks and any other structures work great. You can also sabiki these areas for baits.
Soon the bait pods will show up. The water is warming, and the fishing will only get better. Look for birds and flipping bunker. Get yourself a good net, like a Tim Wade cast net. Get extra lead on brail line to sink faster. Leave the wally world net at home, that 4 footer won't work. We normally throw a 10-to-12-foot net with extra lead. The Fishing and Dive Center in Cocoa Beach sells the right nets. Go chat with Nick.
Bottom fishing for grouper and throwback reds? Check your local regulations. Try using live bait with 3 way swivels and knocker rigs, 80 – 100 lb. leaders, and 8/0 – 10/0 circle hooks with enough lead weight to hold bottom. Don't forget venting tools and descending device ready to use.