By Darcie Arahill Contributing Writer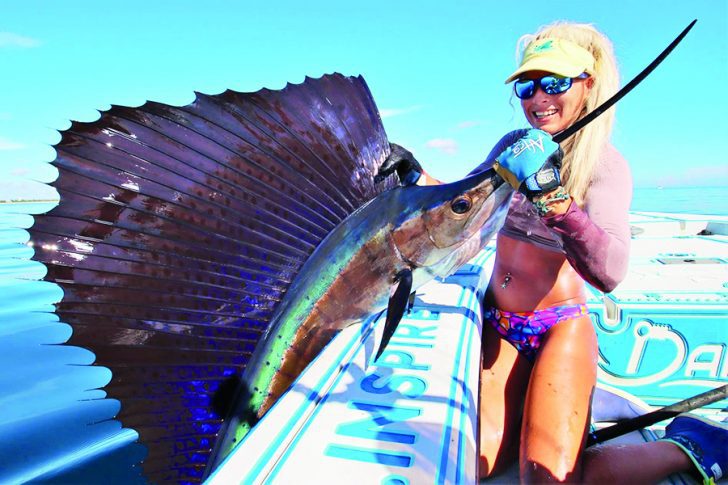 The "mullet run" should be drawing to a close right around the beginning of November. There was plenty of mullet in and around Ft. Pierce, Stuart, Jupiter, and Boynton Beach during early September to early October. There should still be bull sharks, snook, and tarpon crushing the remaining schools, so this is your last call to get out and enjoy the hot inshore bite. Follow the mullet for excellent snook and tarpon fishing inshore and along the beach. If tarpon and snook are biting, you can catch them on mullet using a circle hook or any number of swimming baits and "flair hawks".
November should start bringing sailfish into the area, plus wahoo and bigger-sized mahi mahi. In the Palm Beaches it's most popular to kite fish with live bait for these pelagic fish, but slow trolling live baits works nearly as well. Dead-bait trolling for sails will also land you plenty of mahi.  If it's calm, head offshore and find some floating debris or other structure that holds bait that the mahi feed on. November weather will mean more northerly winds and cooler, drier weather which translates into rougher seas. If it's rougher stay close and troll those ballyhoo for sails and mahi from 80-300 ft or deeper depending on water conditions.
Closer to shore and on the bottom, fishing has been excellent! The fall run of Spanish mackerels should also be showing up in good numbers and are so much fun to catch on light tackle. The party boats are coming in with a good number of yellowtails and mutton snappers. Even mahi mahi have been caught shallow recently, presumably chasing mullet closer to shore than normal. There have been a good number of kings landed as well, however bigger kingfish have been missing from the Palm Beaches for several weeks. The drift boats typically use a triple-hook rig with a whole dead sardine as bait.  This is a great, yet simple fishing method and will catch you plenty of fish; I have caught a sailfish in the past with this simple rig so don't count it out when you just want to relax on the water.
Please be sure to check out my YouTube Channel "Darcizzle Offshore" for fishing videos every week! FISH.DREAM.INSPIRE. youtube.com/DarcizzleOffshore