By Capt. Cefus McRae, Nuts & Bolts of Fishing Series: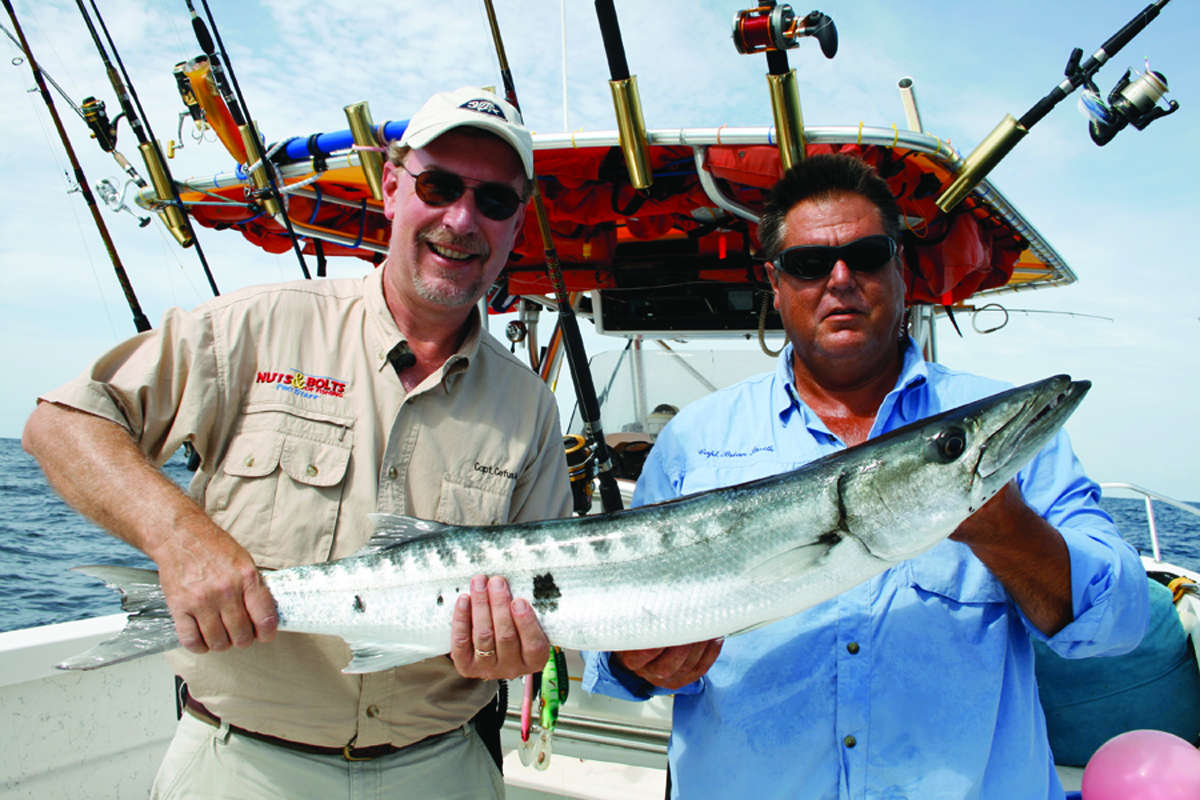 Whenever people who love to fish have a conversation, the question of "best fishing destinations" usually comes up. Everyone has their favorite.
I've had the good fortune to fish exotic locales from Mexico to the Caribbean and from Hawaii to Fiji. Each has its own endearing and adventurous characteristics. But in reality, there's plenty of great fishing right here in the Southeast. Many of these awesome fishing holes are probably just a few hour's drive from where you live. So, in no particular order, here's a few of my fun and fishy places that you might like to try as well.
State Parks: Whether you live in Georgia, the Carolinas, Tennessee, Alabama or Florida, each state has an abundance of state managed parks, and many of them have fishing opportunities within the park. From small ponds with bream, bass and crappie, to managed streams stocked with trout, to coastal beaches and backwaters. By the way, these are great places to take kids and introduce them to the wonderful world of fishing.
Lake Lanier, GA: One of America's best spotted bass lakes, and it's also a great year-round striper fishery. Call the folks at Hammond's Fishing Center or Oakwood Bait and Tackle to get the latest info on the bite, load up with bait, or let them hook you up with a professional fishing guide like Capt. Mack Farr, Capt. Ron Mullins, Capt. Clay Cunningham or get an on-the-water fishing lesson from Ken Sturdivant of Southern Fishing Schools.
Lake Oconee, GA: About an hour ride east of Atlanta, this lake offers excellent crappie fishing, and is an excellent lake for both stripers and hybrid bass. Give Capt. Mark Smith of ReelTime Guide Service a call for local info and a very fishy day on the water.
Toccoa River, GA: In the heart of the North Georgia mountains, the Toccoa River is one of a few places where natural reproduction helps keep the trout fishery vibrant, versus being completely reliant on a stocking program. Float trips are the best bet, and Unicoi Outfitters in Helen, GA can get you on the water catching browns and rainbows.
St. Simons Island and St. Mary's, GA: Even though Georgia has a relatively small coastline, the saltwater fishing in this area is outstanding. Georgia's barrier islands offer an excellent opportunity to hook big fish from a small boat. Blacktip and spinner sharks cruise behind the shrimp boats in the summer, and it's a spectacular tarpon fishery late summer through early fall. Mondo barracuda, king mackerel and cobia are reasonably close to shore as well. Speckled trout and bull redfish are easy to target in the fall months. On St. Simons, Capt. Mark Noble at the Georgia Fishing Center is your connection to a fun day on the water. At St. Marys, my go-to guides are Capt. Ken Olson for inshore and Capt. Cal Lang if you prefer a great offshore adventure.
St. Augustine, FL: America's Oldest City has some unbelievable fishing throughout the year. Inshore fishing for flounder, redfish, speckled trout, mackerel and cobia equals great filets on the table. And the big fish are just a few miles off the beach, including king mackerel, dolphin and sailfish. Plus, St. Augustine is a great destination to explore on land. Give Capt. Scott Shank of Full House Charters a call or check out Florida's Historic Coast website for lots of local info.
Port St. Joe, FL: This quiet little fishing town offers the best of both worlds: St. Joe Bay for over-the-top inshore fishing and Mexico Beach's abundant artificial reefs provide homes for offshore species, just a few miles off the beach. If you have a big group, try a day trip on board the Fish'n Xpress. Capt. Bill Little and his crew provide all the tackle and hospitality while you fish for snapper, grouper, mackerel and more. Then walk your fresh catch up to Dockside restaurant at Port St. Joe Marina and enjoy a great meal and beautiful sunset.
Steinhatchee, FL: One of my favorite places for inshore fishing with hundreds of square miles of pristine grass flats teeming with trout, redfish and other skinny water critters. Offshore, there's snapper, grouper, amberjack, barracuda, cobia and king mackerel. My top Big Bend guides include: Capt. Scott Peters, Jr., Capt. John Wells, Capt. Brian Smith, Capt. Jim Henley and Capt. Mike Farmer. Sea Hag Marina can get you stocked up with bait and tackle, and they even have rental boats. Take your fresh catch to Fiddler's Restaurant and let Chef Jim Hunt prepare a wonderful meal to cap off a great day on the water.
Murrell's Inlet, SC: This is where I grew up fishing the salt. Doormat-sized flounder, Spanish mackerel, gator speckled trout and big redfish are the calling cards for this fishing village just south of Myrtle Beach. It's also famous for 'Restaurant Row', where oyster roasts and fresh shrimp are at the top of the menus. Get hooked up with a charter trip at Crazy Sister Marina.
These are just a few of my favorite places among hundreds of great fishing locales across the Southeastern US. Looking to plan a trip? Drop me a note at Cefus@NutsAndBoltsFishing.com and I'll be happy to suggest some fun destinations and great guides for your next adventure. Heck, Buck and I might come along too.