by James Bradley
As we move into March, our streams and rivers continue to rise with the occasional rains being received. Warmer days coming are sure to start bringing some trout up to the surface for a quick snack. We're looking for an outstanding spring this year and a lot of hook ups!
One thing to work on before your first outing is some casting practice. Many folks put their long rods up at the end of the fall to never see them until the day that they hit the mountains to tempt some trout. It's best to practice some before heading out. Work on your roll cast and some water haul casts, and stay in tune with your rod. We take thousands of anglers each year, and I can personally tell you that those who are good casters catch more fish.
Use your lawn as a casting area if possible. This allows you to make casting practice easy and simple without distractions like excessive trees or fish. Use a few markers on the lawn for target and precision casting. Also, pay attention to your fly line during its flight. Make small adjustments to regain tight loops on your forward and back cast. Many times, we see improper stops which opens your loops and destroys your cast's momentum or energy. Remember, many streams are tight and false casting can be very limited. Keep slack to a bare bones minimum. We see many people trying to cast slack which kills their cast. It's probably the number one cause of a bad cast.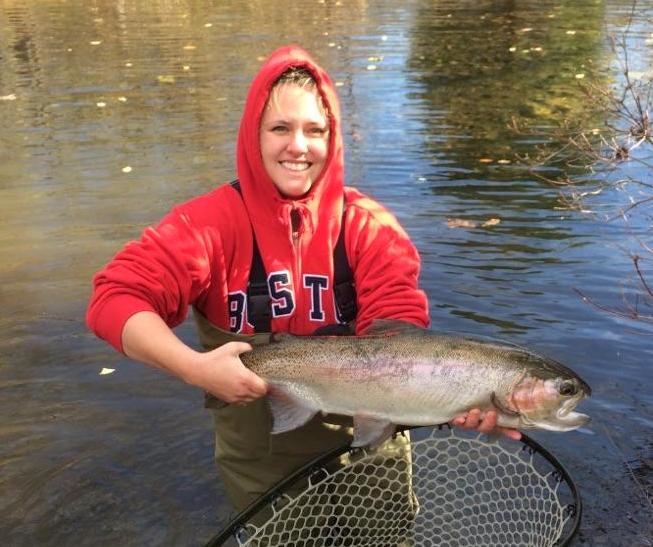 Some casting should be done on a windy day. This helps your fly placement under harsh conditions. We usually see plenty of windy days February to through April, so be prepared for these types of days on the water.
Another great option is going to a certified casting instructor to oversee your casting. Shy away from anyone without schooling or being IFFF certified. A friend may have good intentions but may not be able to see your faults or explain how to correct them. A good casting instructor can watch you for a few minutes then dissect your cast and its faults. This can save you time and in the long run wasted money. Instructors can also show you how to make some of those new casts you might be wanting to try.
After you have freshened up on your casting, don't forget to clean up your rod. Be sure to put wax on the male ferrules which helps taking the rod sections apart more easily. Use some fine or extra fine sand paper to clean up the soiled handle if you like. At the beginning of each season we go through our reels thoroughly with Q-tips and fresh grease. You might be surprised at how much better it will function, especially the drag. Many times, you can bring that old fly line back to life after washing it and apply a fly line conditioner. A clean and slick fly line will shoot further, and it stays in better condition.
March brings out some mayflies like the Quills. The Blue and Gordon are two of the earliest, and they may draw a few trout up to the surface for takes. The Quill Gordon is a much larger than the Blue Quill, but the Blue usually hatches in bigger numbers. Gordons should be size 10-12 and Blues should be size 18-20. Stay with standard fare on subsurface flies like Stoneflies, Prince's, PT's and Hares Ear in sizes from 14-18. Water is still cold, so using some weight will get those flies on down toward the bottom.
Reel 'Em In Guide Service is an Orvis Endorsed Fly Fishing Guide based out of beautiful Ellijay, Georgia. They have been offering their services to fly anglers since 2001. Their Special Use Permit for Guiding allows them on the Chattahoochee National Forest, they have licensed guides for North Carolina, offer over 7 miles of private trophy waters across Georgia, and offer drift boat trips on the Toccoa River and the Tuckasegee River in NC.