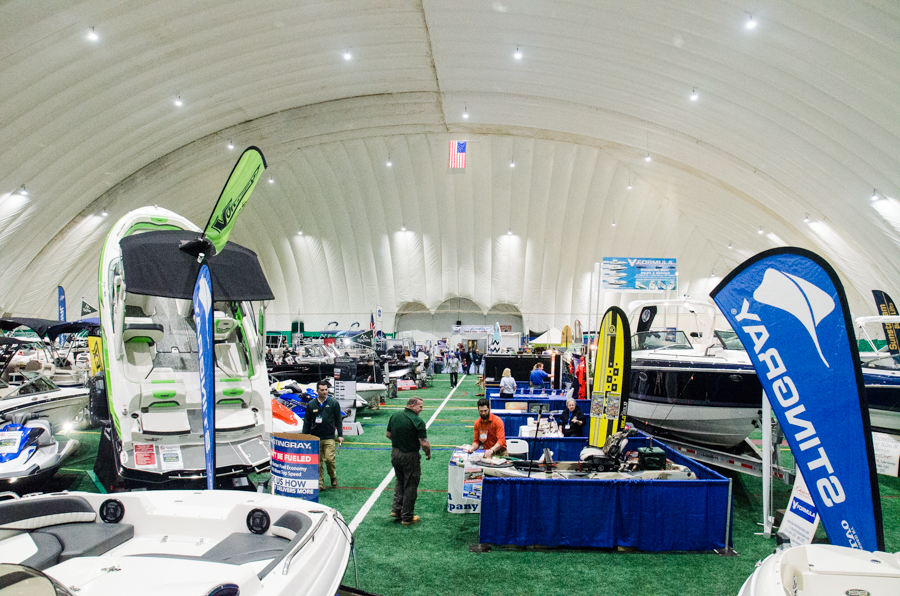 While growing up, going to sport and boat shows with my parents was so exciting. It created dreams for spring time fishing spots, getting excited when my dad bought new gear or consider a new boat. We bought a 20 ft center console at a boat show when I was 14, then I bought my 18 ft. Alumacraft 14 years later at a boat show. I know firsthand that a show is the best place to buy a fishing boat. It is the perfect time to get rigged up with fishing toys and continue that energy right into the season. The Great Upstate Boat Show can provide our readers with that experience at the perfect time of year. March 31-April 2 at The Adirondack Sports Complex in Queensbury right off exit 18 of I-87. What could be a better weekend to buy a boat than the opening weekend of trout season, traditionally the beginning of the boating season!
I never thought of the time that the organizers of such an event needed to put forth to pull off such a coordinated effort and planning to move a flotilla of fishing catching and pleasure boating craft into a Sports Complex. Fortunately this summer I was invited by Bernie from EZ Marine to go to a ENYMTA meeting, the organization that manages all aspects of the show. The Angler Magazine has joined and participated on most of their meetings. They are a great bunch of guys and gals who meet monthly to attempt to make this event as well thought out and fun for everyone involved. They came up with several fun giveaways, and chances for interested boaters would truly appreciate. Promotions and special pricing will be available for over 175 new boats from 60 top brands. This will be the best place in Upstate NY to shop for boats and compare many options, rig it, and have it ready to fish.
For more information visit thegreatupstateboatshow.com. WE WILL SEE YOU THERE!!