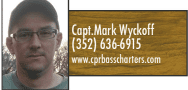 Hot and cold is an accurate description for the fishing here on The Harris Chain in April. Early this year we have already experienced near summer heat sending water temps into the '70s. This warming trend will send the fish in the hard bottom, shallow water areas.
This time of year can be frustrating for many anglers. Don't worry, finding high percentage areas can salvage a bad day of fishing. Areas that I look for have healthy looking submerged vegetation such as hydrilla, pepper grass and eel grass. Soft plastic senkos are an amazing bait to effectively fish different water columns to find fish when the bite is slow. Another bait to try is a soft plastic jerk bait – they can be skipped around boat docks and added to many types of baits as a trailer. Use different weighted hooks on the senkos and jerk baits to change the depth you're working. This time of year, I try to move around to find active fish. Males will be nearby or prepping the beds in 1-4 foost depths. Females (big bass) will stage near the beds wherever the cover is.
You can also find crappie still being caught in shallow water where bass spawn. They make for a fun fight on ultralight fishing setups. A small inline spinner or a grub on a jig head can make for a fun time fishing. Now is the time to get booked for your own guided bass fishing charter on The Harris Chain visit cprbasscharters.com for more information.