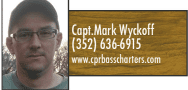 The Harris Chain has been a feeding frenzy! The largemouth bass and black crappie have been feeding on small bait fish, shad and other minnows. Cooler weather means these fish are in spawning mode and will strike lures readily. Anything with a smaller baitfish profile 3, 4 or 5 inches has been best. Bigger bass bites can also come on larger swimbaits mimicking a wild shiner. Shiners eat their eggs and are eaten immediately by big female bass.
This is the time of the year to start looking in canal areas, around shoreline structure such as bridges, Kissimmee grass, docks and submerged trees. Crappie have been caught along the Dead River in shallow water. Minnows on a hook and bobber are working great, plus small jig heads with curly tails can be
fished effectively. Tipping the jigs with minnows should get you more bites, try it. Some areas to look after cold fronts might be in deep water areas near the Highway 441 bridge. Add a half ounce sinker 10-12 inches above the jig to get down deep. Vary the speed of your presentation and depth while trolling until you find the water depth, lure color, and depth the crappies are suspended – this is a great tactic for long- line trolling and spider rigging. Also casting tiny hair jigs around the edges of lily pads and reeds has been another way to entice bedding crappies around full and new moons.
Lipless crankbaits, squarebill crankbaits, soft plastic jerkbaits and swimbaits, and hard slash baits are producing some quality bass. This time of the year I don`t change baits often because fish are in their pre-spawn rituals. I do have some dates available for guided bass fishing charters. Details are on my website, check out the angler catches. www.cprbasscharters.com