By Capt. Cefus McRae
In the winter a lot of us anglers take a sabbatical from fishing for a month or so. It's a time to get some of the honey-do's done around the house and rack up a cache of kitchen passes for fishing trips this spring. I'll take advantage of a cold, rainy day to do a little preventative maintenance on my gear, re-spool reels and restock my tackle boxes.
Something else I've started doing is honing my casting skills. Sometimes you only get one shot at a cruising fish, a dock piling or a submerged log, and you need to hit the bullseye to get a hook-up. While my casting skills won't win me any awards, I can usually get pretty close to the target if it's 30 to 50 feet away. It's the closer shots that I can have difficulty with…10 to 20 feet. I'm a spinning rod guy, and flipping with a spinning rod is not one of my strong suits. So I put out a few targets in the backyard and stand on the steps of the deck for some target practice. Paper plates are excellent for this purpose.
I've found there are a few keys for success. The first is practice, practice, practice. Next is being able to judge distance. You've got to get a feel for how much force and momentum you need to loft a lure to hit the plate. Another key factor is fresh line on your spool. Monofilament that's been sitting on your reel for a year has likely acquired a 'memory', and will come off the spool like a slinky. Those memorized coils will choke down at the first guide and inhibit your distance and accuracy.
A skill that tends to accumulate a lot of rust over the winter is throwing a cast net. I'll stand on the tailgate of the truck, or on my cooler and toss it into the yard. It needs to open fully every time. It's good exercise too.
Another off-time activity is learning a few new tricks. Go online and look at some of the new rigging styles and techniques that apply to your type of fishing. Maybe you've never used planer boards before. Or perhaps you got a downrigger for Christmas and need to get familiar with how to load the release clips. Virtually everything you can imagine is available online, and you can get a basic understanding by viewing some video clips from other anglers who share their tips.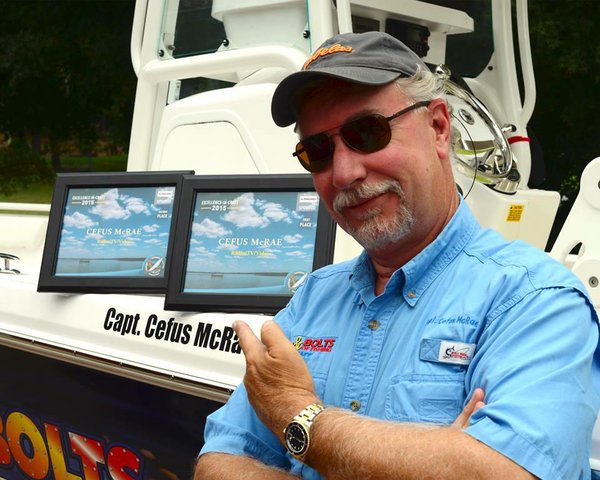 One thing that always takes an entire evening before heading out on a fishing trip is plugging in new locations on my chartplotter. Navionics and other digital cartography programs offer the ability to input waypoints with your laptop, save them to a SD card and upload them to your chartplotter.  And while you're at it, you can really examine the chart of the area and potentially discover a few new spots you ought to take a look at while you're on the water. Getting a game plan prior to hitting the water will save you lots of time and aggravation when you'd rather be fishing.
This is the time of year when you'll find boat shows and fishing expos occurring around the Southeast. Most of them have seminars with expert presenters will give you lots of insight on what to use and where to go when the weather warms up.
The Nuts & Bolts of Fishing Seminar Series is a great way to get a head-start on seasonal fishing patterns and tactics for specific species. The seminars are held near popular freshwater impoundments and coastal areas around the Southeast, and attendees get contemporary fishing info from local experts in full-day interactive sessions. The next one is this March in Alexander City, AL near Lake Martin. To learn more about seminar locations and registration, visit NutsAndBoltsFishing.com and click the Seminar Series link.
So even in the dead of winter, you can still find plenty to do that will satisfy your appetite for something fishy. Hone your casting skills, learn a few new tricks and get your gear ready for the spring thaw. You'll definitely realize huge dividends when you get back on the water.
Tight lines and calm seas.