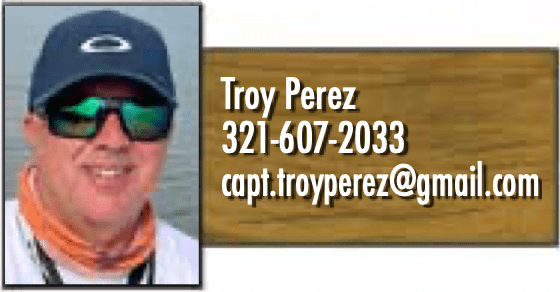 Early March usually brings wind, but if conditions are right the cobia show up with the rays on the beach. Look for them heading north from 100 yards up to 5 miles off the beaches and with a water temp around 68 degrees. Typically, winds are from the east and bring in weeds, try sight fishing tripletail along with the cobia on the weed lines. This is some of the best near-shore fishing in March. When fishing tripletail, use a 3/0 hook and freeline a live shrimp. When targeting cobia a 1-1 1/2 ounce cobia buster jig.
March windy days are best spent in the Indian River or Mosquito Lagoon. Redfish usually school up this time of year for breeding. Grass in the lagoon is starting to come back which is encouraging so try sight fishing for redfish in big schools on the flats. To target large schools of redfish, throw in front of the school (not on top of them) and you will have better success. Use a 3/0 hook, no weight and freeline a live shrimp for best results. Also, try using gold spoons or 1/8-ounce jig heads with a 3″ Gulp shrimp. While you're on the grass flats try the jigs for spotted sea trout wherever you see mullet. Before the grass grows too tall in the lagoon, use 1/8-ounce jig heads with 3″ Gulp or white Wyze Guys paddle tails. You can also use a 3/0 hook with live finger mullet to catch trout.
Large black drum schools should still be around on the flats, bridges and causeways, use 1/8 to 1/2 ounce jig heads with a piece of crab or shrimp. Small black drum should still be on the flats in schools. Captain Troy's Pro tip for March to help your fishing experience: When throwing a freeline live shrimp, try using a 3/0 hook and hook you're shrimp in the last section of the tail for better distance and accuracy.