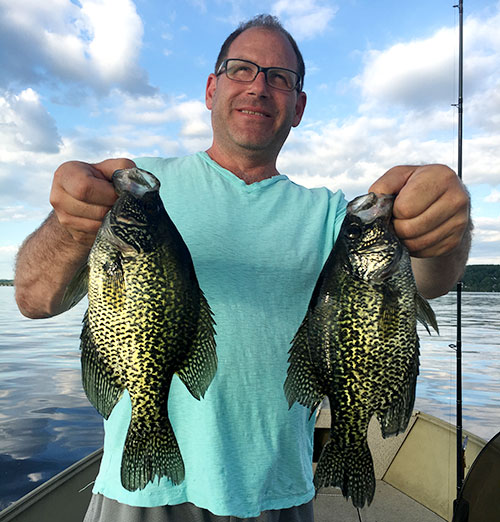 By Frank Geremski, The Angler Magazine Upstate New York Publisher
Lisa and I live about 4 miles from Saratoga Lake in Malta, and we love to drive down to Saratoga Lake whenever we have time, simply to unwind, get away from the electronics and relax. I always bring my ultra-light combo and some small panfish jigs. If you know me, relaxing means sitting for 5 minutes while I gaze over this picturesque lake, suddenly, when I realize I can be battling bluegills in seconds, I will grab my rod and reel and find somewhere to cast, now I'm relaxing. This medium sized lake is just loaded with bluegills, crappie, perch and bass that always seem ready to play. No matter where I am on this lake, these panfish are like unconditional friends, always giving me attention when I have time.
When I have a little more time, I will often slide my Raddison canoe, which summers on the top of my truck, wherever I can gain access. I will row out and find some weed lines of some actively growing green weeds and start "catching". Virtually every cast will bring some form of action. If action slows, it's usually because that section of weeds has been cut and treated for lake management reasons, and it's simply time to row until I find green weeds again. Now that I am away from the shore, the panfish average size increases and I usually can catch an easy meal in a half hour or so. The best dividend is that any sized gamefish will strike a small jig, and I often connect with pickerel, pike and tons of bass. Since my size expectations have been lowered, even a small bass feels like a lunker. No matter what my mood was before I started, within minutes I am relaxed and having fun, and isn't that why we started fishing in the first place.
Take this advice, if you want to turn a novice fisherman into an angler, get them some small panfish jigs and a light action rod and reel equipped with light 4-6 lb test line, and a package of worms. That's all you need to get them started. Tie the jig directly to your line, do not attach the jig with a swivel, a simple clinch knot will do, simply twist your line 8 times around and put the line back through your loop. I hook a small ½ inch piece of worm to my jig, but it's not mandatory, and that's all it takes for unlimited action. Your novice now is not perceiving fishing as a sit and wait event, it is now a seeking adventure. They will learn in no time, and this "novice", within minutes will feel like a pro, creating their own secret tricks and tactics. There is no wrong method, just cast at your desired spot, close your bail immediately, stay engaged with your line, wait a few seconds for your jig to reach the top of the weeds, and start moving, jigging and swimming your jig and I guarantee my Saratoga "friends" will be there. If weeds are thick or the water is very shallow before the weeds start, attach a SMALL float a foot or two above the jig and move, twitch and wait for the float to get submerged when the strike comes. When Mr. bass or pickerel finds your novice anglers jig, they will now learn what I have, anything and everything will attack these small jigs and you may be getting your camera ready. Trust me, learning to jig is very simple, inexpensive and fun. Once you have mastered it for panfish, the same techniques will work for ANY gamefish on ALL bodies of water.