December 5, 2017 – Captain Judy's Inshore fishing report
Fishing statement: To try to insure that fishing stays in the hearts of those that love it and to help the ones that are going too!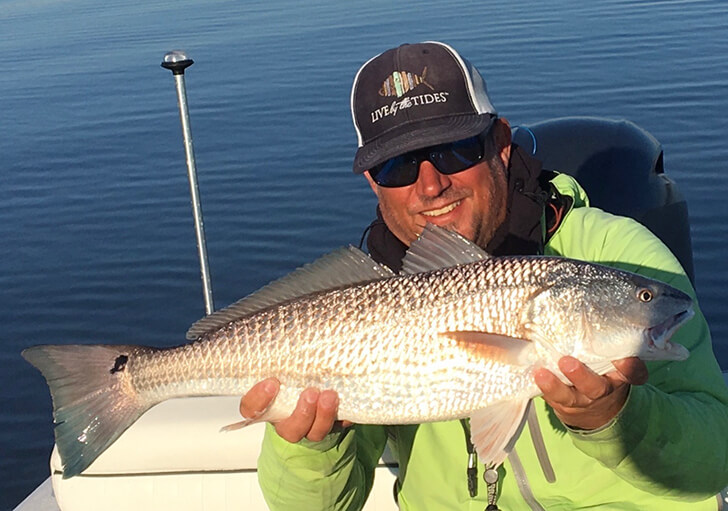 Captain Kevin Rose of Miss Judy Charters is showing us two things. The first is a nice red fish and the second is that grand fish catching smile! There is a story that goes with this red fish. Captain Kevin caught this fish, but Matt Thomas hooked him first. I know I have to explain. Captain Kevin took Ron Thomas (Bahi Blue Marina) and his son Matt visiting from Denver, Colorado to do a little inshore fishing. All on board was fishing. Matt hooked up a nice red fish and somehow it broke off right at the leader. The fish that Captain Kevin is holding is the exact fish that Matt originally had on! How do we know that? The hook was still in this fish's mouth. Now this just goes to show you that for a fish to eat, it doesn't matter whether or not it has a mouth full of bling, it only matters if it is hungry!
---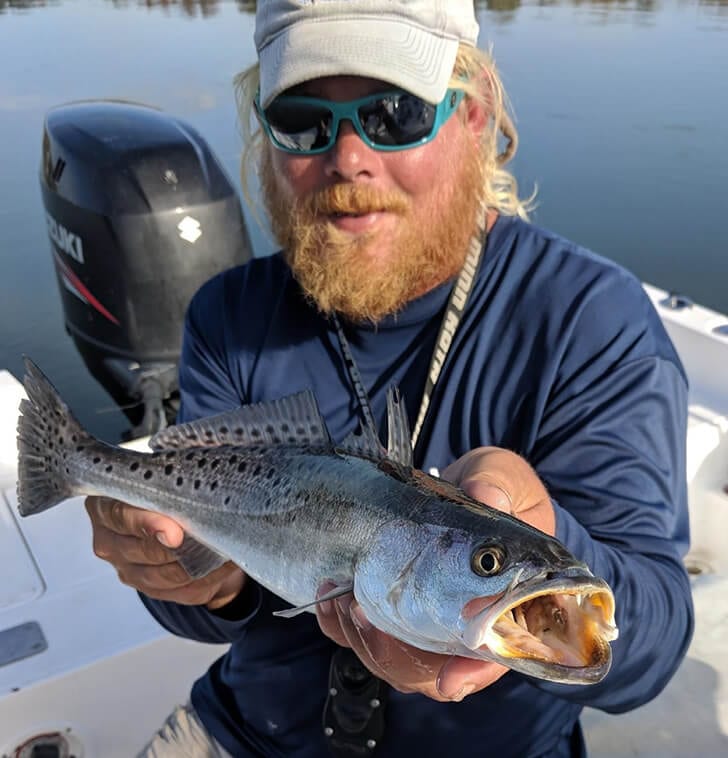 2018 Inshore/Offshore Fishing Clinics
February 24, 2018 (Saturday) and February 25, 2018 (Sunday)
On inshore/offshore boats in the water
– $135.00 per person for inshore
– $150.00 per person for offshore
Time: 8:00am until 12:00pm – (snacks and drinks provided by Captain Judy!)
Place: Miss Judy Charters dock
202 Wilmington Island Road
Savannah, Georgia 31410
(912)-897-4921 for more details!
E-mail: [email protected]
To make reservations or for more information, please contact Captain Judy Helmey.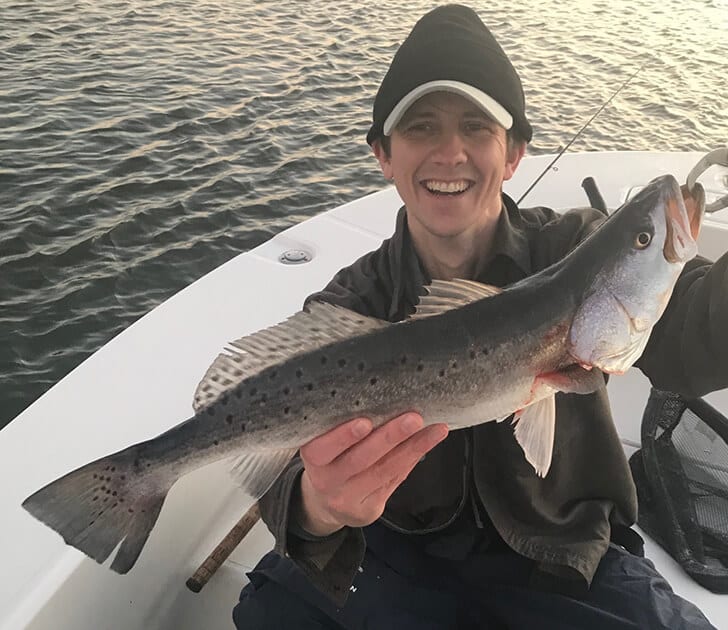 2018 Inshore Subjects and Handouts:
All those fishermen attending inshore classes on the boats in the water classes will receive what is biting best Inshore when 2018 fishing calendar! 2018 Tracking Fish Chart! Special techniques for targeting and catching red fish, spotted sea trout, sheepshead, and Flounder Trophy Reds & Gator Trout Tarpon Fishing Traditional adjustable and popping cork float fishing techniques, Learn how to take advantage and use the "Pecking Order" Basic Drifting & bottom fishing & 360 degrees line, Learn the value of rips, Best Times to catch your own bait and where to look, Structure and its value: Sand Bars, mud flats, oyster bars, rocks, docks, and rips, Suspended baits, pinching of baits (mashing) Live baits: mud minnows, shrimp, menhaden, and mullet, Triple tail catching techniques, Value Plus of trolling motors, Artificial bait techniques, Advantages of shrimp boats to fishermen, and Ask any questions that you might have and we will try to answer them! Captain's on board will…be Captain Matt Williams, Captain Tommy Williams, Captain Garrett Ross, Captain Kevin Rose, and Captain Alan Collins.
2018 Inshore Handout Booklet – My handout booklets are updated every year. It has plenty of detailed fishing information on best tackle and bait to use, rig illustrations, drawings showing techniques for fishing around buoys, shrimp boats, and birds. Also shows best times to target fish when and where by each month.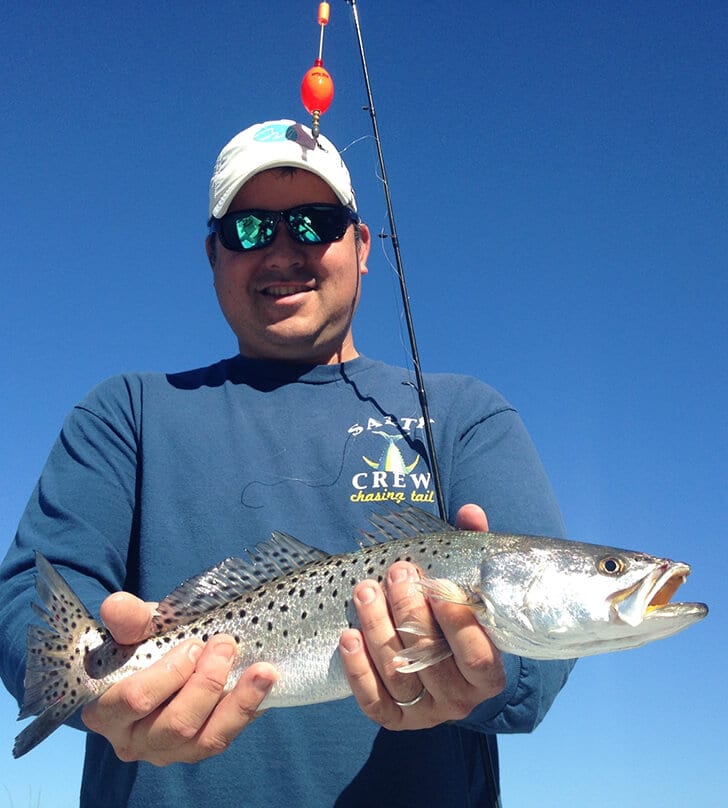 2018 Offshore Subjects and Handout:
Log Book Procedures, How to catch the best bait and when, How to keep your bait alive, How to cut your bait up, Baiting up techniques, How to rig up when using live and dead bait, Artificial Reef Fishing Techniques, old school rigging ballyhoo techniques, butter-flying bait, Best Bottom Rigs for this area and how to make them yourself, slow, medium, and high speed trolling techniques, how to rig for large bottom fish, advantage of shrimp boats to fishermen, best flat line techniques, Sheepshead fishing/anchoring techniques, offshore flounder techniques, cobia fishing made easy, how to fish live bottom, wrecks, and rips. And you can ask questions and take pictures. Onboard will be Captain Ken Kennickell, Captain Deidra Helmey Jeffcoat, Captain Kathy Brown, and Captain Judy Helmey will be teaching and telling some fine fish catching stories!
Fishing techniques for: live bait Spanish sardines and cigar minnows, Spanish/king mackerel, large sharks, cobia, trophy red fish, sheepshead, flounder offshore, black fish, vermilion, triggerfish, as well as other bottom biters, genuine red snapper, grouper, amberjack, and mahi mahi!
2018 Offshore Handout Booklet – Like my inshore booklet, they're updated every year. Also like them, they have plenty of detailed fishing information on best tackle and bait to use, rig illustrations, drawings showing techniques for fishing around buoys, shrimp boats, and birds. GPS fishing coordinates are included for west/south east live bottom areas located at artificial reef "J" and live bottom areas to fish at the North, Middle, and South Snapper Banks. There might be a genuine red snapper season in 2018; GPS coordinates furnished could help you find the fish that you are looking for! I say, "Why wait to learn, when you can find out now some of the secret top ways of fishing from the pros!"  – Captain Judy
---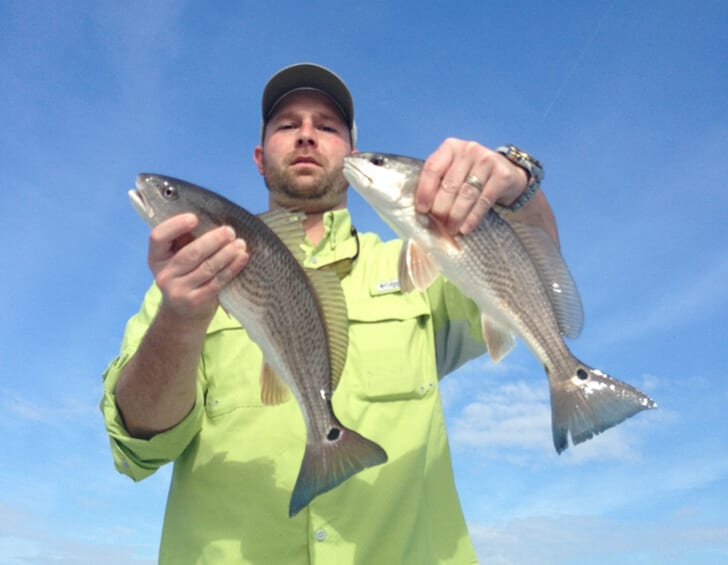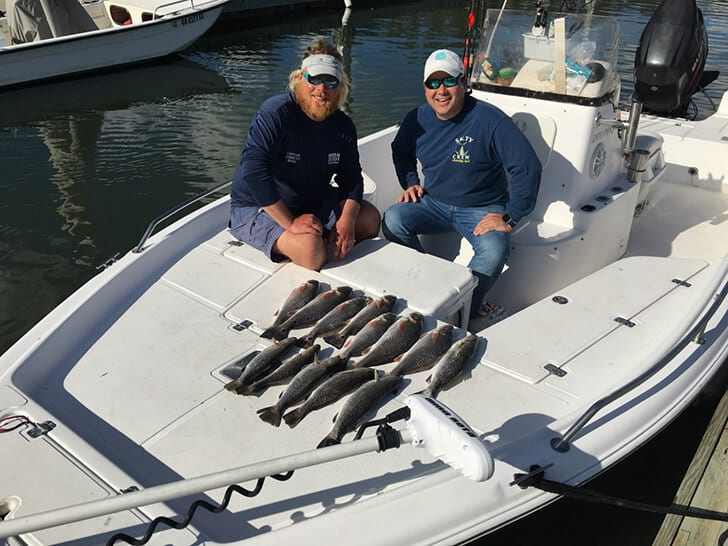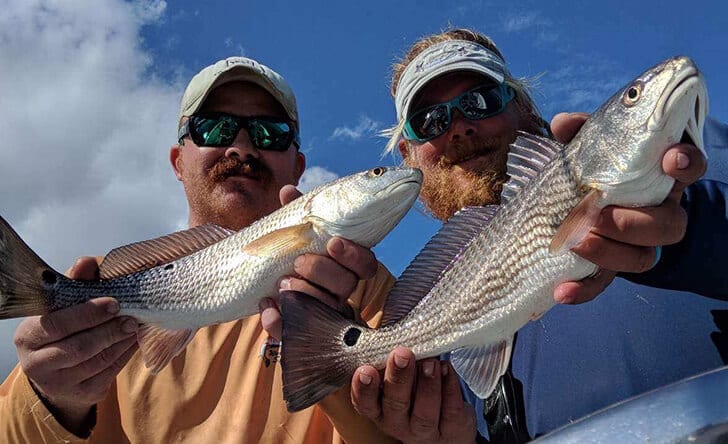 Jake Ross of Savannah, Georgia and his brother Captain Garrett Ross of Miss Judy Charters are both holding a fine set of slot reds! What is considered a slot red fish in the state of Georgia? It's a red fish also known as a red drum that is between 14 to 23 inches, which is legal to keep. And the better news is each fisherman can legally keep 5 red fish. Responsible fisherman should always release, if you are not going eat!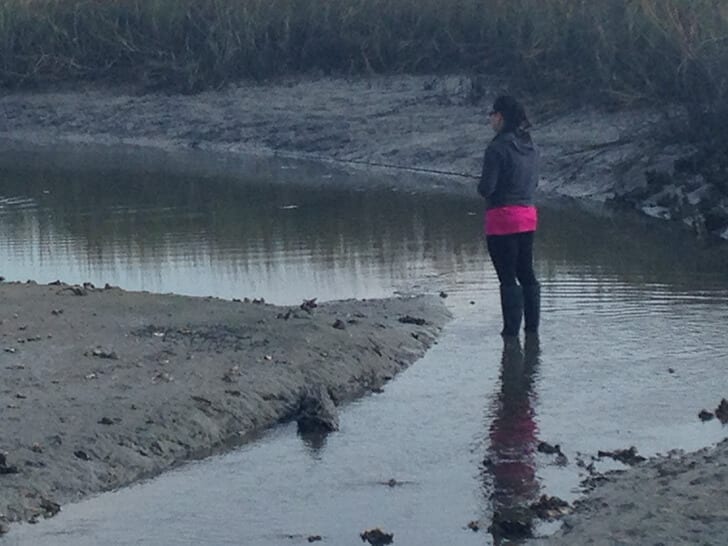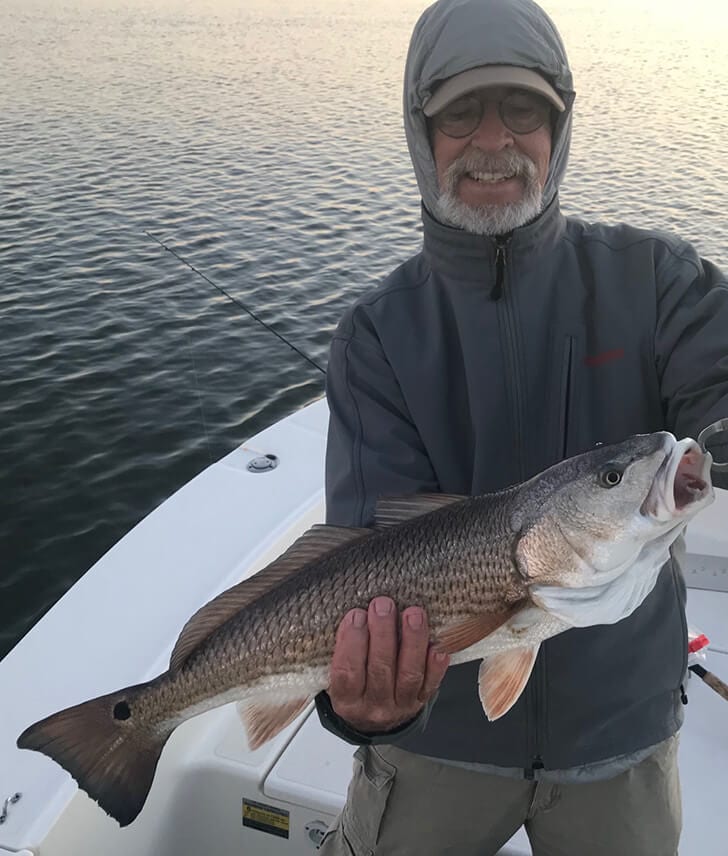 Who is this? Well to start with she must be a serious fisherman. Why? Because, the fact that Liz Garrett (Captain Garrett Ross's better half) got out of the boat and went on her own fact finding mission says a lot. What did she find? Some really nice fish! Where? Holding stealth shown in the upper left hand corner of this picture!
Inshore Catching Report!
The bottom line is this…it is time to go inshore fishing, because the bite is on more than off! As far as what's biting? Red fish, (all sizes from rats to trophies) spotted sea trout, flounder, black drum, and flounder! And then if none of this fish bite, well there is this winter time inshore bite that is pretty darn good! And it's called "The Sheepshead Chronicles!" It's a fish that is beefy meaning it puts up one heck of a fight on light tackle, it tastes good, and cold water is its friend!
---
Little Miss Judy's Believe It or Not – "Christmas in the Fifties with Dear Old Captain Dad! – Part 1"
As a child, like most, I loved Christmas. I knew that Santa Clause was the real thing and that hopefully he was going to visit my house. Every year my father would tell all of us children that he was going to set a trap so as to catch old Saint Nick. In this department I wasn't too popular with the neighborhood kids. This was due to the fact that Daddy was a great hunter and could possibly set a trap that just might work. So as you can see we were all in a dilemma at Christmas time.
We would talk about it among ourselves and came up with some pretty convincing reasons why we shouldn't worry too much about Daddy's old trap. The number one reason was that we knew for a fact that Santa was very smart. So therefore he would see right through any trap. The other and best reason was that we knew for a fact was that if Santa could get into houses without chimneys he could easily escape. After a few minutes us six year olds would get tired of worrying about this and basically forgot about it. At least until Daddy brought it up again, which was quite often on Christmas Eve!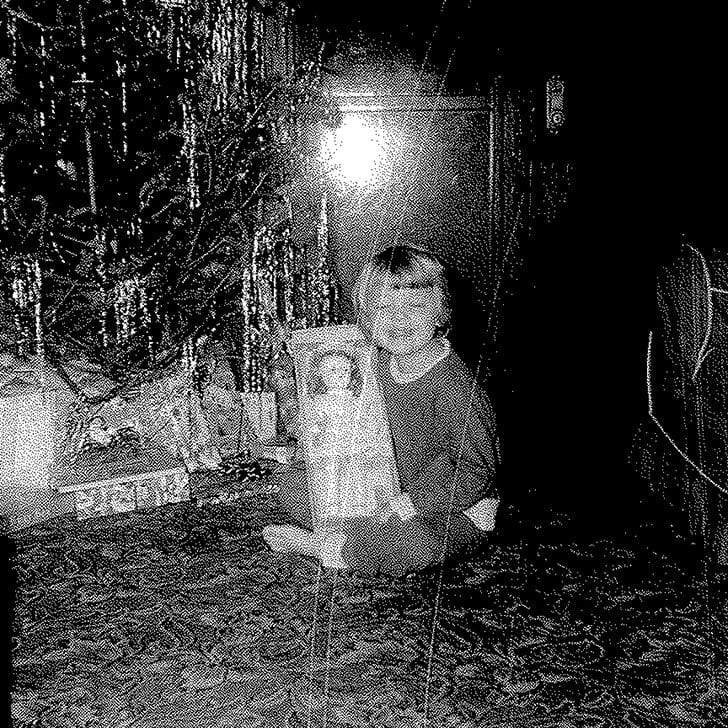 As an only child I was very fortunate to get lots things during the year. So therefore when Christmas arrived I needed more after all a child needs lots of things to survive. Back in the old days we received only a few catalogs. Not like today where your mailbox is packed full everyday for months before the big event. I would always be anxiously waiting for the "Levy's" catalog to arrive. This was my Christmas list in picture form. My father would tell me that I could circle what I wanted and he would pass it on to Santa. Now this is the funny thing. He always told me not to spend any more than $25.00 on all of my gifts. So the process of picking the presents and then adding their costs up began with hopes that what I had picked didn't go over the designated amount.
Until I got older I didn't understand what money and Santa Clause had in common. After doing all of this work and making my final decision I would hand over my picture Christmas list to Daddy. He would hopefully as he promised, pass it on to Santa Clause. However, I never forgot for one moment that he might catch the rascal before he got to our house. I wasn't the only child worried about this.
Most people leave cookies and milk. However, my father and I decided to make a few changes. Over the years we left sardines and saltines, Vienna sausage and Ritz's, and one time we left sea rations of can cookies and jelly. As far as something to drink we left what we had on hand at the time, which could have been anything from water straight out the faucet to something that came in a bottle. It seemed that no matter what we left Santa he always seemed to eat it all.
When Christmas morning finally arrived I jumped out of bed, ran into the living room, and got a big letdown. There wasn't any presents or toys to be found. I couldn't believe it Daddy had actually caught Santa Clause. I ran to daddy's bedroom almost in tears and woke him up. He rose up half asleep and asked, "What's wrong?" I replied, "Santa didn't come!" He quickly replied, "Oh Santa and I got to talking about fishing, eating snacks, and he left all of your presents in my closet!"
Once again my father saved the day with just a few words putting Christmas morning back into motion!
Thanks for reading and have a happy holiday! – Captain Judy
Captain Judy Helmey
Kicking Fish Tail Since 1956
124 Palmetto Drive
Savannah, Georgia 31410
(912)-897-4921 or (912)-897-2478
(912)-897-3460 [Fax]
[email protected]
You can find Judy's previous report here.