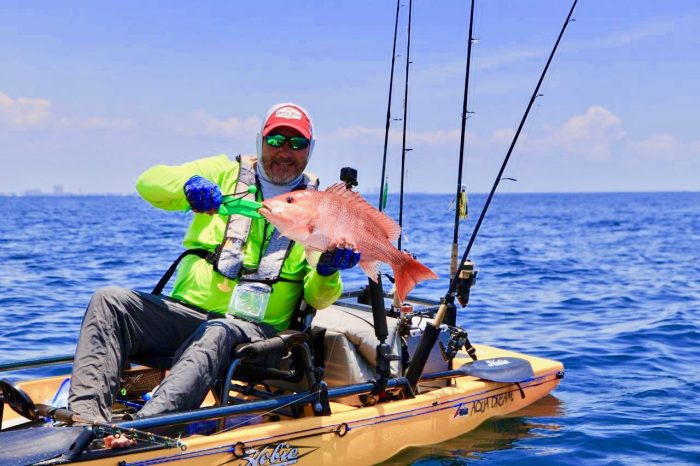 Kayak Day Tripping
By: Rob Baker
The advantage of living in the Big Bend is found in a kayak this summer.  Those dreamy summer days of slick calm mornings on the beach.  There might not be any super cool beaches in the Big Bend, but load your kayak and some serious white sand adventure is only a few hours away.
This summer could be the time for you to feel the day tripping call of the wild.  Every, Big Bend kayak angler should have a beach trip on their bucket list this summer.  You will need to do some homework before making your trip, but the red snapper, kingfish, cobia, grouper, and sailfish are waiting.
There have been many trips to Panama City and Destin by local kayak anglers, so finding the real scoop, shouldn't be that hard.  First, this is a pretty technical trip.  A big stable pedal kayak is recommended.  A sonar and GPS will be required.  Also, some real fishing gear will need to travel.  There are cobia to 100 pounds, kingfish to 50 pounds, red snapper to 20 pounds, grouper to 60 pounds, and yes sailfish!  This is serious stuff.
As for the locations, that is not so hard.  There are numerous public numbers that line the coast of Bay and Gulf counties.  All of the reefs hold fish.  Some are less than two miles from the sand, and others are up to four miles. For anyone new to this type of offshore adventure, go in big groups for safety and comfort.  Paddling four miles off the beach is a serious adventure.
If paddling offshore and bottom fishing is not your thing, don't underestimate the shallow water trolling within a few hundred yards of the surf break.  There are plenty of fish roaming this area, and trolling with a pedal kayak is a perfect way to get hooked up.  Many sailfish and smoker kings have been caught from the piers of Panama City Beach.
If you are putting a beach trip on your list of kayak trips this summer, check your local regulations for fish in season.  The advantage of heading west is the variety of fish accessible by kayak in state waters.  Also, put plenty of time into having the correct equipment on board to land and release big fish.  If you need a place to start, give Rob Baker a call at The Wilderness Way.