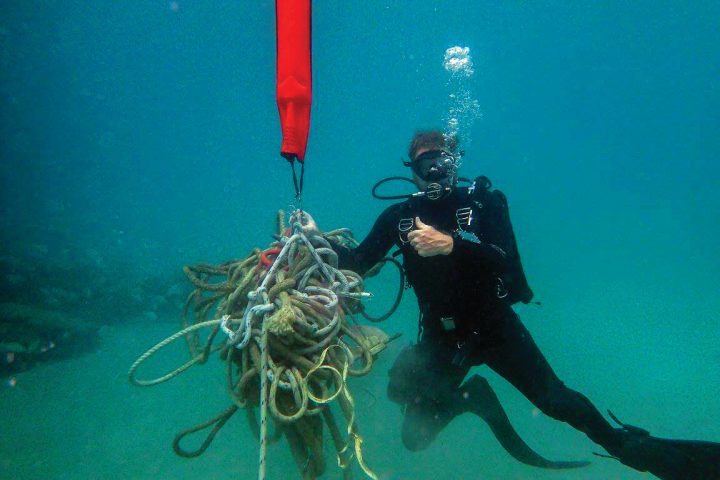 Marine debris poses a threat to our waterways, from local rivers and estuaries to the Great Lakes and oceans around the world. As winter fades into the bright, sunny days of spring, we find ourselves with more excuses to spend time outdoors. This spring, help keep our rivers, lakes and coastlines free of marine debris with a few simple changes to your daily routine.
Nowadays, almost everyone has heard the adage "Reduce, Reuse, Recycle." This is a great way to implement easy lifestyle changes that will help keep trash out of our oceans, but we encourage you to add one more action: Refuse.
Much of the trash that winds up in our waterways come from single-use items, like plastic cutlery, grocery bags, disposable cups and straws. Plastic bags pose a particular problem for our marine life if they end up in the ocean, as they resemble jellyfish floating along the surface, a tasty source of food for many animals. Sea turtles, sharks and even swordfish ingest these bags. Their bodies cannot process the foreign materials, so eventually the animals may be starved of vital nutrients and unable to digest foods they need to survive.
Instead of continuing to depend on throw-away items, we can easily replace them with reusable alternatives. Making simple changes to your lifestyle shouldn't mean depriving ourselves of convenience, but rather finding creative ways to reduce our dependence on items that are discarded after one use. Keep reusable grocery bags in your car, and bring a mug or refillable water bottle from home to reduce your dependence on disposable cups. When you purchase a drink or head out to a restaurant, let your server know that you don't want a straw, which can end up lodged in the nasal cavity of marine animals.
As fishermen, it's important to know where you can drop of discarded fishing line. Pura Vida Divers serves as a Monofilament Recycling Center for Singer Island and the West Palm Beach area. There are alternative centers throughout the state.
There are so many more tips and tricks to decrease your daily contribution to marine debris. Join Pura Vida Divers on Friday, April 14 for a Social Night, where we will discuss the ways in which we can reduce our dependency on one-use items and increase practices that are beneficial to our daily lives and the environment. Each Social Night features a guest speaker and complimentary delicious food, drinks, beer and wine. You can learn more about the event or RSVP by visiting the Pura Vida Divers website at www.PuraVidaDivers.com.
Ready to take action? Volunteer for the Great American Cleanup and help us keep Phil Foster Park and the Blue Heron Bridge free of debris. This is a fantastic local fishing and shore-diving location. Pura Vida Divers are proud sponsors of Phil Foster Park through the Adopt-A-Park program, and your help is essential to ensuring this fantastic local resource remains in pristine condition. Kids and families are welcome to participate! Volunteer hours are available for students. To register, call the Pura Vida shop at 561-840-8750 or visit their website.