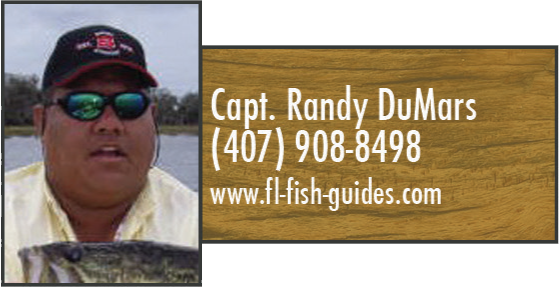 Winter is my favorite time of year, as all of the migrating birds have arrived. Shorter days and cool temperatures mean largemouth bass and black crappie will go into spawn mode. Fishing this fall will be good, we had lots of rain earlier this year – this gives min- nows and baitfish more places to reproduce. Lots of bait means more food and larger predators.
Bigmouth Bass – In the month of November the Kissimmee Chain of Lakes is at high pool. The best place to fish will be in the Kissimmee grass. The males have been moving into shallow, sandy areas to compete for spawn- ing ground. This time of year, the bass are feeding heavily to gain weight in order to prepare for spawning. The bait of choice will be plastic baits, flukes, trick
worms and vibe worms. The best colors to use are watermelon seed, watermelon red and June bug. Another good location for catching big bass will be in open water in the hydrilla patches. Bait of choice will be rattle traps, best color is chrome with blue back. Goblets Cove is full of hydrilla. It is difficult to navigate through but should hold some really big bass.
Crappie -The crappie are still in open water and will remain there until the end of December. Best methods for catching crappie this time of the year will be troll- ing multiple rods with jigs tipped with minnows. If you cannot find the crappie in open water, move into the outside edge of the Kissimmee grass. Troll about 40-50 feet of line out the back of the boat moving at 1.2mph. Tip a mylar 1/16th oz. jig with a minnow. It is that easy! Of course, drifting a minnow under a cork is most popular and a great way to enjoy the day.