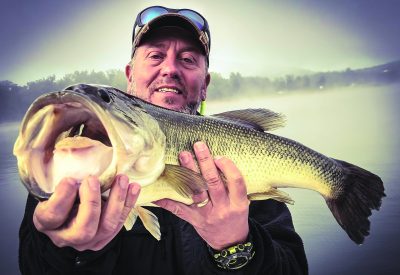 Forecast By: Shane Goebel
Located about two hours north of Atlanta, Lake Blue Ridge plays host to some of North Georgia's best smallmouth bass fishing. This beautiful 3,300-acre body of water produces some awesome trophy smallmouth, and June is a great month to hit the water.
Currently, Lake Blue Ridge is 3 feet below full pool. Water temperatures are in the mid 70's. Water clarity is clear in the main lake and stained in the creeks and rivers.
Not a lot has changed out here. We are still catching a lot of smallmouth and spotted bass all over the lake, with the majority of our smallmouth being caught in the Toccoa River area. Target these fish off rocky points, ledges and shallow humps around the lake. Also, focus on working the banks that the early morning sun hits first. We are also catching some nice fish under the docks. We are still pulling planer boards with live blueback herring early. It's also a great idea to set out a couple of free lines 100 to 120 feet behind the boat while you pull planer boards. When the sun really comes up in the mid-morning hours, we'll switch to downlining live blueback herring. Most of our fish have been caught in the 15 to 25-foot range. This really seems to be the best technique for the larger smallmouth but not until the sun really gets up.  Look for large schools of smallmouths in the Toccoa River and Star Creek area. Live bait seems to be the key out here lately, but a jigging spoon and shaky head can't be ruled out this time of year. Towards the end of this month these spotted bass will really start to school up and be feeding strong. Also watch for an exciting topwater bite. When they start busting on the surface, they will hit just about anything you can throw at them.
In June the walleye will start heading for deeper water. Look for these guys to be suspended off rocky points and on steep ledges throughout the lake. You can also find some stray wanderers on shallow humps. Downlining live bluebcks will work the best to target these guys. You can even bounce a few nightcrawlers 6 to 12 inches from the bottom. Also trolling crankbaits and jerkbaits will get you hooked up. When I decide to pull artificial baits, I always go to my Yo-Zuri Deep Diver, Shad Raps or Smithwick deep divers. Just remember to make some good S turns and keep your speeds around 2 to 3 mph.
June is a fantastic month for catching some very big fish on this lake. Give Big Ol' Fish Guiding Service a call and let the area's #1 guide service put you on some of Lake Blue Ridge's best trophy fish. And, for all your live bait and tackle needs, go check out Hughes General Store in Blairsville, GA. They carry everything you need for a successful day of fishing. Now go hit the water and go "get your fish on"! Good luck!