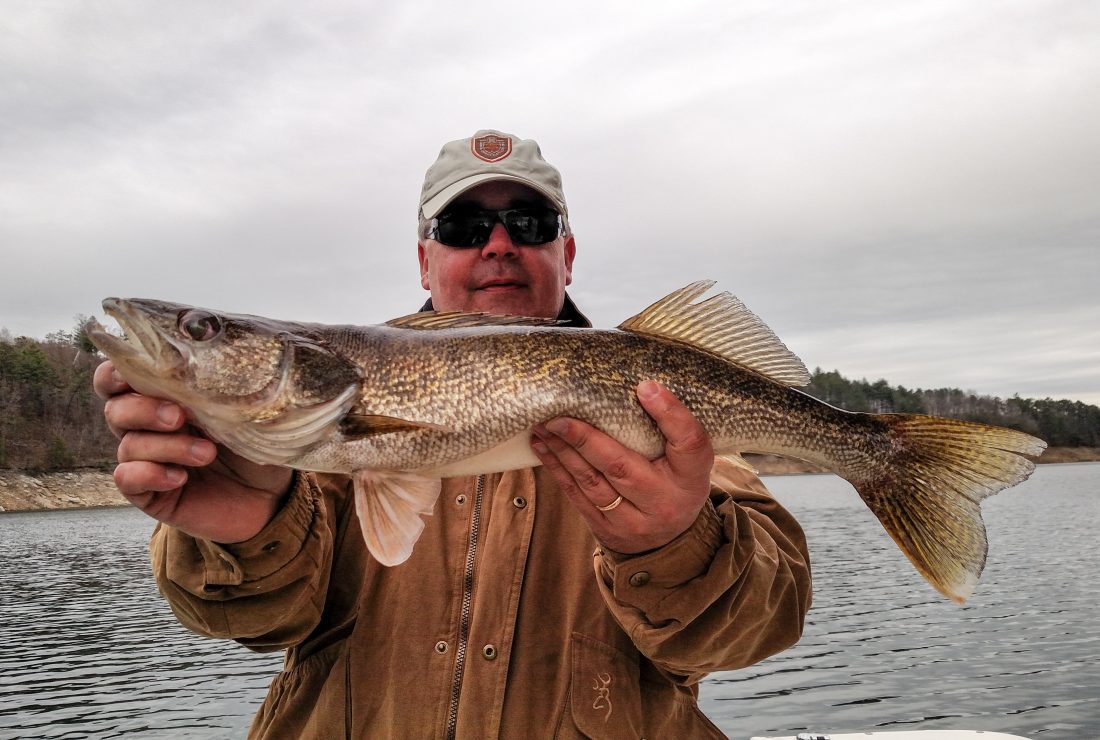 Forecast By: Shane Goebel
Big Ol' Fish Guiding Service &
The Angler Magazine Fishing Team
www.bigolfish.com
828-361-2021, 1-844-4-ANGLER
Located about two hours north of Atlanta, Lake Blue Ridge plays host to some of North Georgia's best smallmouth and bass fishing, and April is a great month to hit the water. Currently, Lake Blue Ridge is 15 feet below full pool. Water temperatures are in the mid 50's. Water clarity is clear in the main lake and stained in the creeks and rivers.
We are still catching a lot of smallmouth and spotted bass all over the lake, with the majority of our smallmouth being caught in the Toccoa River area. Target these fish off rocky points, ledges and shallow humps around the lake. Also, focus on working the banks that the early morning sun hits first. We've been pulling planer boards with live blueback herring early. It's also a great idea to set out a couple of free lines 100 to 120 feet behind the boat while you pull planer boards. When the sun really comes up in the mid-morning hours, we'll switch to down lining live blueback herring. This really seems to be the best technique for the larger smallmouth. Look for large schools of smallmouths in the Toccoa River and Star Creek area. Live bait seems to be the key out here lately, but a jigging spoon and shaky head can't be ruled out this time of year.
April will also kick off the start of a great walleye bite on this beautiful mountain lake. We really try to turn our focus on these great tasting fish. Walleye will start to make their way into the rivers and creeks from the deeper water to stage in spawning areas. After this migration, the walleye will feed vigorously on more nontraditional baits. Even though these walleye are willing eaters, some fishing tactics will work better than others. We usually see some good amounts of rain in April which leads to muddier water conditions. Brighter color lures in the yellow, orange and red will tend to work more efficient than live bait. On occasion, trolling Rapala Jointed Shad Raps, Cordell Wally Divers, and Bomber Fat Free Shad will tend to work more efficiently than live bait. Sometimes, the more erratic movement and vibration of artificial bait will cause the walleye to strike, especially in calmer waters. We try to target these fish by slow trolling live minnows and blueback herring pulled behind planer boards. For those walleye clinging to the bottom underneath the boat a live blueback or a night crawler 6 to 12 incher from the bottom on a down line will work.
April is a fantastic month for catching some very big fish on this lake. Give Big Ol' Fish Guiding Service a call and let the area's #1 guide service put you on some of Lake Blue Ridge's best trophy fish. And, for all your live bait and tackle needs, go check out Hughes General Store in Blairsville, GA. They carry everything you need for a successful day of fishing. Now bundle up, hit the water, and go "get your fish on"!