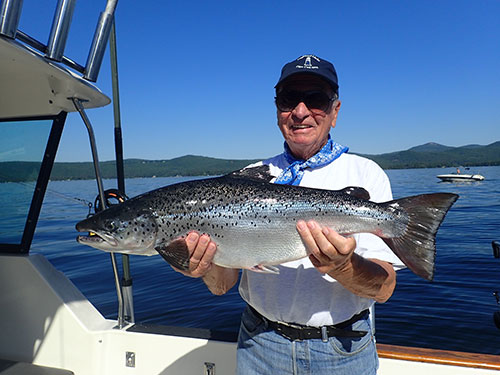 By Jeff Johnson, AKA Capt. JJ
Landlocked salmon have been stocked in Lake George since the 1880s with varying degrees of success. The fishing peaked in the 1980s with strong smelt populations and the lake trout population still recovering; a former state record landlock was caught here in 1982 at 19lbs 2oz. I can remember a few years with good salmon fishing in the late 1990s when I started guiding, then a few good years in the early 2000s, yet the salmon fishing has been inconsistent… until the last few years. We are now seeing not only better numbers but some really nice sized salmon, including a 15-pounder caught through the ice in 2016!!
Much of this success is a result of a new strain of salmon coming from the State hatchery in Lake Clear, the Sebago Lake strain which come from Maine. Another key ingredient has been the efforts of a small group of concerned fisherman that formed the Lake George Fishing Alliance in 2001. The first stocking changes they helped implement was holding 3,000 additional salmon at the Warren County Hatchery over the summer to grow them bigger before stocking in the fall, usually late October. At that time 34,000 were spring stocked in late May or early June. These were still the original Lake Clear strain and for a time the fall ones were doing much better, fin clips enabled anglers to keep track. While it seemed, these fish were smaller than the spring stockers, they were surviving better and a few got pretty big. The top salmon on my charter boat until last season was one such fish which weighed in at 8lbs 4oz, had a left ventral fin clip.
While these fall stockers were doing better, we still had 10 times more fish that were stocked earlier and still showing poor survival rates. Many theories exist as to what happens to these stocked salmon, and predation by lake trout, pike, pickerel and bass was thought to be a big factor in the disappearing salmon. I remembered that DEC had previously stocked some of them by a barge to spread them out instead of just dumping them in from shore. In 2005, I asked the local Fisheries Biologist at the time, Emily Zollwegg, about the possibility of trying something similar with volunteers and their boats. We tried it first in just the south end, stocking from Green Island in Bolton Landing. There was a good turnout that first year with 8 or so boats and several volunteers to run fish to the waiting boats. We use 35 gallon plastic barrels to transport the fish and they need to be filled 2/3 with water first. The boats then drive to various spots and dump the fish, hopefully away from predators and near some forage. Getting them out in deeper water off the brook mouths helps as the newly hatched smelt fry tend to move into the lake around the same time providing great forage for these smaller salmon that average around 6 to 8 inches in length. After seeing good results in the south end in 2005, the north end was added the following year.
One more change that has really helped in the south end was moving the stocking location to extreme south end of the lake near the Village. There was a year in the late nineties that the salmon were stocked from Million Dollar Beach and we had great fishing for them the following summer. That area has ideal salmon habitat and also has several brooks with good smelt runs nearby. Current DEC biologist Jim Pinheiro decided it couldn't hurt to try a new location in the south end. We started at the LG Village public docks and recently moved to the new DEC boat launch at Million Dollar Beach. Surprisingly these fish don't stay put and are caught quite a way to the north by Bolton and in NW Bay, miles up the lake.
The program continues today, we stocked both ends with boats in late May this year, our thirteenth straight. The Lake George Fishing Alliance still helps organize the event, plus the past few years DEC Fisheries and the Lake George Park Commission have been providing boats and additional helpers. This has enabled us to get the salmon stocked in a short time, it took around an hour or so for 15,000 fish in each end this year, very important after they have been held in the tanks for the ride down from the hatchery. It is fantastic to be able to target these great fighting silver fish again with reasonable expectations of catching one, and possibly catching a true trophy landlock. Last year we had three fish bigger than the previous record on my boat: a nine, a nine and a half and a 10 and a half pound giant! That sounds like success to me.