By Steve McCorkle "Colonel"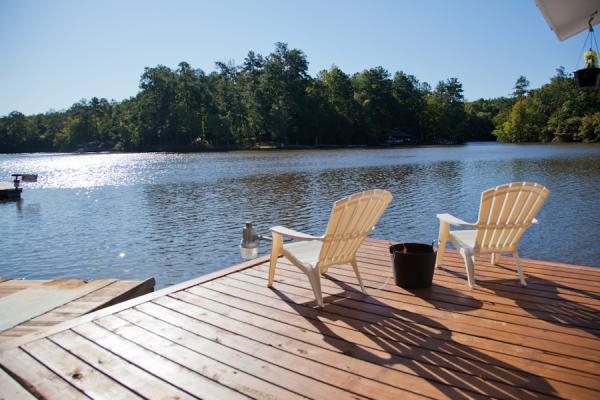 Lake Harding is at full pool and the water is very clear. The water temperatures are in the mid 60's and can reach the upper 60's if the outside temperatures reach into the upper 70's and 80's. The weather has been warm and according to the projected weather patterns for the winter we should have above normal temperatures. With that said, the fishing should be good for the remainder of the winter. The warmer than normal water temperatures will mean that the hydrilla that usually dies back in the winter will continue to be heavy in some areas.
Fishing has been good in November and I expect that to continue on into December. The unusually warm temperatures this year have kept the fish in a fall pattern, and I expect that the temperatures will stay warm, and the fish will still be easily targeted in shallow water and on shallow points. Baitfish should be bunched together along the banks and are the primary target for most of the species of fish. Best lures for largemouth bass, spotted bass, hybrids and striped bass are swimbaits, Rat-L-Traps, small crankbaits and spinnerbaits. If the water starts to cool off and if the outside temperatures start to drop into the 30's and low 40's, with the weather we have been having doesn't seem likely, the bass should transition to a winter pattern. If that happens the bass will either move off into deeper water on the main lake or move to deeper cover up the river. Pig-n-jigs and spider jigs will be a good bait during this time and also deeper crankbaits. Carolina rig worm, and jigging spoons can produce good bass.
If the water temps fall into the upper 50's and lower 60's, striped bass and hybrid bass can be caught in deeper water either with rubber jigs or crankbaits. Look for baitfish schooling in the deeper channels, and if you find the schools moving on the surface, then a Rat-L-Trap, jerkbait or topwater bait can produce good stripers.
Crappie are currently feeding on the shad and can be caught along the banks, in pockets or in the channels around structure. If the water temperatures fall into the 50's and lower 60's, expect the crappie to move into deeper water around brush piles, docks and other structure. Fishing under the bridge at Halawaka Creek will also produce crappie. Best baits are small jigs or minnows.
Good luck fishing.