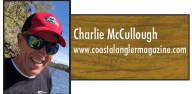 The first signs of cooler weather will signal the mullet schools to move north of Central Florida through the St. Johns heading first to Jacksonville, then south to warmer waters in their annual migration. Get ready for the upcoming Central Florida Shad and Crappie Derby! Crappie begins in September; American shad will soon follow – usually around Christmas time.
Largemouth bass, sunshine (striped) bass, and black crappie will be the targets for September. Look for schooling bass early mornings at the mouth of the river on both sides of Monroe and Harney. Bass are eating lipless crank baits (Rattle Traps or imitations), shallow running slash baits (Rapala X-Walk), and topwater plugs (Heddon Spook Jr. in bone color). Stripers will readily hit topwater lures.
Speckled perch (crappie) season begins in September with the first spawn usually happening in the second half of the month. Big female fish can be caught when they stage up in the 6-8 foot depths while males are prepping the beds. Longline trolling with a minnow tipped 1/16th ounce jig at about 1.2 mph should do the trick. Vertical slow-trolling (spider-rigging) will also tempt the big ones and speeds may vary between .4 and 1.0 mph. Make sure your weights correspond to trolling speed, keeping your lure in the strike zone. Faster equals heavier egg sinkers. Jigging the pilings of the 417 bridge over Lake Harney is good early season. Recommended baits: minnow-tipped jigs in different colors, Mylar Jigs, and Johnson Spoons for shad. Don't forget; always tip your jigs with a minnow to get more strikes!
Mark your calendars for the upcoming Shad and Crappie Derby – it begins November 1, 2019. Over $7,500 in prizes! Watch for the October magazine's full page Derby ad – listed will be all the sign-up locations. Visit www.cfshadderby.com, www. facebook.com/OrlandoCoastalAnglerMagazine, and www.facebook. com/cfshadderby to keep up with the news during the month.