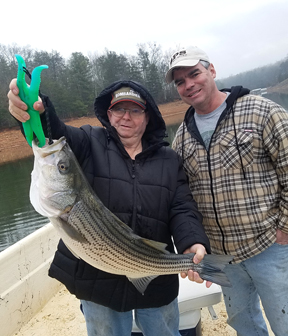 by Jeremy Seabolt
Fishing has been fair, but we are going into April which is my most favorite month. We have had a strong bite on planer boards and freelines. We have been fishing up around Point 11 and the fish have been eating large herring. When I say big, I'm talking 8 to11 inch herring. They are still eating large shad also. We are putting around 10 feet line out behind the boards and pulling them right up on the banks. We have also been catching a lot fish out in open water pulling baits 25-40 feet behind the boards.
Going into April, the fish should start bunching back up. You can catch fish on points and up in the creeks pulling bait, and the RedFin bite should be in full swing by mid-April. Work the points and banks slow walking them. The U-Rig bite has been catching a lot fish also. It is a good tool to have on the boat mid-morning. The fish this time a year are moving fast, so be ready to pick up and move as the fish move.
If you are looking to come tackle one of the hardest fighting fish this side of the ocean, give Lake Nottely Fishing Charter a call. April is one of the best months to catch a 30-40 pound fish on Lake Nottely.