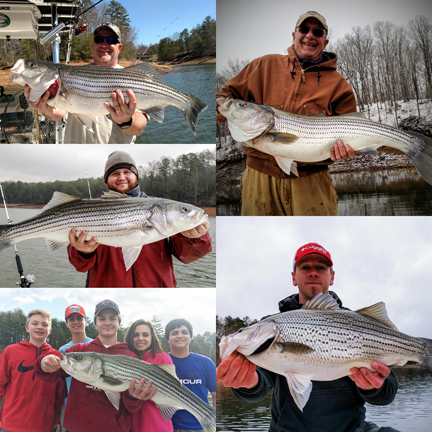 Forecast By: Shane Goebel
Big Ol' Fish Guiding Service &
www.bigolfish.com   828-361-2021
April is finally here, and it brings with it some rip-roaring fishing action on Lake Nottely. Time to get out of the house and hit one of North Georgia's best lakes with Big Ol' Fish Guiding Service.
Lake Nottely's waters are on the rise, and by mid-April, we should see a significant change in water level. This means better access to those hard-to-get places where stripers like to. Currently, we are 11 feet below full pool. Water clarity is clear for most of the lake except for the backs of creeks, which are slightly stained. Water temperatures are in the mid 50's and a bit warmer in the coves and creeks.
Striper fishing has been excellent and we're having a successful early spring catching some quality stripers with the majority of them in the 20 to 35 lb. range. Presently, these Lake Nottely monsters are in their full-spring pattern and chasing bait in the mouths and backs of creeks and off rocky shallow points. It's always a good idea to keep an eye out for where the bait is. If you see bait busting that's usually a good indication there's fish chasing them up. As far as bait goes, some days the fish are feeding on small herring and other days they are hitting on large bluebacks and shad. I would recommend bringing a number of different baits with you. For the next month or so, look for fish to move further back in the creeks, rivers and around shallow coves as early spring spawning will start. Pulling planer boards and free lines with live bluebacks and shad will be your best techniques. Also, look for a great topwater to start. I always like to have a Zara Spook or a fluke at the ready to nail those top-busting fish.
Spotted bass fishing also remains very strong and will continue for the next several months. We are catching some nice 4 to 5 pound spots with an occasional largemouth. Several of our largemouth lately have been in the 8 to 10 pound range. As for the largemouth, I always quickly get these guys back into the water and never keep them. These largemouths and spots will soon start to work their way to shallower water. Start looking for some large schools of spots halfway in the backs of creeks, pockets and around shallow hump and look for largemouths to be hanging around shallow points and a brush further down into the creeks and rivers.
April is a fantastic month for catching some monster stripers on this North Georgia lake. Give Big Ol' Fish Guiding Service a call and let the area's #1 rated guide service put you on some of Lake Nottely's best trophy fish during the fishing trip of a lifetime. We also serve Lake Apalachia for huge lake trout, and Lakes Nottely, Chatuge and Blue Ridge. And for all your live bait and tackle needs, check out Hughes General Store in Blairsville, GA. They carry everything you need for a successful day of fishing and the best live herring around. So, come fish with the pros for the opportunity to be featured in Angler Magazine—let us help you get your fish on!