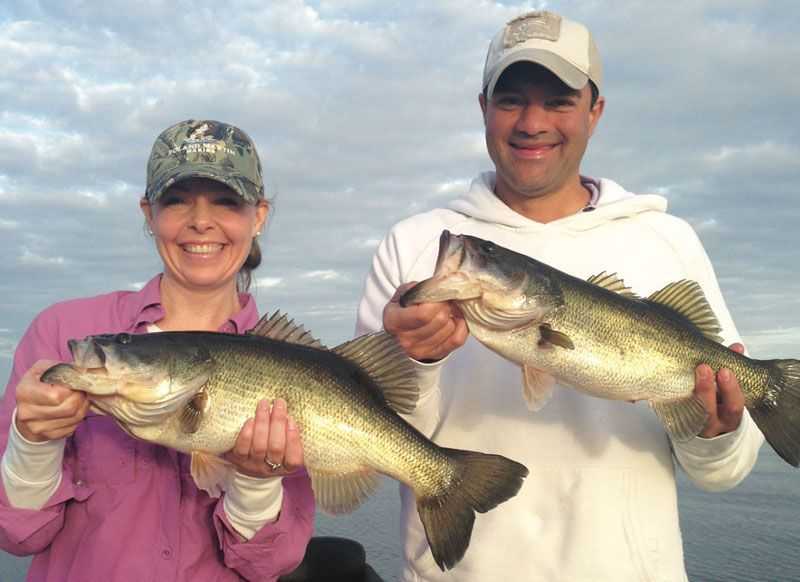 March is probably one of the best months for bass fishing on Lake Okeechobee with good weather and bass moving in off the main lake toward spawning areas. Usually by the time February comes to south Florida we are done with cold fronts and the fishing is great almost every day. This is also the major spawning time here on Okeechobee for bass so that means it is your best shot to catch good numbers of bass and also that chance to catch a big one.
As the water starts to warm back up to sixty five to seventy degrees here on Okeechobee the bass make a move from the main open water part of the lake toward shallow water spawning areas. We do have a lot of traditional spawning areas like East and West Walls, Grassy, Ritta Island, Coots Bay, and many other areas around the lake that bass move in to spawn every year. One of the best places to fish to ambush these spawning bass is the outside grass line as close to open water as you can fish. I call these areas holding areas for pre spawn and post spawn bass where the can feed up before and after spawning activities. The bass will then move back in the grass to spawn in the cleaner water especially hard bottom areas, three to four foot of water depth is what most of the bass on Okeechobee like to find.
I like to fish the outside grass line areas with the wild shiners and it can be some of the most action packed fishing you have ever experienced. Twenty to forty fish days are not uncommon and this is also where we catch a lot of the big ones. These are also good areas to use artificial lures but I like to move back in the grass and look for spawning beds. Some lures that work good are Gambler Big EZ Swim baits, swim jigs, and pitching Gambler craw type baits to open pockets in the grass which are usually beds. Heavy action rods and braided line are a must back in the grass if you want to catch these bass.
[quote_center]
ONE OF THE BEST PLACES TO FISH TO AMBUSH THESE SPAWNING BASS IS THE OUTSIDE GRASS LINE AS CLOSE TO OPEN WATER AS YOU CAN FISH.
[/quote_center]
Still time to book that trip of a lifetime to world famous Lake Okeechobee for some of the best bass fishing in the country and don't forget I am in the Florida Keys chasing tarpon during May and June for a shot at a true giant.