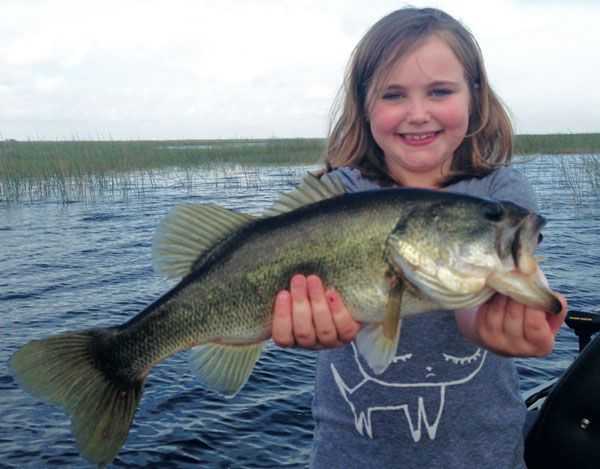 February is here and the fishing on Lake Okeechobee is well off the hook. We are catching big numbers and big bass here around the Clewiston area. The weather has been great through most of January and February should only be better. The bass have been moving in to spawn and there are bass from the outside grass line all the way back in the grass in most of the traditional spawning areas and even a few areas that have not been used for years. This looks to be even a better year than last year and it was awesome for us here on the south end of Lake Okeechobee last year.
I have been catching bass on both artificial lures and live bait this past month but as some of the tournament pressure eases up in February the artificial lure bite should become a lot better. I have been fishing the outside grass line on the East Wall, West Wall, and around Grassy with shiners and the wind being the only deterrent as to where I fish on any given day. As for the artificial lure fishing areas like Grassy, Long Point, and Ritta Island have been my best areas to fish and swimbaits and craw type lures have worked the best for my clients. I like to make long casts in the grass fields with a swimbait and fish it either fast or slow to find out how the bass want it on that day. I will also have a craw type lure rigged up Texas style with usually a 1⁄2 ounce weight for pitching into reed patches in the area. On sunny days the bass will usually be up in the reeds but on overcast days they roam around out in the grass fields is what I have found to be the best pattern to start looking for them. On cold front days I like to downsize my lure size and concentrate on areas that have grass matted up and larger patches of reeds.
Okeechobee is a big lake and the fish just aren't everywhere for you to catch, take areas that you have heard that we are catching fish in and spend some time working these areas good. Another thing is lure selection, just because you catch a lot of fish on a certain lure or color in your lake doesn't mean you will here on Lake Okeechobee. Listen to what guides and tackle shops are telling you to use and you should be able to catch all the bass you want. Another key point is tackle selection from rods, reels, and line that work best here on Okeechobee. The best I can tell everyone is go heavy, at least 50 pound test braided line and heavy action rods will work the best to
get these bass out of the grass.
Now is the time to fish Lake Okeechobee. Book a guide, rent a boat, or bring your own boat to one of the best bass fisheries in the country and we don't have snow and cold weather keeping us from fishing down here in South Florida. Good luck, tight lines, and I hope to see everyone on the water real soon.