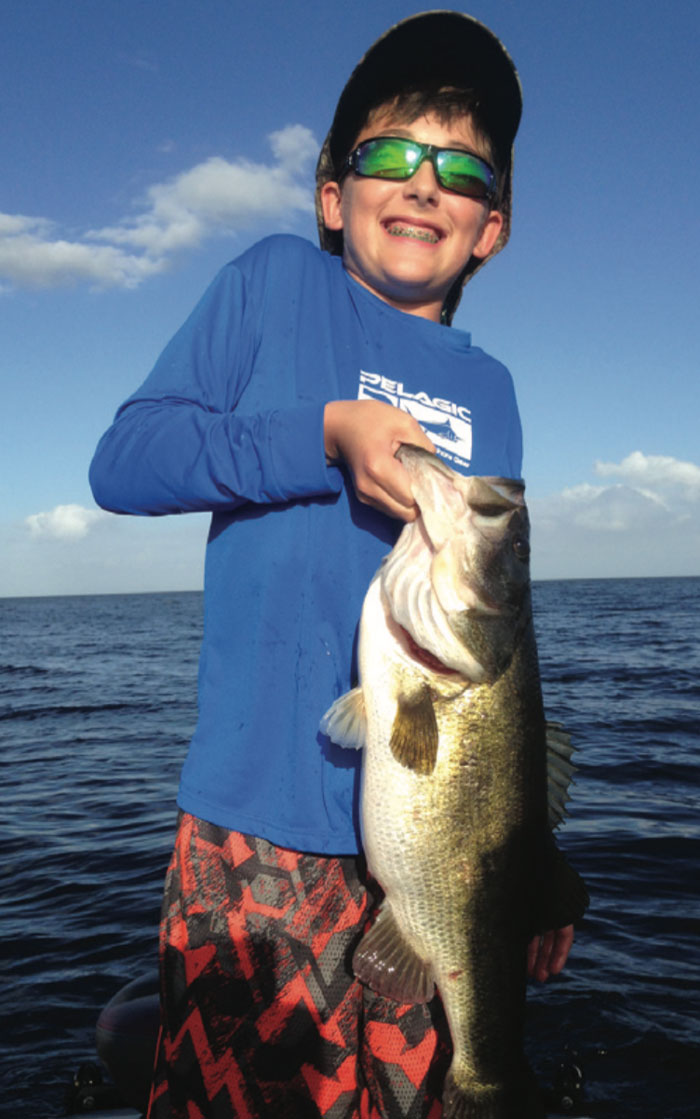 Fall has finally come to south Florida and it will sure be a welcome relief from this hot summer. Even with the hot temperatures and higher than normal water the levels the fishing has been pretty good all summer, but with some cooling water temperatures the fishing is about to get hot.
The bass will be migrating from the open water toward spawning areas in all areas of the lake and there will be better numbers of bass to catch for sure. The lake is in very good condition and even though the water level is a little higher then we like, it should not affect fishing for the coming season. For you out of town fishermen, higher water levels should make for safe boating conditions all winter long. We have good pepper grass, eel grass, and hydrilla patches all over the lake and that just means more good cover for the bass.
In October I like to target outside grass lines in most areas as long as the water is fairly clean. If you do find it dirty from the wind blowing just start moving back in the grass until you find the water starting to clean up and that is where I would start fishing. Great areas to start with would be the East Wall, West Wall, Rita Island, and Pelican Bay. Areas like Harney Pond and North Shore will also be areas that are easy to get on some good bass. The area we call the shoal, from the Monkey Box south to Observation Island, is one of my favorite areas to fish but is really affected by the wind and dirty water when we have higher water like we do now. But don't rule out this area, just start moving back in the grass until you find cleaner water.
What baits should I be using to catch bass on Okeechobee? A question I get ask a lot and I like to tell people that if you have a favorite so plastic that works great in heavy grass then that is what I would start with. I use a lot of Gambler Lures to fish here on Lake Okeechobee and they seem to work really well most of the time. I like to throw the EZ Swimmer across the grass especially to start the day but will usually throw it all day long. For something to pitch to reed heads I like to use a Gambler MegaDaddy with a half-ounce weight but will go up to one or one and a half ounce weight if the grass is real heavy. As a go-to bait in almost any occasion I use a Gambler Ace in Junebug color, it will just catch fish here on Okeechobee in any condition. On days when there is a nice breeze and the water is still clean on the outside grass lines I will throw a spinnerbait or lipless crankbait to try and catch some schooling bass. Here on Lake Okeechobee we use a lot of live bait "aka wild shiners" and they just flat out catch bass in good numbers and size.
Now is the time to start planning those fishing trips to Lake Okeechobee for the fall and winter months when it's cold up north. From what I hear it is supposed to be a bad cold winter for ya'll. The crappie bite should start picking up by November and we are just looking at an awesome season here on the Big Lake. Don't forget to get a kid out fishing and also please take time to thank a veteran by taking him or her fishing for a little stress relief. Until next month good luck, tight lines, and I hope to see everyone on the water soon. God Bless everyone!!!!!