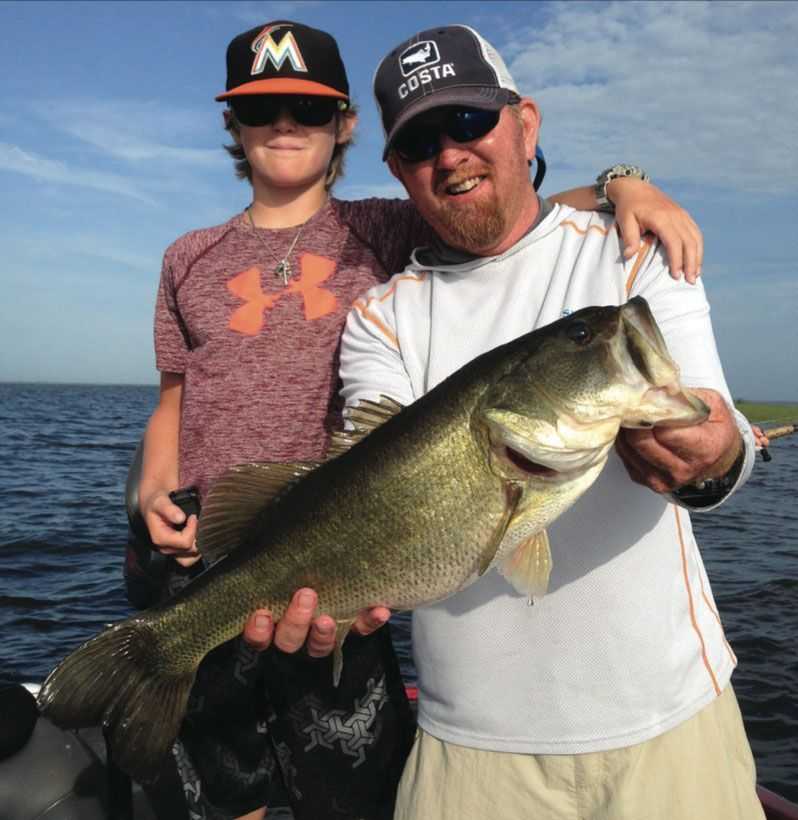 September is here on Lake Okeechobee and the weather is hot and the fishing has been pretty good for summer. The water level has been coming up as the rain continues to fall here in Florida and we can sure use some more north of us. Water level is around twelve feet above sea level and the water temperature has been pretty warm with mid 80's being the norm every day. The morning hours have been the best fishing time but there are also some bass being caught late in the evening.
I have been targeting offshore structure the past month or so and it has paid off pretty well except when the wind really blows and dirties up the water. For artificial lures Gambler swim baits and swim jigs have been my starting lures of choice and then moving on to the Gambler Ace stick baits after the sun gets up higher in the sky. The live bait bite on wild shiners has been good and should be that way through the rest of the summer. We are catching more numbers this time of the year here on Okeechobee but that doesn't mean you can't catch a big one. After all there is always a chance of catching a big bass here on Lake Okeechobee.
FOR ARTIFICIAL LURES GAMBLER SWIM BAITS AND SWIM JIGS HAVE BEEN MY STARTING LURES OF CHOICE AND THEN MOVING ON TO THE GAMBLER ACE STICK BAITS AFTER THE SUN GETS UP HIGHER IN THE SKY.
I have been targeting areas like the spoil islands out the Clewiston channel, the islands out from Uncle Joe's cut, and the Cross Islands. The key is to get an early start as possible in the morning and don't waste time in unproductive spots, in other words if the bass aren't biting move to another spot and don't spend too much time thinking they will start biting soon. Another thing to keep in mind during the summer months here on Okeechobee is thunder storms; always keep a lookout for approaching storms. Get a good weather app on your phone and do not take any chances, lightning will kill you on the lake.
Now is the time to start thinking about booking that winter and spring trip to Lake Okeechobee for some of the best fishing in the United States. The prime months will fill up fast as the lake keeps producing some awesome bass. As the water starts to cool off in late October through May the bass will be moving into the shallow spawning areas and that means it is time to catch some trophy bass. Until then don't forget to take lots of water to drink and plenty of sunscreen for your summer fishing adventures here in south Florida. Good luck, tight lines, and I hope to see everyone on the water soon.