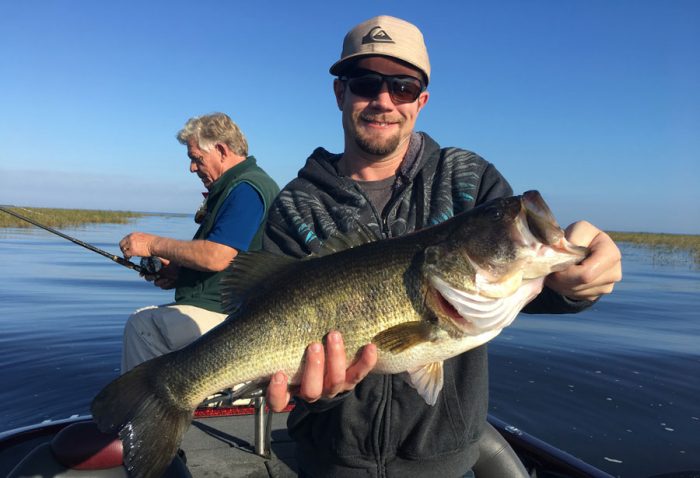 Happy New Years to ya'll and a good year it is going to be here on Lake Okeechobee! The fishing has been awesome and just keeps getting better daily with some really big bass being caught. The water level is down to around fourteen and a half feet above sea level and in my opinion that is about perfect. It's enough water for the bass to go back into traditional spawning areas and enough water that you can safely run your boat almost anywhere on the lake. As we head into the next few months here on Okeechobee the fishing will be some of the best in the country.
The bass are moving in off the main open water part of the lake toward the shallow grassy areas of the lake to spawn and this is where you need to be fishing. Some keys things to look for are clean water and about four feet of water which will be a lot of the areas we fish year round but now there will be an almost endless supply of bass from now till May. Areas like Pelican Bay, Rita Island, Grassy, Bay Bottom, East Wall, the Shoal, North shore, and the Monkey Box will all be good areas to fish. These bass will stage on the outside of the areas prior to the full moon and then move back in to spawn on the moon as long as we don't get a cold front move in and put a monkey wrench in the program.
The live bait bite has been absolutely awesome the past month and will be good all the way through our season here on the lake. The artificial bite has improved and will get better as more fish move in off the main lake. I have been catching a lot of fish on a Gambler Fat Ace rigged Texas style and pitched into holes and open areas in the grass, the key has been to fish it slow. As the bass move in to spawn I will be throwing a Gambler EZ Swimmer and Big EZ in spawning areas. This is a great locator bait to find these spawning bass and you will catch some monster bass doing this. When fishing in these grassy spawning areas be sure and just move the boat slow or let the wind push you along and continually look down in the water for beds. Once you start finding beds you will be amazed at how many are in an area. We are also starting to get a good crappie bite on the lake on both minnows and jigs.  
This is shaping up to be an amazing year here on Okeechobee with the water level being just right and yes the water quality is good in spite of what you might have seen on the news. Our lake is great and the fishing is great, come and experience one of the top fishing lakes in the country you won't be disappointed. Until next month good luck, tight lines, and I hope to see everyone on the water soon.
Captain Mark King is a full time guide and tournament angler guiding out of the world famous Roland Martin's Marina and Resort in Clewiston Florida and also in the Florida Keys out of Marathon area. Mark is an IGFA Certified Captain, active member of the Florida Guide Association and the Florida Outdoor Writers Association. Mark can be contacted to book a guide trip, seminars, personal appearances, test rides in his Evinrude powered Ranger, or to fish a tournament with him at 863-677-0983 or at www.markkingfishing.com.