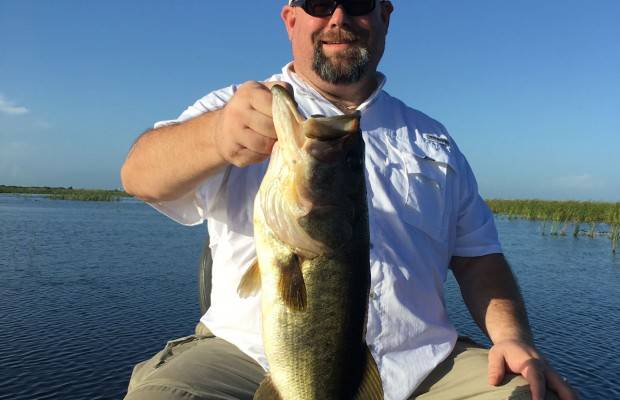 September is shaping up to be a good month for fishing Lake Okeechobee as we are only one month away from the water to start cooling off and the bass getting really active. It has been a good summer here on the south end of the lake with catches of good numbers of bass and a few bigger ones mixed in to keep everyone's interest. The lake has been in good shape all summer with water levels being a bit higher than normal but very fishable. The algae bloom that has all of south Florida in a panic has been no worse here on the lake then in past years. Actually right now there really isn't much of a visible algae bloom to be seen, trust me I have seen years where the water glows green in the morning during the summer. Yes we have some issues that need to be taken care of here in Florida but from what I see every day out here on Lake Okeechobee, it is a healthy lake with a thriving population of bass, crappie, bluegill, and catfish.
 
For most of the summer I have been fishing offshore islands and structure with both live bait and artificial lures. This pattern will hold through the month of September and then the bass will start migrating toward spawning areas for the next six or seven months. Fall is a great time of the year to fish here on Lake Okeechobee as the water starts to cool off and the bass become more active. Another great thing about the fall here is that the lake isn't real crowded like it is in the spring time so you can go fish almost anywhere without fishing in a pack of boats. During the summer months it is a great time to get a real early start on the day because by noon the bass are usually done biting and it is so hot out on the water. It just makes good sense to get out early and catch what you can before it gets too hot.
For artificial lures in the heat of the summer try some topwater lures to start the day with a mix of lipless crankbaits to catch some early morning schooling bass. I then like to rig a Gambler Southern Swim Jig with a Little EZ trailer on one rod and a 10" worm on another rod. Move along the grass line on the offshore islands and any main points that stick out into the lake. These points will be the first places to see bass as they start their move towards the spawning areas this fall. One of the other things that really helps this time of the year is some wind, yes I know as guides we complain about the wind all winter but it does help position the bass so that they are more likely to see our lures.
I am looking forward to an awesome year here on Okeechobee and now is the time to start planning a trip of a lifetime to one of the best fisheries in the south. Until next month good luck, tight lines, and I hope to see everyone on the water soon.