Lanark Fishing Report: January 2018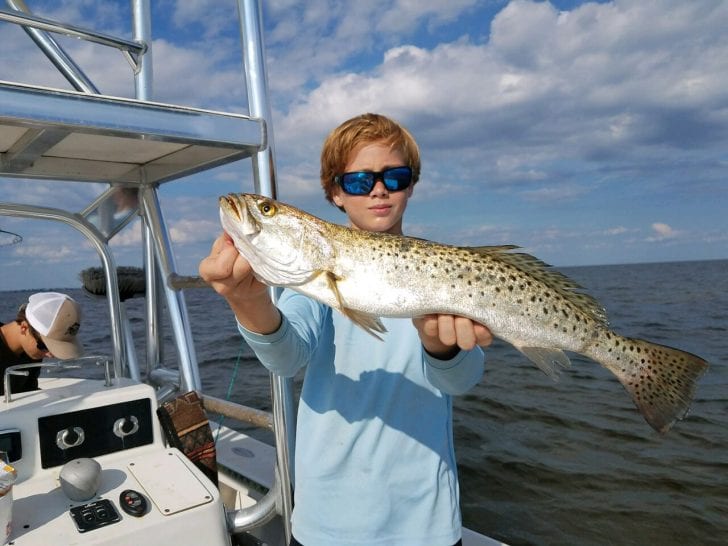 January and into early February historically is the coldest month of the year and also has the largest tide swings also. This month is known for steady North winds. Like December I feel tide is more of a determining factor to catching fish than any other determinate the winter months have to offer. Look for the mid-morning high tide to catch all of the opportunistic feeders making their way onto warmer flats heated by the sun. The water in the Big Bend is crystal clear for the next few months so fish shallow use fluorocarbon leaders and downsize your tackle for long casts.
Redfish, trout, sheephead and drum can be caught in huge numbers in the winter months following this mid-morning pattern. Target shallow flats that have exposed grass or oyster outcrops and focus on working your bait as close to the structure as possible. When the water starts to crest the tops of the bars work yourself off the structure methodically.  A great upper to middle column bait is the spoon. Aqua Dream Living by Captain Mike Hakala makes a great spoon that mimics most bait. Pick your favorite color and work it over mixed bottom and oyster bars. Another fantastic artificial bait for the winter months is the 6" DOA glow jerk bait or the Slayer Inc. soft plastic line. Rig these soft plastics with a 1/16 oz. weed less hook or a Slayer Inc. jig head.
The trout bite has been excellent in areas between Alligator Harbor and Carrabelle River with reports of fish from the low end to high end of the slot.  Most trout reports I am getting are folks set up in 1-2 feet of water drifting over mixed bottom throwing hard suspending baits, soft plastics and spoons in the middle to lower water column. Jeff Suber of FCKA.net reports solid numbers of red fish and trout being caught around the bars inside Alligator Harbor. Most fish have been in the slot with reports of trout measuring over 20 inches.
I fished with some friends and caught a number of reds out of Carrabelle recently on terminal and fly tackle. We were drifting slowly over shallow flats and pitching artificial baits to good sizes schools of reds and trout.
Now is the time to take advantage of our areas crystal clear water and fantastic fishery. So get out, bend a rod and support your local tackle shops!