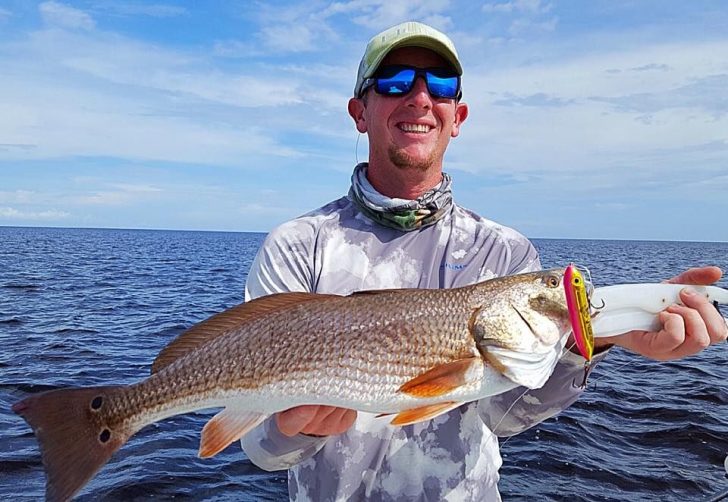 Fall is right around the corner!! September starts to bring with it some cooler temperatures which will begin the fall flats explosion. Red fish, Trout and flounder will begin to being caught in huge numbers as these fish want to fatten up for the winter. Look to throw big baits this time of the year to mimic most of the bait that is congregating and schooling around. I will recommend three go-to artificial baits for the fall. The first is Heddon One Knocker. This top water plug will mimic most of the oversized finger mullet. Work this plug with the "walk the dog" motion to trigger optimum bites. The second bait I recommend is a 6" jerk bait in glow or chartreuse made by DOA. This bait can be rigged either weedless or on a jig head. I will focus on potholes and good mixed bottom to optimize the effectiveness of this soft plastic bait. The last artificial bait that flat out catches redfish in the Big Bend is the Aqua Dream Living Spoon. I will utilize the spoon to find schooling fish in stained water. Once one or two fish are caught off the school back away and focus on casting the edges to maximize the bite. The fall is a great time to catch big numbers of big trophy trout and solid upper slot redfish.
Lanark, St. Theresa and around to Alligator Harbor has produced a number of decent reports of redfish being caught on both ends of the tide. Jeff Suber of FCKA.net has reported very good numbers of redfish being caught in the Alligator Harbor area out of kayaks. Jeff is catching most of these redfish in the grass or along the numerous oyster bars. Top water plugs, small suspending baits and Slayer SST's swimming shads are the ticket for these hungry fish.
Offshore I am getting great reports of anglers taking advantage of an above average snapper bite. Most fish have been between 4#-8#. Bait of choice fresh frozen cut bait and large pilchards or greenies.
Fall is here and with it comes your chance to catch a fish of a lifetime. The Big Bend has one of the best fisheries in the entire state, so get out, support your local tackle shop and bend a rod!