by Capt Jake Davis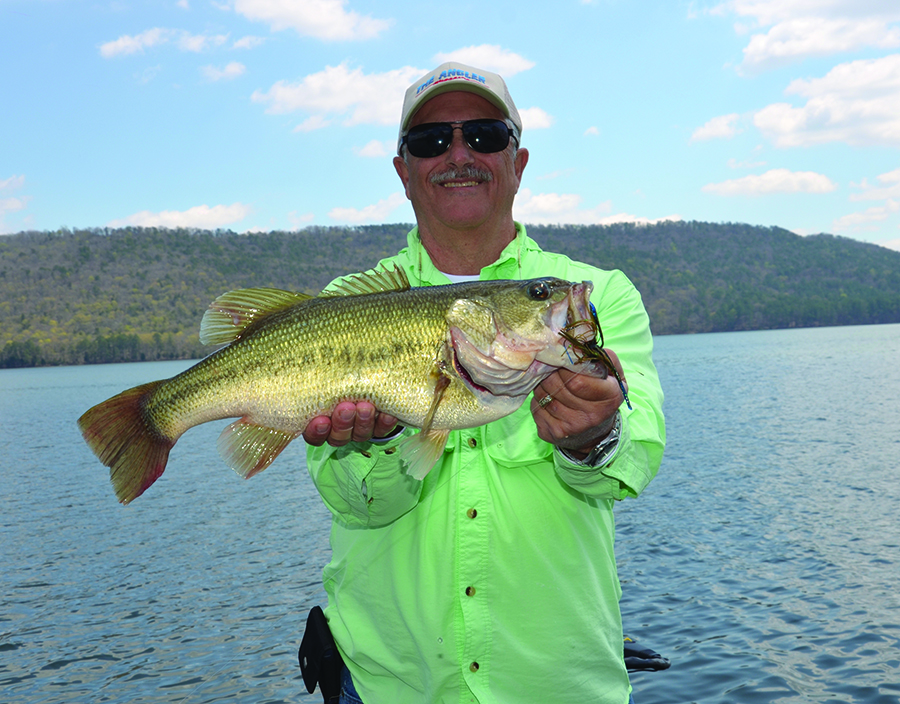 Over the past couple weeks, I've had several calls and emails from anglers asking "How are you catching those bass in super clear water?" My response has been to slow down and go light. Then I remembered writing an article a couple years ago and figured it might be time to dust it off and rework it a little bit.
Some anglers live by the old adage, "It takes a big lure to catch a big fish." This isn't always accurate, especially during the cold winter months. Sure, you might lose a few fish that might have been landed on heavier tackle, but experience has shown that one can often catch 10 times more fish by using light tackle, and you can land any size fish if you take your time.
Light tackle means different things to different people. Here is my take on the how-to and benefits of light fishing, the biggest of which is catching more bass!
During winter and hot summer months, many lakes and ponds tend to become gin-clear, making it easier for fish to spot heavy lines. The four and six-pound lines, in most cases, are nearly invisible to fish, even in very clear water. When employing light line, you must have the proper rod and reel combination. The reel must have a drag system that works well and does not freeze up. This is essential because a big fish can easily break the light line if the drag doesn't work properly. Your rod needs a good soft tip, while yet having a strong backbone for the hook-set. My light tackle lures include Rapala Shad Raps, Rapala DT-6 crankbaits, Missile Baby D-Bombs, Twin Turbo Tail, Fuse 4.4 and Yamamoto-Kut Tail 5 inch worms rigged on a Spot Remover 1/8 ounce head.
To me, it means a 6'6" to 7 foot rod that weighs very little with a soft tip, such as the Duckett Micro Magic or Ghost Series, medium or medium heavy spinning rods. The reel is a Lew's LS300 which is designed for four to eight-pound test line. I hardly ever use the eight-pound line, as I prefer six-pound test Pro-Elite Fluorocarbon from Vicious Fishing. With this setup, I can easily cast lures weighing as little as 1/16 to 1/8 ounces jigs and including small crankbaits.
Light tackle and methods may be used anytime by anglers who find this style and philosophy of fishing appealing. However, there are a few special situations where light tackle is the most practical and productive fishing method available. Here is some situations when I change over to light tackle:
Where fishing pressure is heavy: Heavily pressured fish get spooky, and they become less likely to bite large, fast moving baits. However, they are much more prone to eat lures that are inconspicuous in terms of size and action.
Extremely clear water: Crystal clear water is another condition that makes fish spooky. Thin line is less visible, and smaller baits are more visible, and smaller baits are less threatening, hence more appealing than larger lures with abrasive actions.
Post-cold front conditions: Another perfect example is when during or after a cold front blows through, the skies clear and the barometer rises. Most anglers say bass get lockjaw. Bass get uncomfortable, much like we do after eating Christmas dinner, but we still snack on small stuff.
When natural forage is small: Match the food source! When minnows or insects are small, predator fish refuse to bite larger baits, but smaller lures which approximate the size of the natural food will still work.
Next time you hit the water and the conditions are tough and the fish have shut down, remember to downsize and break out the light line tactics to catch bass.
        Capt. Jake Davis is a USCG Licensed Professional Fishing Guide, on Tim's Ford and Lake Guntersville; to reserve your "Day on the Lake," visit www.midsouthbassguide.com or call/email (615) 613-2382 msbassguide@comcast.net