by: Capt. Chad Carney
Wed & Thurs July 26 & 27 – 2023.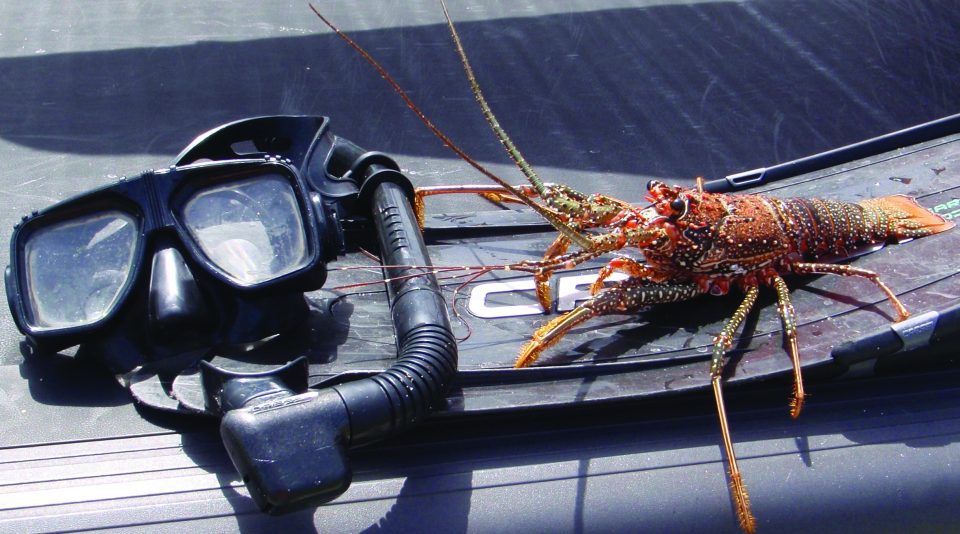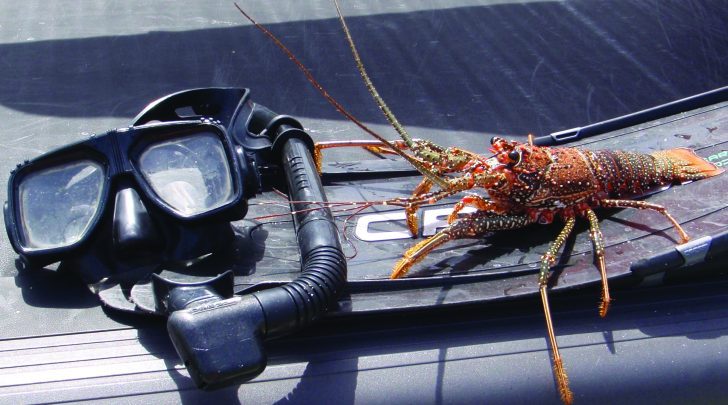 Officially it's Spiny Lobster Sport Season and it closes until Regular Lobster Season opens Aug 6 – Mar 31. (Go to MyFWC.com for current regulations.) The 2-day bug season is insanely crowded with divers and boats in the Keys and SE FL's narrow coastlines.
Gulf Coast divers focus on spearfishing, not bugging, but do find a few lobsters. Our crew's best 2 days got 16 spiny's and 1 slipper lobster.  Shooters rarely drag bulky bugging gear – big bags, nets, tickle sticks or snares, while swimming long broken ledges, scattered potholes and wrecks. Instead, they fill heavy stringers with grouper, snapper, hogfish and more. But just sometimes a fish leads us to 1 or 2 bugs on a good hole and they're often big ones! We call it being a "Lucky Bugger!"
The difference in Southest FL and the Keys bugger/spearos is they concentrate on bugs, and if they spear at all they're overloaded with every bit of large lobster and spearing gear. Usually, they boat their limit of bugs by drifting in current on the extensive reefs, then maybe find a barely legal hogfish. Serious scuba, techies and freedivers are the exception. They minimize bugging gear to a snare and a very streamlined mesh bag. They also bring in good sized quality fish!
Bugs in the Gulf are big and old after migrating up from the Yucatan and Dry Tortugas. You never see a "Short" but keep a gauge and check for eggs. I've never seen hatchlings far N of the Keys. The Goliath grouper population is huge now in the Gulf, since 1990 protection, and they suck 'em right out of holes.
Bugging Tips: Sliding a big speargun in a hole behind a beastie bug makes a great back up blocker. Or take a freeshaft out and tickle them with the butt, to a good side, down current helps because silt gets bad in low current. A mounted and removable UK mini Q40 light is great! Poly-coat Dyneema or Kevlar gloves make good 2-handed grabs, especially on big slow bugs. Grab the two secure antennae bases, ("knuckles"). A bug will kick and kick unless you let it hold something, like a gauge console or a bug bag. If you snare a big one grab it fast, as snares can snap. My bug bag has a big velcro snap shut mouth and bottom zipper to dump in coolers. It rolls up very narrow to relieve drag if not using it. There are 3 types of small lobsters with no closed season or limit:
Shovel nose and slipper lobsters are 2 names for the same lobster.
Spanish lobsters, look like shovel nose lobsters, but are more colorful and found in tropical reef areas.
Spotted lobster look like a short spiny, but darker with very small white spots.