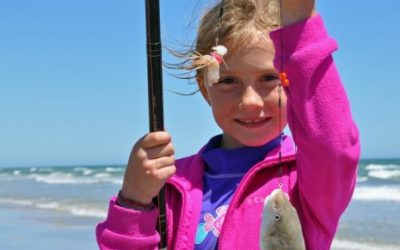 Record High Water Temperatures Trigger Earlier than Normal Spring Feeding Patterns and Spawning Activity for Area Freshwater and Saltwater Anglers!
By Terry Newsome
As predicted, freshwater and saltwater coastal water temperatures in Northeast Florida for the month of February continued to be significantly warmer than normal.  In fact, as of this writing (mid-February 2017,) the water temperature at the Mayport Bar Pilot's Dock was an unbelievable 65 degrees! A few days earlier, Larry "Fishman" Finch (surf-fishing legend and the BEST Pompano angler in the entire state of Florida) reported the ocean surf temperature (just south of Palm Coast/Flagler Beach) was 67 degrees! It's true! We experienced early April water temperatures in mid-February!
According to the National Oceanic and Atmospheric Administration (NOAA) website, the water temperature at the Mayport Bar Pilots Dock on February 15, 2016 was 54 degrees!  (That's an 11-degree difference this time last year!) The water temperature last year on March 15, 2016 was 61 degrees and for April 15, 2016 it was 68 degrees! Additionally, the water temperatures in lakes and ponds throughout Northeast Florida are also MUCH warmer this month than normal. This trend of record high water temperatures is expected to continue through April.  This is GREAT news for all freshwater and saltwater coastal anglers!  Record high water temperatures will trigger earlier than normal spring feeding patterns and spawning activity resulting in some of the BEST late winters March fishing we have seen in decades! What better time than NOW to enjoy the great outdoors!
RECORD WATER TEMPS CREATE MULTIPLE ANGLING OPTIONS
With record (high) water temperatures forecasted for March, (water temps you would expect for late April,) your strategy for targeting your favorite "late winter" gamefish this time of year may need to be modified.  Trophy Largemouth Bass anglers should look for spawning activity to start transitioning into more of a post-spawn feeding pattern by mid-month. With slightly cooler water temperatures, Bass fishing in the St. Johns River and spring-fed lakes (like Lake George) should be excellent throughout the month of March.
Off-shore bottom fishing at deeper "party ground" reefs in 75 to 95 feet of water (like Southeast 16-17, Hospital Grounds, Amberjack Hole and Ponte Vedra Grounds) should improve significantly in late March.  Amberjack season opens March 1st but Grouper season is closed until May 1, 2017.  (Red Snapper season is closed indefinitely.) With significantly warmer water temperatures (similar to April,) a few Cobia will begin to show up in late March.  Look for a strong south (to southeast) wind that blows for several days as it will bring baitfish, Manta Rays and warmer water northward into our area.  The Cobia will not be far behind!  Cobia prefer water temperatures 68 degrees or above and will quickly migrate north when the conditions are optimum.  The minimum size limit for Cobia is still 33 inches (at the fork) with a daily bag limit of one fish per person per day (with a boat limit of 6.)  While you can occasionally find Cobia near area inlet buoys and channel markers, in recent years, Cobia are harder to find "close to the beach" (due to increased fishing pressure.) Cobia are more abundant near inlet "tide rips" (3 to 5 miles offshore where clean ocean water a murky river water meet) and off-shore reefs (like Nine Mile and Montgomery's Reef) about 10 miles offshore.
Excellent inshore saltwater fishing for Speckled Trout, Redfish, Black Drum (up to 50 pounds) and Sheepshead will continue throughout the month of March.  Speckled Trout to 4 pounds can be caught near creek mouths in the Intercostal Waterways and in the lower St. Johns River from Sister's Creek to the Mayport Jetties.  Slower moving tides just after dawn and at dusk produce larger fish. The 2017 El Cheapo Sheepshead Tournament is scheduled for March 4, 2017.  The 2016 Tournament winner weighted in an 11.1-pound Sheepshead!
(The State of Florida record for Sheepshead is15.2 pounds!) Early March is prime-time for catching BIG female sheepshead before they begin to spawn in mid-March.  Don't miss it!
YOUR BEST BET FOR MARCH
Surf-fishing this month could be the best it has been in many years.  Look for HUGE numbers of Gulf Kingfish (Whiting) continue to migrate into our area as record water temperatures will certainly rise significantly this month. Look for this hard-fighting fish to be feeding in sloughs and on the edges of sandbars near run-outs along area beaches.  The key to catching plenty of good-sized Whiting is to find clear water and use FRESH dead shrimp or LIVE sand fleas for bait.  When it comes to tackle, I prefer using a light spinning rod and reel with a #4 (or #6) Eagle Claw Baitholder hook and a ONE-ounce almond sinker (with a short 10" leader.)
I know it seems like just a few weeks ago, that Pompano were ON-FIRE at area inlets as they migrated south through our area during their annual winter run.  Huge numbers of 2 to 5-pound Pompano were caught in the surf from Ft. George Inlet, St. Augustine Inlet and even Matanzas Inlet back in December. However, savvy Pompano anglers report that huge schools of this illusive gamefish have already reached "winter feeding grounds" and have made a U-Turn back to the north! Look for migrating Pompano to RACE up the Florida east coast into Northeast Florida chasing warming water temperatures.
Please be sure to read next month's issue of Coastal Angler Magazine (Northeast Florida Edition) as I will feature the BEST Surf fisherman and Pompano Angler in the entire State of Florida.  Larry "Fishman" Finch currently travels through-out the state of Florida (sponsored by a prominent Florida Fishing Magazine) conducting "Surf-fishing for Pompano" seminars.  A few years ago, I was fortunate to have had the opportunity to film and produce a surf-fishing and "Pompano" instructional fishing video with Larry. I think you will enjoy the upcoming article as he will share the unique migratory patterns of the illusive Pompano. Larry will also reveal "insider" tips and secrets on how YOU can catch YOUR limit of Pompano… right here in Northeast Florida!  Until then, have a fantastic month of fishing!
With over 25 years of corporate experience as a writer, director and producer, Terry Newsome has personally filmed and produced over 100 outdoor television shows and instructional fishing videos internationally.  He is an avid coastal angler and is a former co-owner of Pine Island Fish Camp on the Intracoastal Waterway in St. Augustine, Florida.