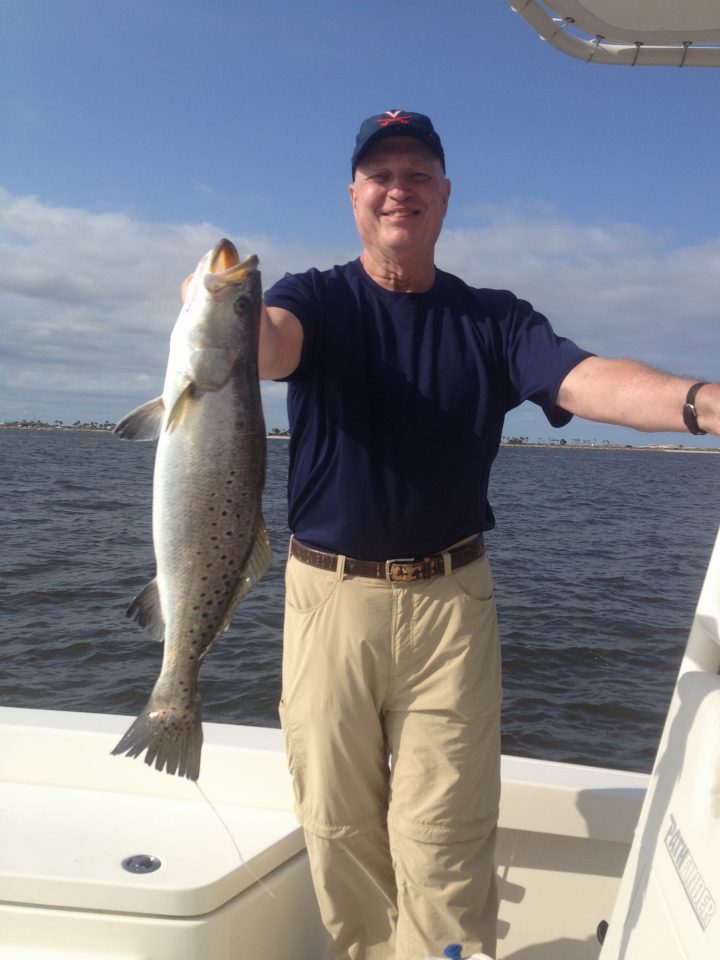 Is it me or did we start spring in February this year? Before the ink dries on this report we could be into the heat of summer by mid March. That being said unless we get some incredible crazy cold weather this month I do believe it could truly be a banner month for our fishery. Look for trout to continue to bite on the high clear outgoing tides. From west of the Dames Point bridge to the big rocks at Mayport good numbers should be available on the edges of the St John's around docks  and deep drops from 4 to 16ft of water. I caught many in these areas last month fishing live shrimp on corks. The rocks at Mayport are also an excellent place to look for good sized specks and gray trout. The ticket seems to be the clearer water around shells, rocks, docks, and structure.
Sheepshead should kick into the spawn mode for the month with the larger sows or females moving into the inlet to spawn. The rocks at Mayport, White shell, creeks both north and south off the river that runs off the ICW. The most productive spots are oyster bars, pilings, and rock piles. My preferred method is to fish with fiddler crabs, crab knuckles or live shrimp. A small float drifted by the oyster bars can be good or a 1/4oz short shank jig can be highly effective. Work mid dropping tides just as the structures start to show. My favorite trick rig is a small no#1 live bait hook with a good sized chunk of fresh blue crab. Embed the hook into the crab and use a small ¼ to ½ oz egg sinker on a Carolina rig with about 12in of 30lb fluorocarbon leader. Toss the rig into the center of a deeper creek channel at almost dead low tide just as it comes to a crawl. Any big sow heads moving thru the deep water will typically swallow this crab without hesitation. We call this dead sticking as you are tossing it out and just leaving it in the . Rod holders until you get a strike. The strikes are usually pretty obvious and the fish you catch can be pretty large at times.
Look for reds, sheepshead, ringtails, and trout to continue to bite on the big rocks in fairly decent numbers on crabs, shrimps, and fiddlers. Dead sticking on the tips of the rocks with a chunk of mullet or crab should pay dividends on a bull red or two. Soak this cut bait inside the river right around the tips of the rocks. The big black drum should start to show this month so don't be surprised if you hook a 100lb fish or two this month while fishing with cut blue crab. Again the tips of the big rocks both north and south are their preferred haunts.
The offshore scene should continue to be good for snapper, sea bass, ringtails, and trigger fish, squid, cut sardines or cigar minnows are highly effective methods for bagging a few of these tasty fish for dinner. Remember to check your regs for what is open and what you can keep.
Lastly , I challenge each and every person that reads this report to tell your congressman and senator to review the wording to the Magnusson-Stevens Act that has so adversely affected our fishing rights. Red snapper are one of the most prolific species offshore today and we are still being told we cannot keep any. Act to help protect our right to fish!
Cap. Kirk Waltz can be contacted for charters at www.Enterprisefishngcharters.com  or 904-24-7560 or 904=626-1128 . Listen every Sat from 7am-10am to the Outdoors Show for fishing reports, tides and local info.